Published Apr 10, 2023
Faculty Coaches Junior Achievement Learning Experience for Local High School
Full Sail partnered with 3DE to help students take on consulting roles and solve real-world problems.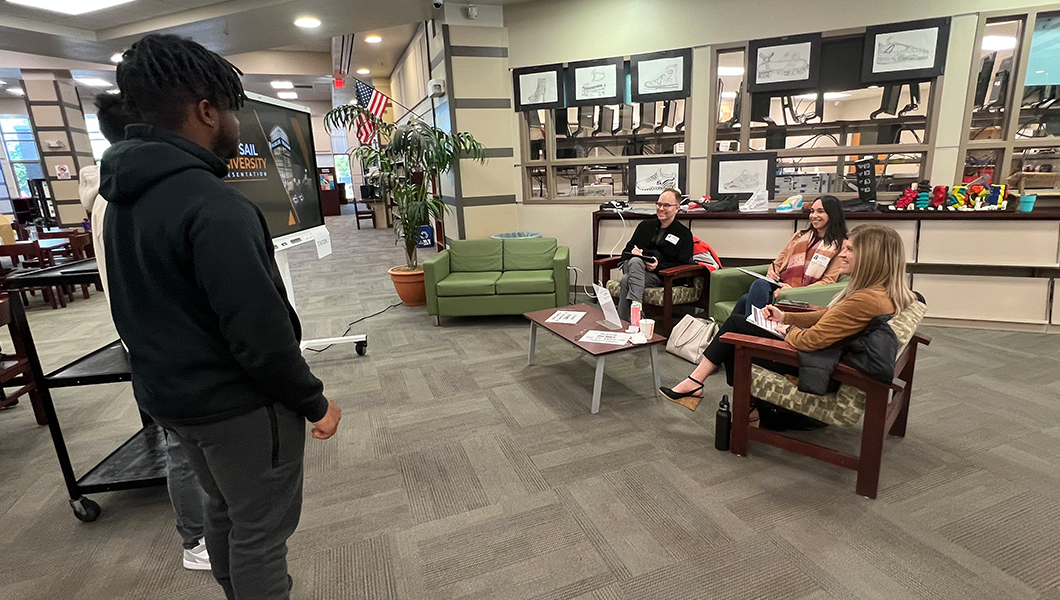 Full Sail University is no stranger to virtual employment. It first launched its online learning programs in 2007 and employs hundreds of staff members virtually.
This virtual approach to employment was re-examined when Full Sail partnered with 3DE to host a Junior Achievement Learning Experience at Oak Ridge High School, a seven-session challenge that allows students to take on consulting roles and help organizations solve real-world problems with actionable solutions.
"The problem we gave them was, 'How do we create a world-class onboarding experience for [Full Sail] faculty members?'" explains Full Sail's Faculty Development Director Eric Bunner-Sorg.
Eric worked in collaboration with Admissions Retention Manager Kharis Ezeta, Staff and Cultural Development Senior Manager Dr. Sammantha Holder, Vice President of Accounting and Finance Diane DiFebbo, and Human Resources Coordinator Kevin Fursa to give Oak Ridge High School students the guidance they needed throughout the process.
Oak Ridge students worked in groups of four to six to research the problem, figure out a budget and implementation plan, identify any necessary management changes, and create a rubric to measure their plan's success. The approach also had to be flexible enough to make requested changes along the way.
"They had a framework that they compared [their plan] to, to make sure certain needs were met at different organizational levels," adds Eric.
Throughout the process, students had to demonstrate complex critical thinking skills and consider Full Sail's communal work culture and dedication to making new virtual employees feel welcome during the onboarding process.
Luckily, Oak Ridge students already had personal experience working and socializing virtually. When schools switched to virtual learning in 2020, students faced their own obstacles as they struggled to keep up with classes and stay connected with peers through a computer screen. Thanks to those experiences, students participating in the Junior Achievement Learning Experience had a unique, thoughtful perspective on what a virtual community should look like.
"There's definitely a great empathy component there that not all generations have focused on," Eric reflects.
When students presented their plans, Full Sail's judges were blown away by their teamwork, presentation skills, and ability to hit benchmarks and provide realistic solutions that Full Sail could implement.
"[Faculty judges] definitely had to commend students on how well they presented, especially knowing that we're an educational institution and that we pride ourselves on technology and entertainment. They were trying to come up with solutions that matched those."