Published Sep 22, 2020
Faculty Spotlight: Rick Navarro
The Music Production Project & Portfolio IV instructor brings decades of rock and roll experience to Full Sail's classrooms.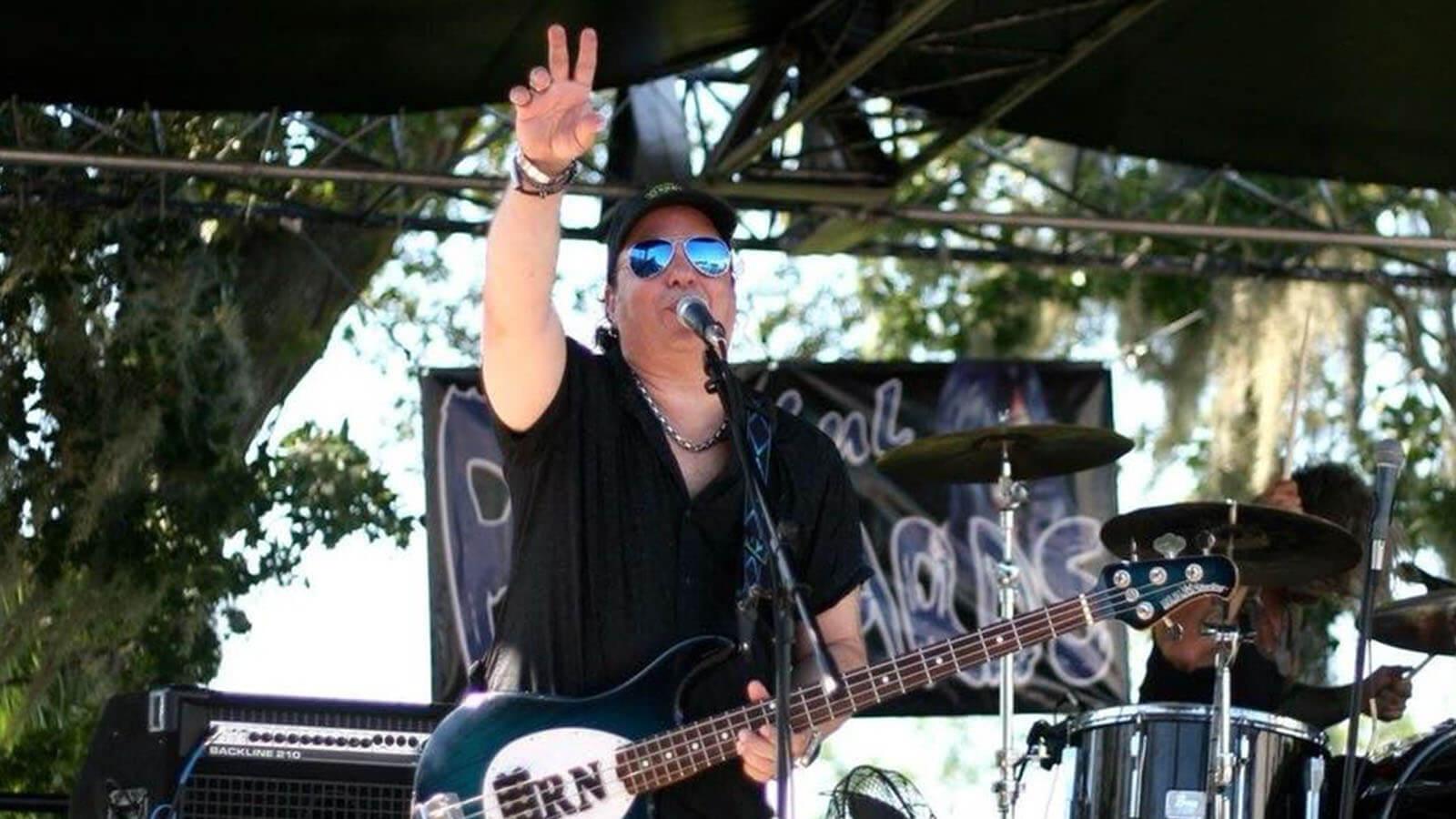 Rick Navarro was showing off on his bass guitar in front of Bill Wyman, the bass player for the Rolling Stones. Afterwards, the two sat down to eat dinner and Rick asked Bill what he thought. "He goes, 'Rather busy,'" laughs Rick. "And it knotted me up; I couldn't even eat that night."
Rick learned the hard way that bass players shouldn't overdo it — but the students in his Project & Portfolio IV class can learn that without the embarrassment. Rick's years of professional experience performing and composing with major rock groups gives him an advantage when he's showing Music Production students how to achieve their artistic visions.
Rick fell in love with music as a teenager. He attended Miami Beach High, which had the only high school rock ensemble in the United States at the time. Rick sang and played bass, drums, keyboard, and guitar for the ensemble's Dark Side of the Moon show. Performing in front of the entire school got Rick hooked on playing music. He became a working musician after he graduated and moved to Orlando.
Rick's rock resume is filled with popular local acts and big names. He wrote bass and guitar parts for Orlando bands like Groove Bone and 7th Fold. He worked extensively with prolific guitarist Pat Travers, recording bass and background vocals on Pat's studio album PT = mc2 as well as live albums like Live at Freebird Café. He's also jammed with Lenny Kravitz, Steven Tyler, Richie Sambora, Eddie Money, Rick Derringer, and more, but today his main focus is teaching at Full Sail.
Rick has been teaching in Full Sail's Music Production program for 15 years. He's also a graduate of the program, and his experiences as a student have made him a stronger instructor.
"It's really given me an edge on knowing what [my students] were already taught and the language that was spoken to them… that way, I can reinforce it with [Music Production Project & Portfolio IV]."
Students in Rick's classes can expect an environment that nurtures their creativity with a healthy dose of rock and roll wisdom.
"I'm not strict with their limits, as long as they do the work that's required," Rick says. "If they want to write a six-minute song, I'm not going to tell them that I won't listen to it, even though on paper it says it's got to be within a certain time limit. I give a lot of good feedback… A lot of times I do it live, even from home. I say, 'Hey, you want to jump on Zoom, and we'll grade this together?'"
Rick thinks that any student who truly wants to put the work into recording and producing can succeed in the Music Production program, regardless of whether or not they play an instrument. "I've had students who hardly play instruments, but really want to do this, and they excel. They fight, and they're the best sometimes," he says.