Published Jun 10, 2010
Full Sail Honors Hall of Fame Inductees
Full Sail's Hall of Fame ceremony is an annual event where we recognize a select group of graduates who have shown unique focus and dedication to their professional careers, and serve as continuing inspiration to our student body.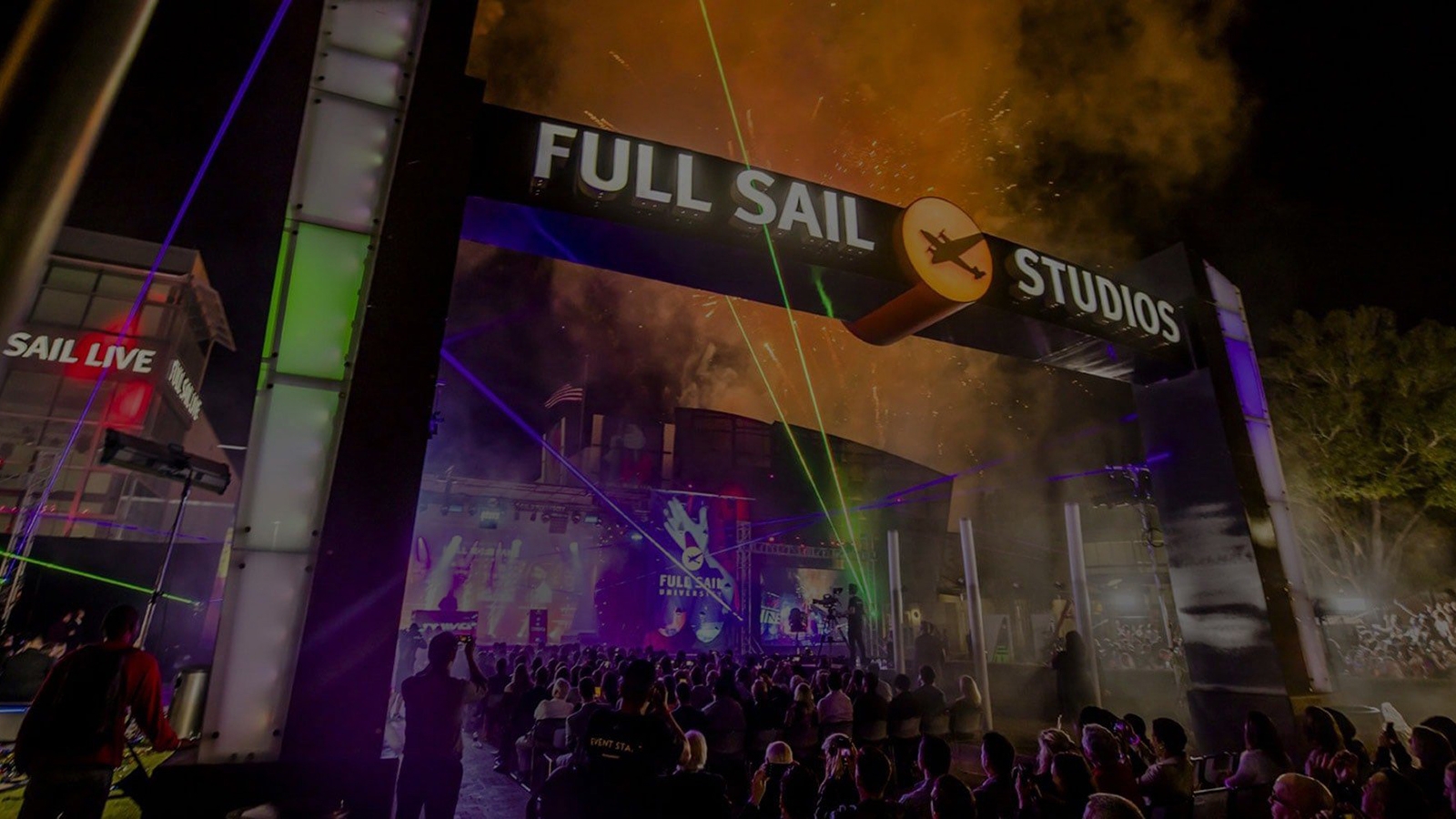 The 2010 Hall of Fame celebration was our biggest yet, and kicked off the morning of June 7 with students, staff, and special guests gathering on campus to honor the latest group of six graduates selected for induction.

The 2010 inductees into the Full Sail University Hall of Fame are:
Leslie Brathwaite: GRAMMY®-award winning Mix Engineer
Steve Cainas: motion picture and television Production Coordinator for feature films and prime time series
Troy DeVolld: Emmy-nominated Story Producer/Writer
Marc Fishman: Emmy-winning Sound Re-Recording Mixer on the HBO series John Adams, as well as numerous feature films
Kristifir Klein: Set Modeling Lead at Pixar Animation Studios
Martin "Tike" Santos: live sound audio engineer/technician for Clair Bros. who has toured with Peter Frampton, Faith Hill, and Paul McCartney
The festivities started with the opening of the Full Sail Studios Gateway project, our new 2.2-acre facility that features a game production studio, recording studio, and multi-purpose/live performance venue. Following a ribbon-cutting ceremony that included a speech from Florida Congressman Alan Grayson, guests walked the red carpet into the venue for a two-hour ceremony recognizing the achievements of this year's inductees.
Full Sail President Garry Jones hosted the event, and explained "Through the Full Sail University Hall of Fame, we honor these extraordinary graduates who have paved the way for many more to follow in their footsteps." The grads were then introduced with individual video retrospectives chronicling highlights of their careers, followed by their induction by friends and colleagues who have played an important role in their professional development.
Leslie Brathwaite was the first honoree, and was inducted by longtime friend and collaborator Tionne "T-Boz" Watkins from multi-platinum recording group TLC. In a candid and emotional speech, Watkins spoke about the evolution of her decade-plus professional relationship with Leslie and joyfully concluded by saying "It's an honor to induct my best friend on the entire planet."
Next was Steve Cainas, whose video showcased his work on the hit series Lost, as well as feature films like The Hudsucker Proxy and Knight and Day. Steve was inducted by his friend, film producer Beth DePatie, who worked with him on 2009's Fame. Upon accepting his award, he acknowledged how rewarding the relationships he's made in the industry have been to him, saying "There's nothing more gratifying than being recognized by your peers for doing something that you truly love."
Inductee Troy DeVolld echoed that sentiment, saying "Is this fun or what? I have to pinch myself sometimes because I can't believe that this is my job." Troy was inducted by friend and former classmate Ric Viers of Blastwave FX, who joked that their class knew Troy was special the first day he walked in wearing a suit and bow tie, saying "We didn't know if that meant special as in brilliant, or as in keep Troy away from sharp objects. But we soon found out it was the former."
Marc Fishman followed, with an induction speech by film editor Terilyn Shropshire (Diary of a Mad Black Woman, Love & Basketball), who spoke of Marc's ability to use music and dialogue to express just the right emotion for a scene. In addition, Marc also had the honor of receiving a video message from director Rob Reiner, who he's worked with on three films. Reiner congratulated Mark on his achievements, and said "I look forward to the next picture with you." An emotional Fishman responded by thanking his wife and two daughters, saying "I really do feel like the luckiest person I know."
The co-director of How to Train Your Dragon, Dean Deblois, was on hand to induct Kristifir Klein. DeBlois spoke about Klein's dedication to his work at Pixar on films like Up and Finding Nemo, and after accepting his award, Klein thanked his friend, saying "This really isn't about me and my accomplishments as it is about the people who have lifted me up."
Finally, Full Sail graduate Rich Flora (IT Manager for Clair Bros.) inducted longtime associate Martin "Tike" Santos, citing his passion for music and attention to detail as factors that have helped him excel in live production. He also received a heartfelt video message from Peter Frampton, who explained how integral Santos has become to his live touring team.
After a final word of congratulations from Garry Jones, the group moved to our Hall of Fame exhibit where their installations were unveiled. The structure includes a mixed media wall featuring video, audio clips, pictures, and industry credits showcasing highlights from throughout their careers. A separate exhibit also includes memorabilia from their long list of industry credits.
The day continued with the inductees gathering for a panel discussion with students, as well as a VIP dinner and private performance from Edwin McCain.
Reflecting on this year's Hall of Fame celebrations, Garry Jones said, "The core of Full Sail University's success has always been centered around our students, their achievements, and the fulfillment of their aspirations as graduates. The Hall of Fame represents decades of outstanding creative and technical contributions by our alumni to thousands of entertainment industry projects, and their influence and leadership in the industry at large."
Three more days of Hall of Fame events followed, featuring lectures and workshops with the inductees, campus tours, and finally capping off with a performance from MUTEMATH in the new live venue.