Published Jun 23, 2023
Full Sail TechFest Returns for Florida High Schoolers
High school students from around the state competed in a Super Smash Bros. tournament for Full Sail scholarship funds.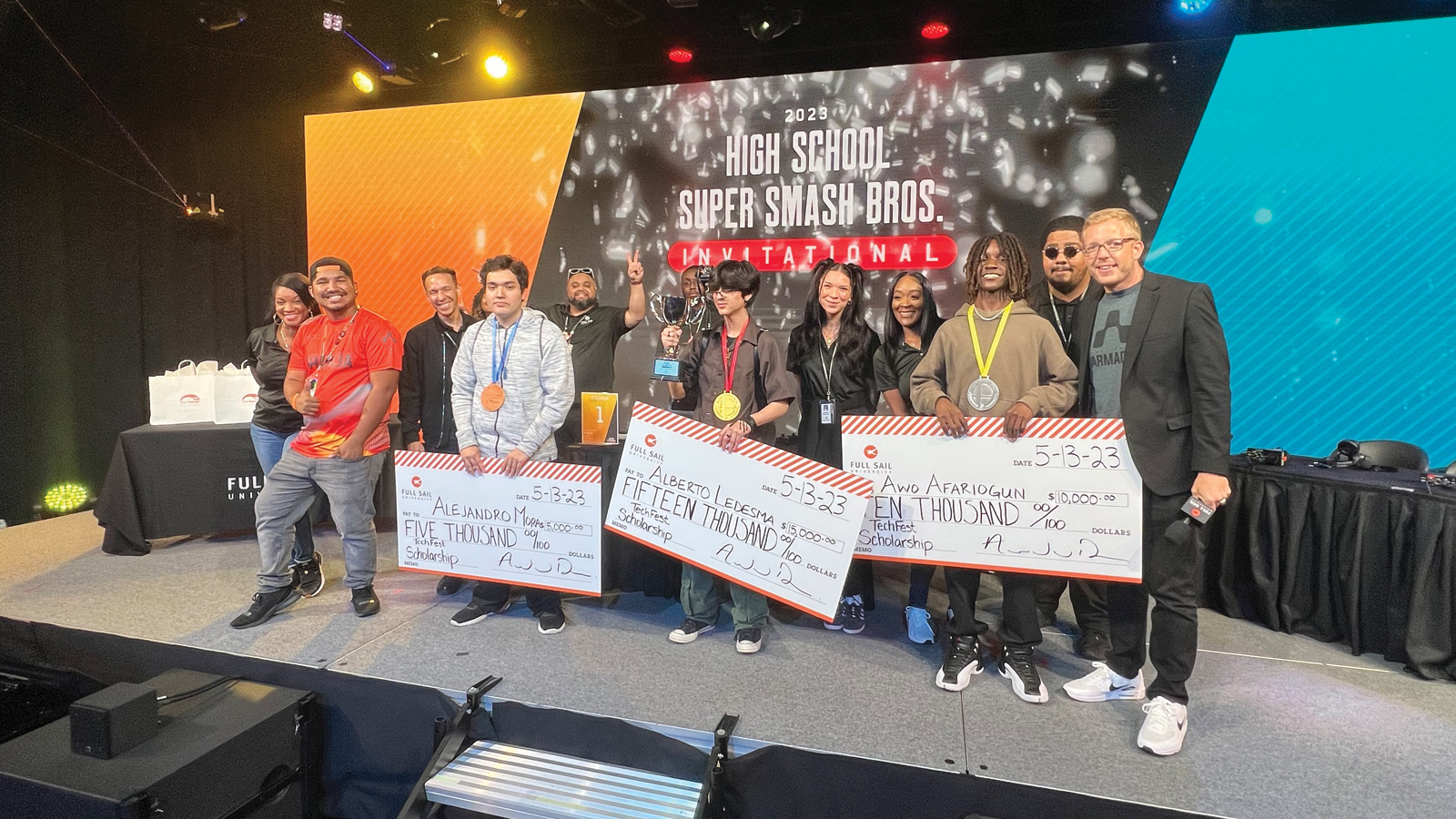 The Full Sail University Orlando Health Fortress once again welcomed high school student competitors from around the state of Florida to battle it out for up to $15,000 in Full Sail scholarship funds. The return of Full Sail's TechFest brought career-focused events to Florida high schools to share information with prospective students about degrees focused on emerging technologies and games, along with highlighting the esports community at Full Sail with an Super Smash Bros. tournament.
Seventeen TechFest events were hosted at high schools – including Pineapple Cove Classical Academy, Miami Sunset Senior High School, and Andrew Jackson High School – giving students the chance to learn more about Full Sail degree programs and the wide array of career opportunities in emerging technology fields like VR/AR, 3D printing, game design and development, cybersecurity, and more. Technology stations allowed students to get hands-on with tech while an esports booth provided a space to ask questions about Armada, Full Sail's collegiate esports organization.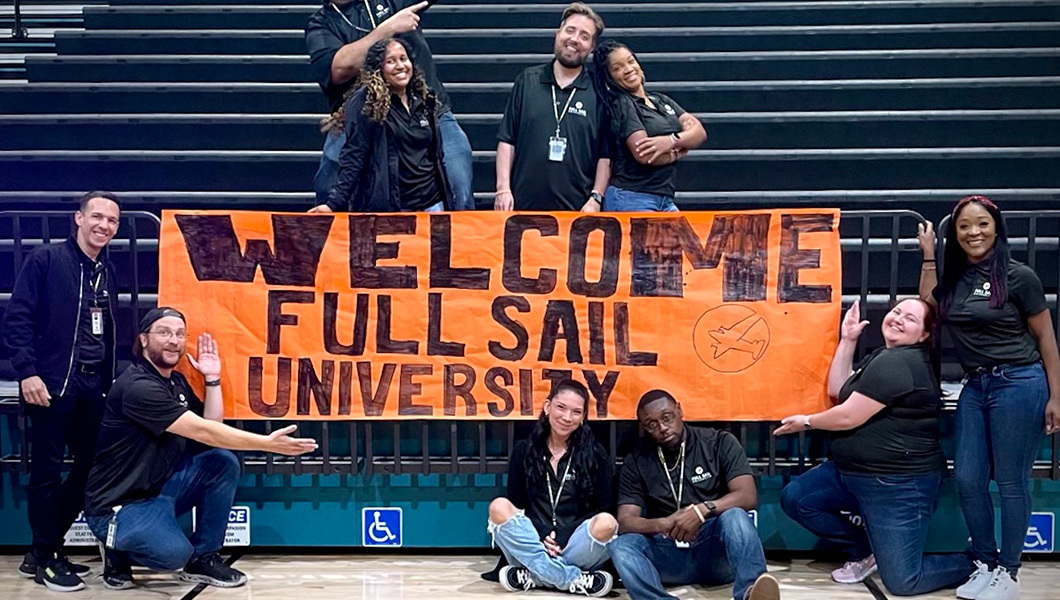 Full Sail staff members posing for a photo with a handmade "Welcome Full Sail University" sign.
During TechFest events at Florida high schools, students competed in Super Smash Bros. qualifier rounds to secure a place in the final tournament hosted on the Full Sail campus. Over 95 students from the 17 high schools made it through to the invitational final to represent their school and play for first, second, and third-place scholarship prizes.
With over 250 attendees, the invitational saw family, friends, and educators cheering on competitors in the Fortress as they competed in the popular fighting game. Full Sail students and live event crews were able to display the full power of the Fortress by providing high schoolers with a high-level esports production that reflects professional and collegiate levels of play.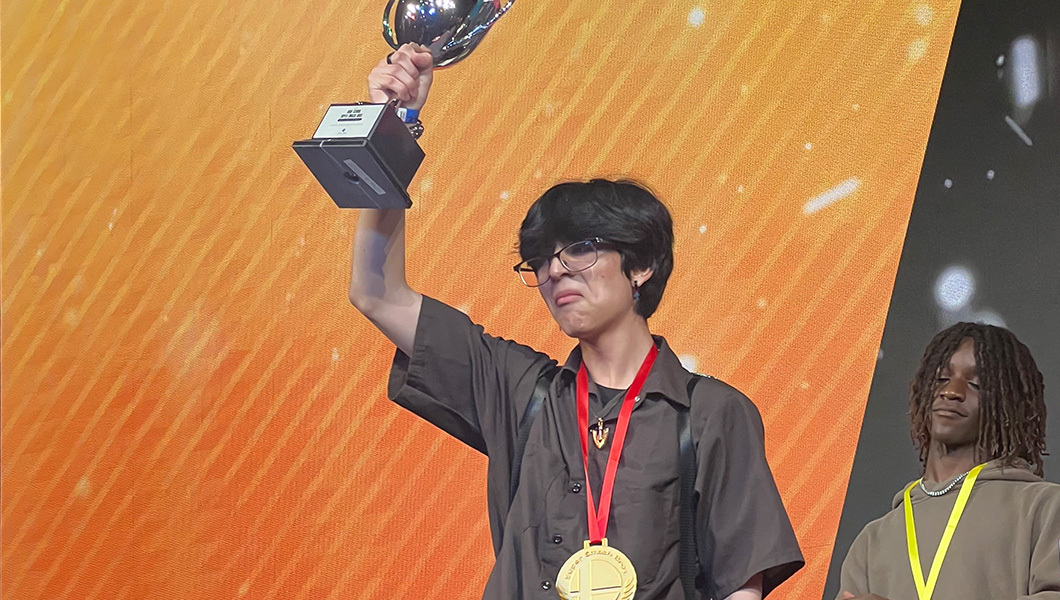 First place winner Alberto Ledesma on stage holding up the TechFest trophy.
For the first time in TechFest history, one school – Royal Palm Beach High – swept the competition, earning the top three spots. Royal Palm Beach High student Alberto Ledesma was awarded a $15,000 Full sail scholarship for his first place finish, Awo Afariogun came in second, receiving a $10,000 scholarship, and Alejandro Mora was awarded $5,000 in scholarship funds after placing third. All three competitors also received 3D-printed medals and the first-place winner received a shiny trophy, perfect for any high school's display case.
If you're interested in learning more about TechFest or hosting an event at your school, contact us via email at [email protected].