Published May 26, 2023
GCX Charity Event Brings DrLupo to Full Sail's Campus
The Full Sail University Orlando Health Fortress hosts Gaming Community Expo's annual charity stream recording featuring the popular YouTuber.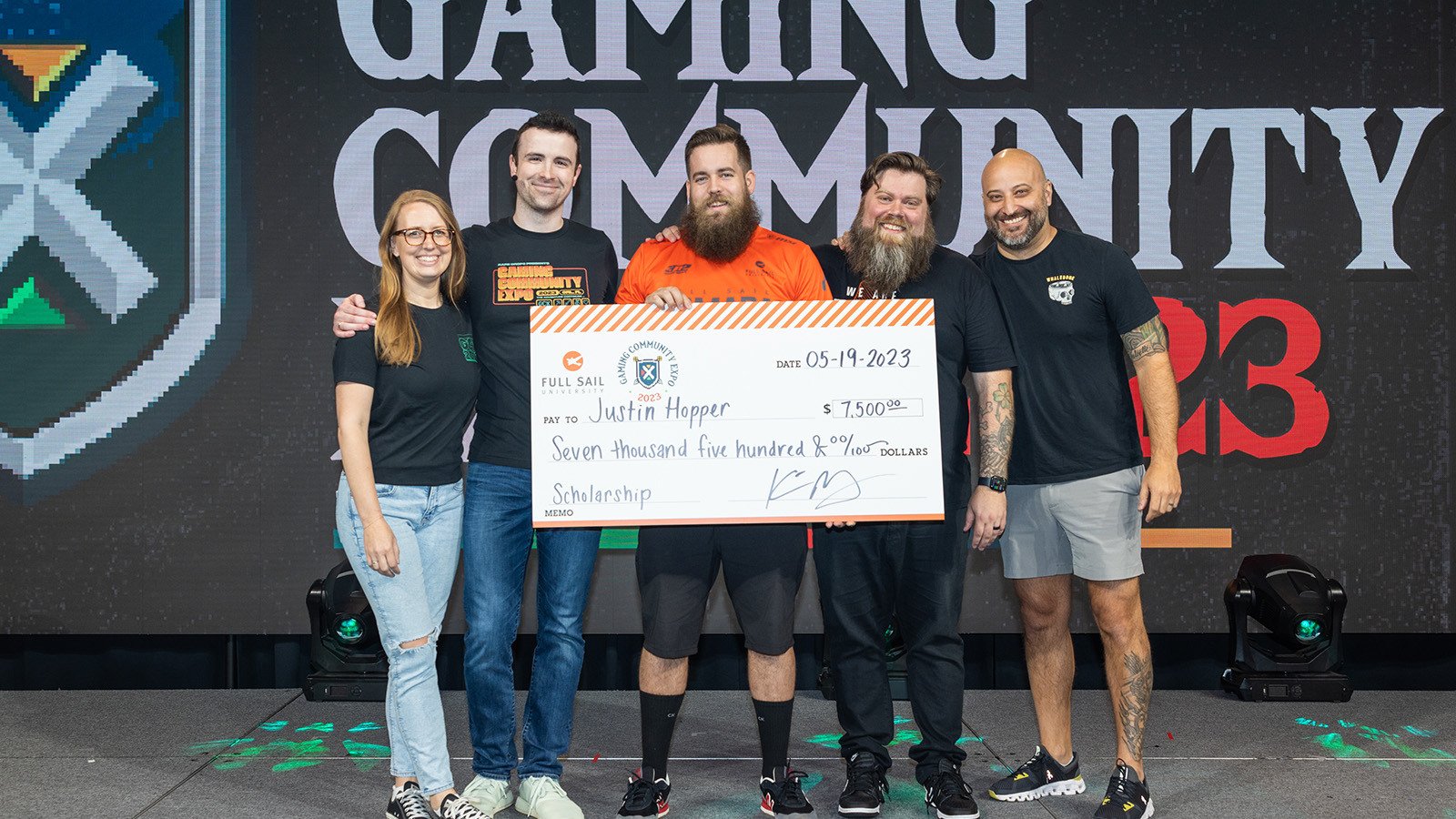 The Full Sail University Orlando Health Fortress was once again the production site for some of Gaming Community Expo's (GCX) annual charity marathon stream. The team from GCX and Rare Drop – including Professor Broman (CSO of Rare Drop and executive producer of GCX) and Darkness429 (CDO of RareDrop) – were joined by streamer and YouTuber "DrLupo" as they recorded content for the charity stream happening this summer.
Full Sail was happy to once again host the team at GCX for the third consecutive year, giving students on Full Sail's live event crew the opportunity to gain industry experience while Dan Patrick School of Sportscasting student Mia "MiaMouse" Eremita contributed her hosting skills to the pre-recorded segments.
"We work with Full Sail on multiple projects," says producer, GCX co-founder, and RareDrop CEO Kevin Murray. "The mission of GCX is to build community within the gaming community as well as on a charitable side raising funds for St. Jude and I feel like Full Sail is a great reflection of that mission. It's one of my favorite places to do events and projects like this because the students are eager to be here and they want to work."
Entering its eighth year, the GCX Charity Marathon has raised over $20 million for St. Jude Children's Research Hospital and is continuing its mission to prove gaming does good.
"The whole purpose of gaming is to be part of a community, very few people are playing games to be by themselves. They want to be a part of something bigger," shares Samantha Lupo, Charity Director at GCX. "And I think it's easy to tie that into giving back because you already have that safe community feeling."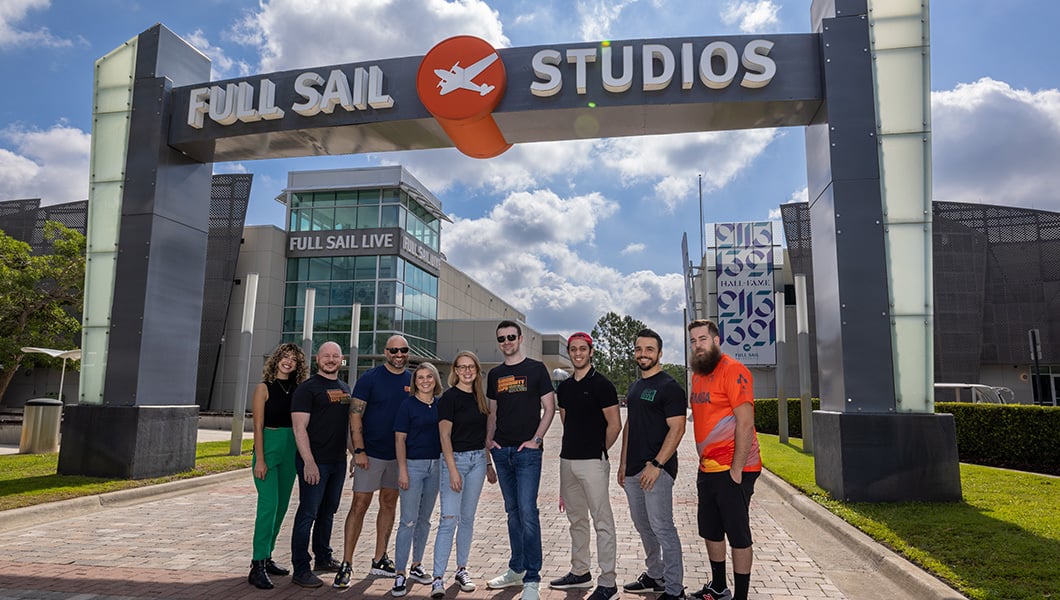 DrLupo and the team from GCX with students Mia Eremita and Justin Hopper under the Full Sail archway on our Winter Park campus.
During the recording, Rare Drop & DrLupo presented Graphic Design student and Armada Stream Team member Justin "KSE-Hopper" Hopper with a scholarship for $7,500 in recognition of his commitment to the Armada community and his studies.
"Justin was an exceptional choice to be awarded a scholarship from GCX and not just because he's a valued Full Sail Armada Varsity Stream Team member," says Full Sail Director of Esports Growth & Development Bennett Newsome. "He was recently invited to stream from our annual event, Hall of Game: Paragon, as part of our Hall of Fame celebration. Little did we know that Justin was selflessly raising funds for charity during his stream, displaying his remarkable generosity and commitment to making a positive impact."
Aligning with GCX's mission, Full Sail is proud to partner with GCX as they continue to enrich and grow the gaming community at large. Don't miss DrLupo, MiaMouse, and the team at GCX during this year's GCX Charity Marathon streaming on Twitch July 23-August 1.