Published Feb 08, 2017
Grad's Successful Production Company Continues to Grow and Innovate
2004 Show Production grad Jesse Durlin founded Orlando Productions in 2007.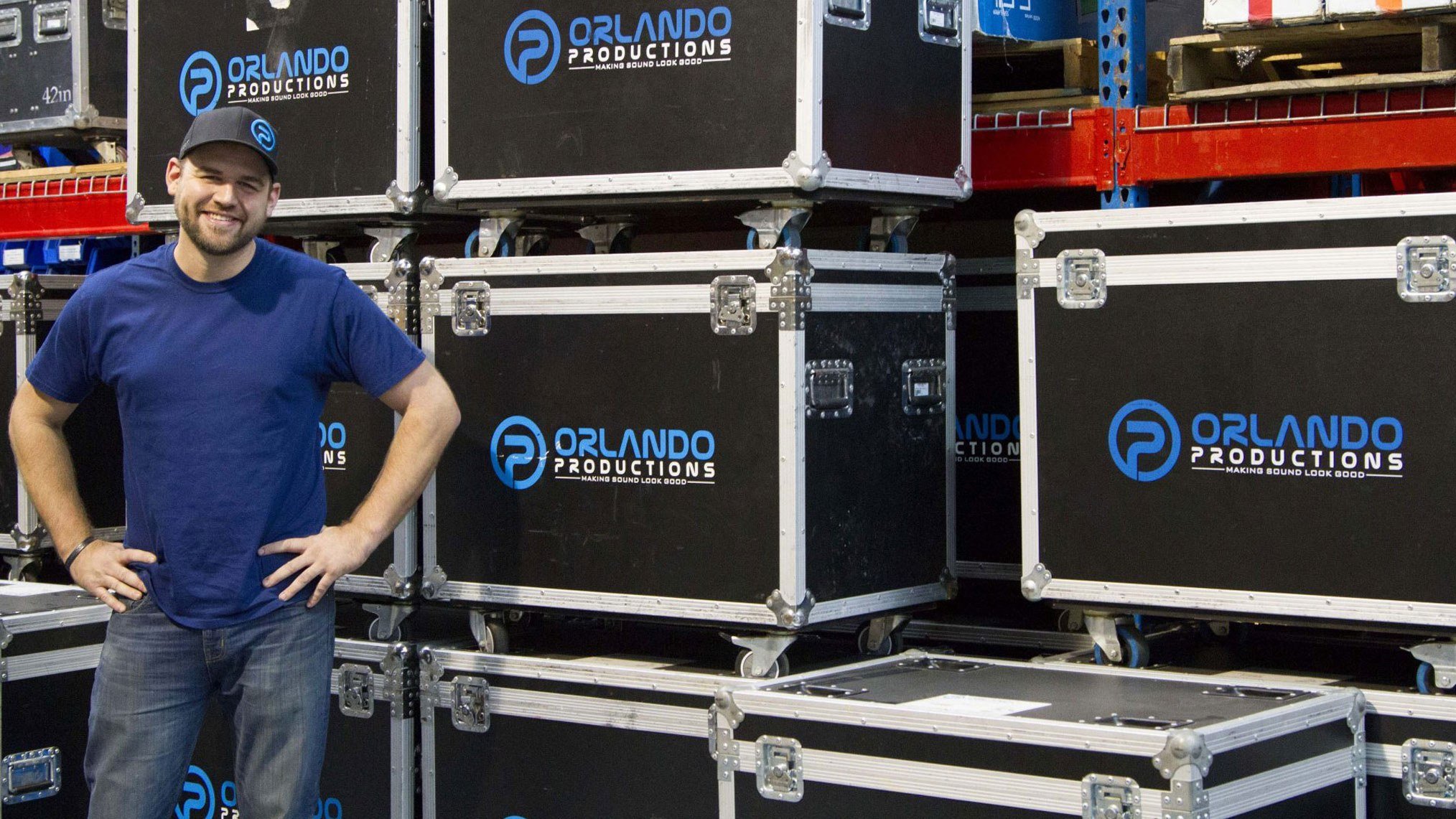 Jesse Durlin dove into the show production industry right after graduating in 2004, working for various production companies and gigs around Central Florida. He quickly realized that he wanted things done differently, and wanted the opportunity to be selective about the events he worked on. His passion for business and desire to improve the show production and audio/visual equipment industry led to the birth of Orlando Productions.
Founded in 2007, Orlando Productions prides itself on being a full-service production company offering design, equipment, and installation for events, as well as the technicians to go along with it. Employees may be out on the road with concert tours for months to set up and troubleshoot the equipment, should any problems arise while out on the road. Any short-term or daily events will also have a tech on hand.
"Our company is a little different than most, because a lot of our employees are skilled in aspects across the board," Jesse says. "They all have their strengths, but know enough about each area to be useful. We're a big family, and we do whatever we have to do to get the job done." Jesse is committed to making his clients feel like family, and promotes a fun work environment for his staff as well.
Jesse has brought many fellow alumni on board - his staff is currently comprised of around 80 percent Full Sail grads, including his general manager. Receiving about 20 applications per day from alumni, Jesse says he prefers to look at Full Sail grads first because they have a solid foundation of knowledge and experience.
"You have to have a passion for this work; it's a lifestyle," Jesse advises. "Dedication and trustworthiness are what make a great employee. We can train you on whatever we need to, but you need to have that drive to learn and be successful."
Jesse's dedication to his company has definitely paid off. Orlando Productions currently averages 2000 events between 300-400 clients, and has nearly doubled their work each year. They provide services for real estate seminars and corporate events to touring concerts, festivals, and comedy tours. The company is currently working on tours for Amy Schumer, Kevin Hart, and Louis C.K.
In 2016, Inc. Magazine ranked Orlando Productions at number 2125 among their top 5000 companies, listing 175 percent growth and $5.5 million dollar in revenue for 2015. Jesse plans to expand the company soon with two new locations help to cut down on cost from shipping equipment and employees all over the country. One shop will be in California - where they do most of their business - and one in Texas - to have a centralized location in the United States.
In order to stay relevant in the industry, Orlando Productions is constantly looking for new ways stretch their creativity by coming up with innovative ideas that will change the world. Jesse explained that they're currently working on new battery technology that he's particularly excited about.
The hardest part about this job, though?
"The people," says Jesse. "Equipment is binary; it either works or it doesn't. You can't control people, so you need to have amazing people skills," he continues. "Be able to communicate, be nice to people, be open to criticism, and be a hard worker. Be able to prove yourself, but be humble."
He attributes much of his success to picking up jobs while he was in school. "I just snagged every opportunity I possibly could, whether it was working for the school or an event in Orlando. I didn't sleep for a few years," he laughs.
"It's important to work alongside people in our industry, because people only hire who they know. You can be the smartest person in the world, but if you don't have a connection and no one knows who you are, then it doesn't matter."
If you're interested in learning more about a career in show production, now is your chance to meet some of the experts at Orlando Productions during Hall of Fame Week. The company will have a booth at our Career Networking Expo Sponsored by SAIC as well as the Technology Expo, on Monday, February 13 and Tuesday, February 14 in Full Sail Live.