Published Oct 14, 2021
Meet the Grad Who Helps Athletes Score Touchdowns in Video Games
As a Rigging Supervisor at Electronic Arts, Computer Animation grad Josh Gaines creates the 3D skeletons that help video game athletes run into the end zone.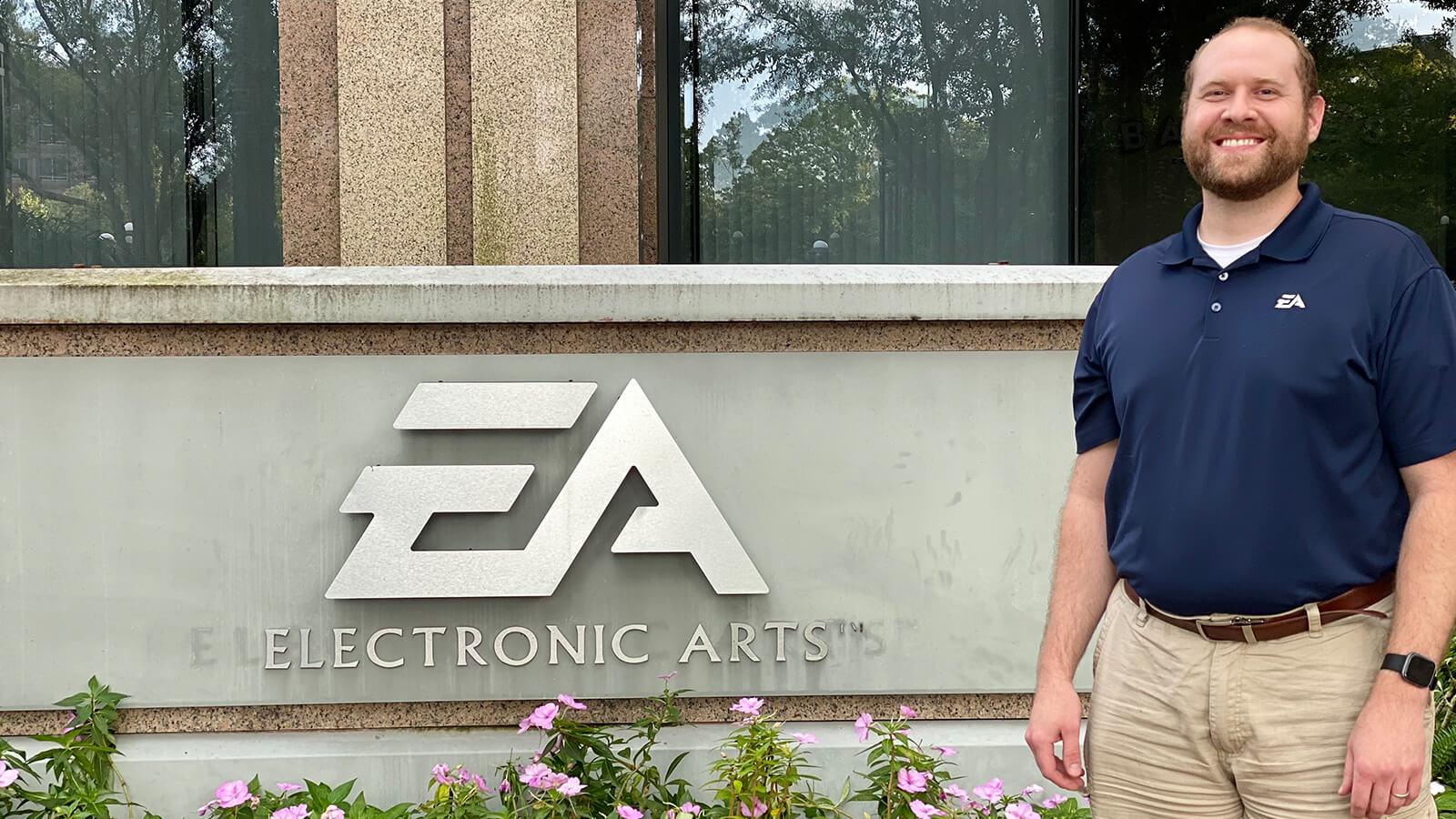 Josh Gaines loves a good puzzle. The Computer Animation grad grew up playing chess and other problem-solving games, and that mindset made him a great fit for the analytical world of animation rigging. He's spent 10 years working his way up the ladder at Electronic Arts, and now he's tackling challenges every day as the Rigging Supervisor for EA's Orlando studio.
Josh started his Full Sail career with his eyes on character animation, but he quickly realized that his analytical mind was better suited to the technical challenges of rigging. "I found that fascinating because of the different puzzle-like combinations needed for skeleton hierarchy and control setup. My problem-solving abilities kept my attention, focus, and passion on that side of the animation industry. Rigging was that embodiment for me," he says.
He started working at EA as a Pipeline Associate Technical Artist a few years after graduating from Full Sail. He contributed to Madden NFL 13 for PlayStation Vita before making the switch to Rigging Associate Technical Artist. The first game Josh shipped was NBA Live 14; he helped rig all of the game's players, crowds, mascots, sideline characters, and referees. Josh continued on his rigging path until he was promoted to Rigging Supervisor in late 2020.
As a Rigging Supervisor, Josh leads other rigging artists, contributes content to EA's sports titles, and helps EA develop and execute new technologies. He has several weekly meetings where he collaborates with other EA employees on progressing character rigs for desired game features.
"Maybe we're building a prototype for a new football player feature. My team and I will work with the character artists and the game team TAs, animators, and software engineers to figure out how to make it happen in the game," Josh says.
Josh also works with his colleagues to prepare for new tech that can improve player experiences or make their developers' work easier. One of EA's proprietary technologies is a procedural secondary rigging system that he uses within the game runtime environment.
"Within the procedural secondary rigging system, there are nodes used to build logic networks. These networks operate on animated characters and produce corrections to body deformation at runtime. My team and I often prototype new node operations or simulations, share results with our project team members, make iterative changes, and then work with a software engineer to optimize it for the game engine," he explains.
His years of professional experience help Josh succeed in his current role, but his time at Full Sail laid the groundwork for what he's doing now. In addition to technical skills, like rigging and scripting, Josh learned foundational concepts that applied to every level of his career.
"I learned how to understand the anatomy and motion of a human, identify landmarks on the body to place a skeleton or muscles inside of a 3D human model, and then understand the combinations of shapes those bones, muscles, and fat make in different poses," Josh says. "The end goal is applying those teachings by making the character as believable as possible while trying to convey the unique likenesses and authentic behaviors of the humans we know in the real world."
Josh makes the effort to respond to current Full Sail students who reach out to him for career advice. He tells them that understanding the difference between playing games versus building them helped him succeed in the industry — and enjoying a good puzzle doesn't hurt, either.
"Sometimes they mix the passion of playing a game with the passion of creating a game... I enjoy the problem solving space around creating control rigs and building rigging systems that encompass multiple types of characters."