Published May 10, 2023
Hall of Fame 13: A Week in Review
This year's Hall of Fame featured 100+ panels and presentations, interactive activities, networking opportunities, and even a few tearful acceptance speeches.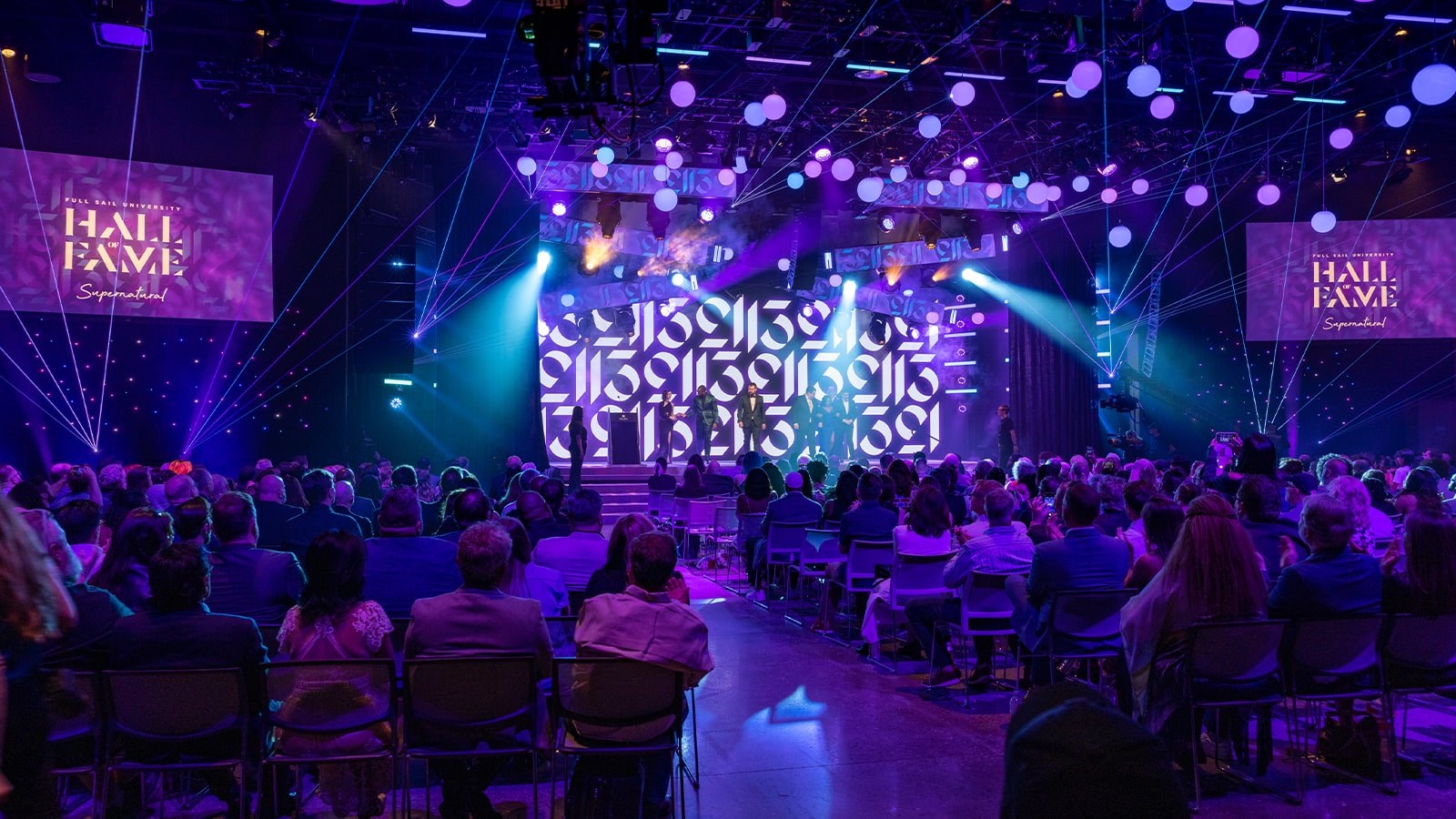 Hall of Fame 13 – an exciting week full of opportunities to network, celebrate, and educate – has come to a close. With conference-style panels and presentations, creative and engaging activities, a career networking event, a tech expo, mentorship opportunities, and plenty of fun, the week brought the Full Sail community together on campus and online. Plus, the whole week was documented via Hall of Fame Live, a YouTube live stream that covered the week's panels, event and activity highlights, and, of course, the ceremony that inducted this year's six new members of the Full Sail University Hall of Fame.
Hall of Game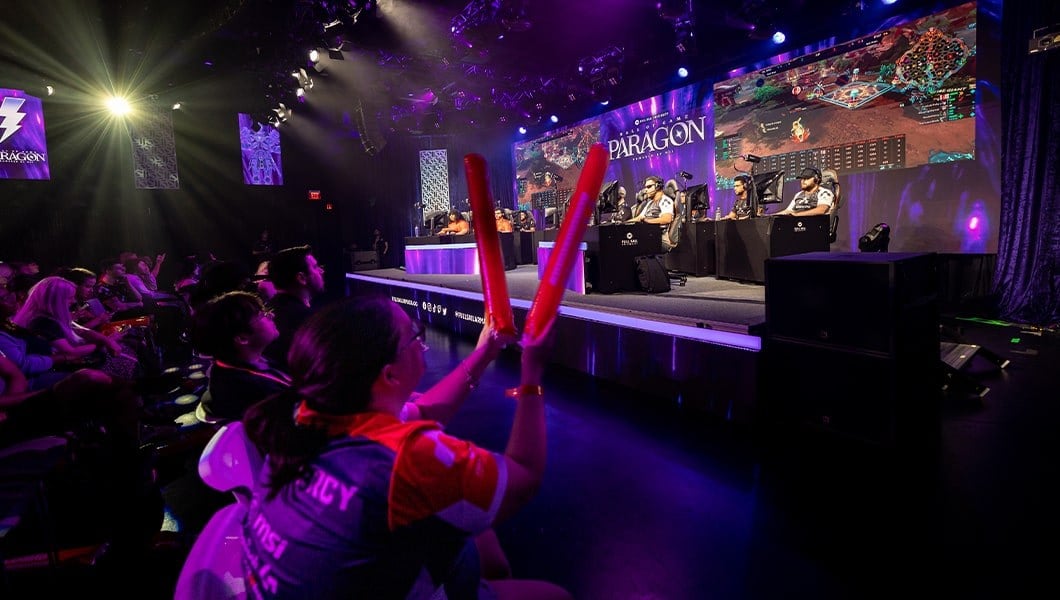 The Full Sail Armada varsity teams competed at Hall of Game and won the three main-stage matchups and prizes.
The week kicked off with Hall of Game: Paragon on Sunday in the Full Sail University Orlando Health Fortress. Three Full Sail Armada varsity teams – Valorant, SMITE, and Overwatch – gave it their all and won the three main-stage matchups and prizes courtesy of MSI. Additionally, five Armada athletes were awarded $50,000 in scholarships on behalf of the Orlando Health Jewett Orthopedic Institute.
But guests didn't just get to watch some of the best gamers on campus compete. There were several free-play gaming stations set up, Red Bull Racing Simulators, live-streamers, and a community Super Smash Bros. tournament taking place outside the venue.
When students weren't rooting for their favorite team or competing, they could treat themselves to one of the many treats offered by the food trucks or enter the raffle to win high-value prizes.
Tech Expo and Career Networking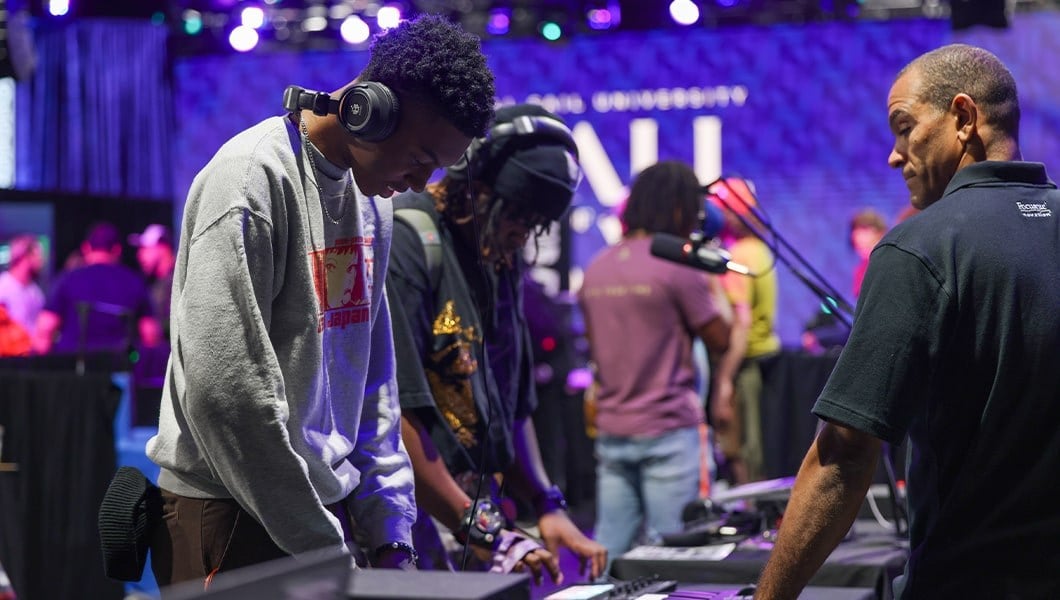 Students had the opportunity to try and use different technologies at this year's Tech Expo, including sound engineering equipment.
On Monday, all students had the opportunity to explore the latest in gear and tech at the Tech Expo, while those near graduation along with alumni, were able to attend the Career Networking Event. The Tech Expo featured several well-respected technology companies, including Dell Technologies, Sony, and Echelon. Several booths also had lots of new technology, including VR glasses and gaming computers, for students to try out and learn about.
Meanwhile, the Career Fair hosted a wide range of companies, including the Dr. Phillips Center for the Performing Arts, the Milwaukee Bucks, and the Walt Disney World Company. Both fairs were a perfect time for students to flex their networking skills, ask questions, and learn more about their potential future employers.
Student Activities and Events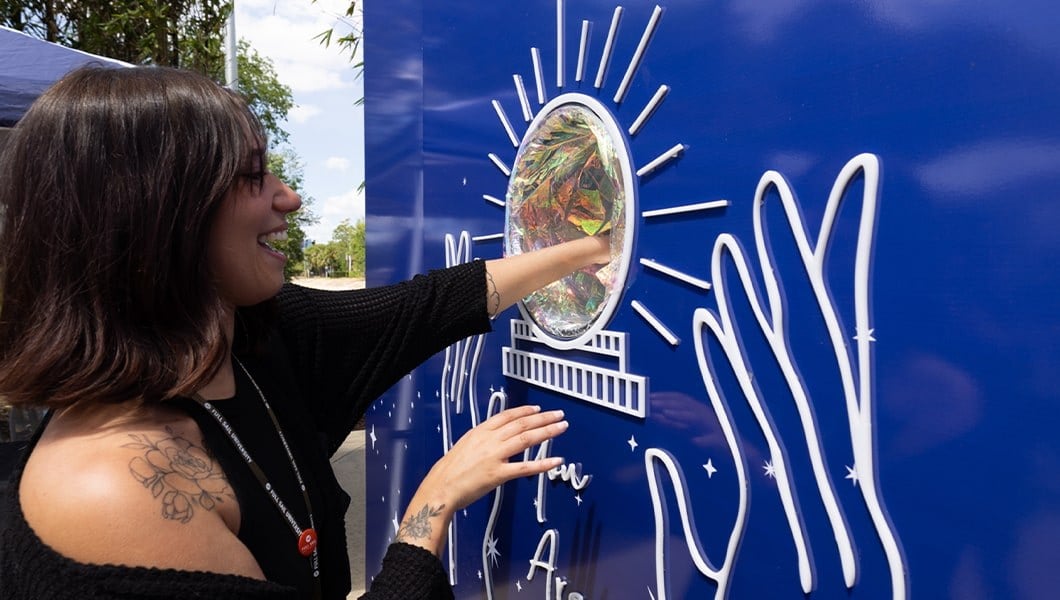 The "Dear Future Me" booth encouraged students to write aspirational letter to themselves and drop them in a mystical crystal ball.
Students also had plenty of time to enjoy the many activities offered at the Creative Experience, including a silent disco, arts and crafts table, rock climbing wall, and a caricature artist. The very interactive "Dear Future Me" booth was a huge hit and let students write aspirational letters addressed to themselves before dropping them in a mystical crystal ball. The letters will be sent to the students in one year.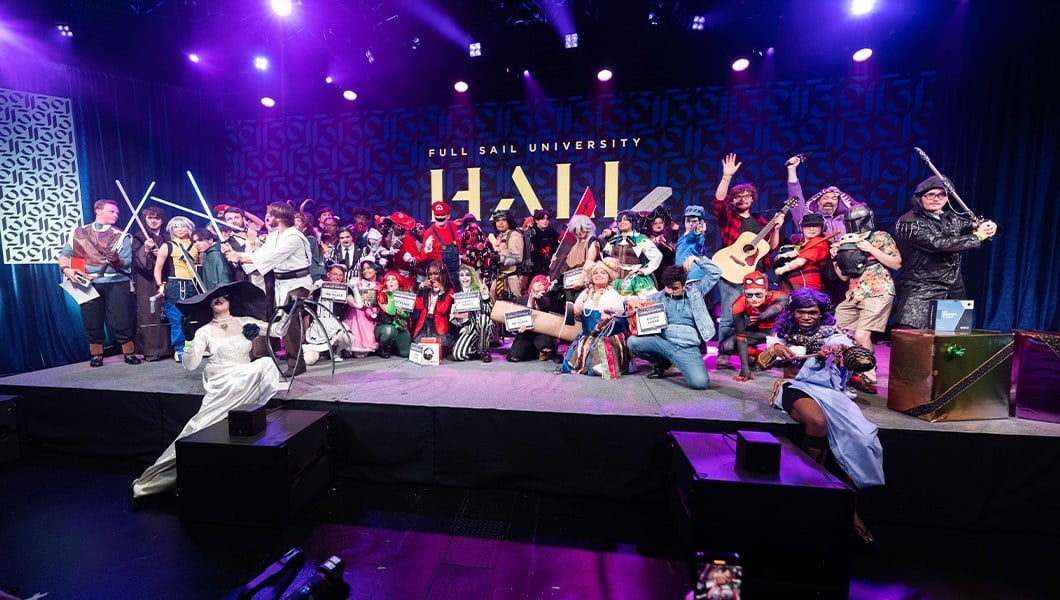 Students, faculty, and staff congregated in the Fortress to compete for first place in the costume contest.
On Thursday, the Fortress hosted a cosplay costume contest where students, faculty, and staff dressed up as their favorite anime and pop culture characters to compete for first place. Students enjoyed coming together for the creative contest and rooting for their favorite character to win.
Panels and Presentations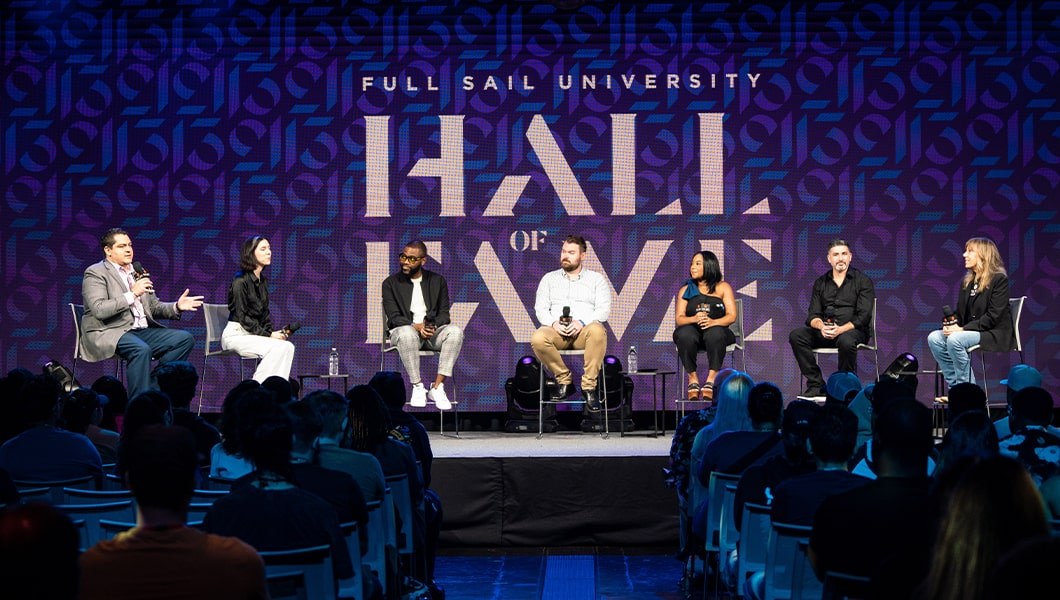 On Tuesday, the Hall of Fame inductees sat down together for an introductory panel. From left, Victor Herrera da Silva, Caris Baker, Brandon Blackwell, Aaron Hamilton Cook, Devan Renea, Jeff "Supa Jeff" Villanueva, and Director of Alumni Relations Sherri Tantleff.
There were over 100 conference-style educational panels and presentations throughout the week, featuring Full Sail grads who are accomplished professionals in the entertainment, gaming, design, and technology industries.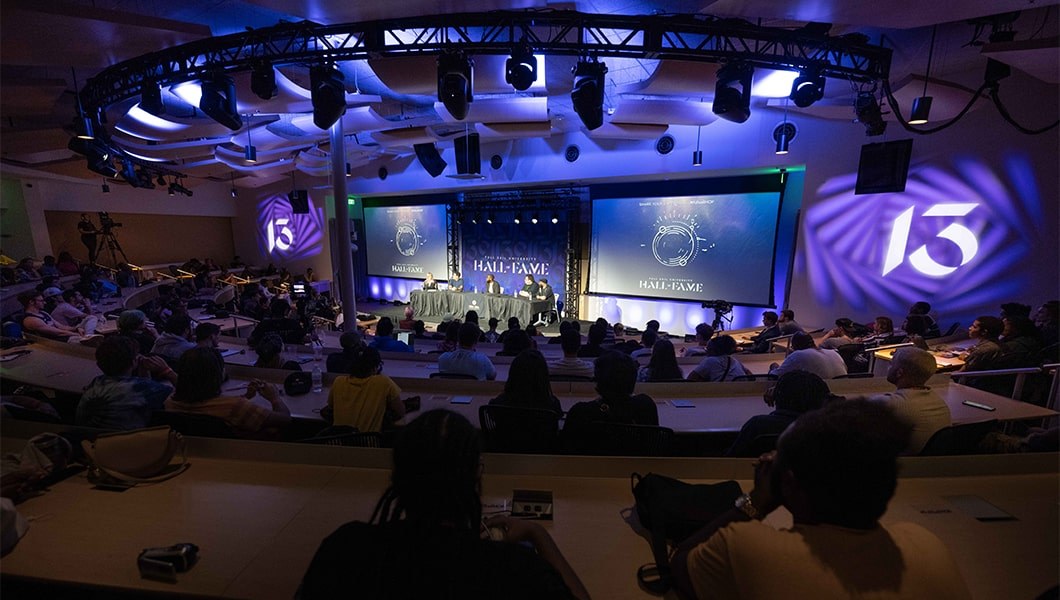 The panel, "What are your skills worth? How to set your rates and get paid," discussed setting rates, invoicing, paying taxes, and more. From left, Music Business Course Director Brandy Price, Tom Todia, Brandon Blackwell, Mark Kilborn, and Fernando Delgado.
Orlando-based creative agency Digital Brew Founder and Creative Director Michael Cardwell walked students through his talk, "How to be an Irresistible Hire." Michael advised his audience to "[Tell interviewers] how are you going to help them, not how they are going to help you."
On Tuesday, the Hall of Fame 13 inductees came together for an introductory panel. Along with expressing their gratitude for their induction into the Hall of Fame, the inductees discussed the importance of developing your personal brand and how their career paths – and the technology they learned at Full Sail – have developed and shifted throughout the years. Caris Baker noted that Full Sail taught her the importance of "learning to learn, not just learning the stuff you need to know."
Phil Pallen, the Brand Strategist for the Phil Pallen Collective, was on campus all week and gave several talks focused on developing your brand and building your dream career, including "Using Social Media to Get Your Foot in the Door" on Tuesday and "A Beautiful Brand to Land Your Dream Career" on Thursday.
Hall of Fame Induction Ceremony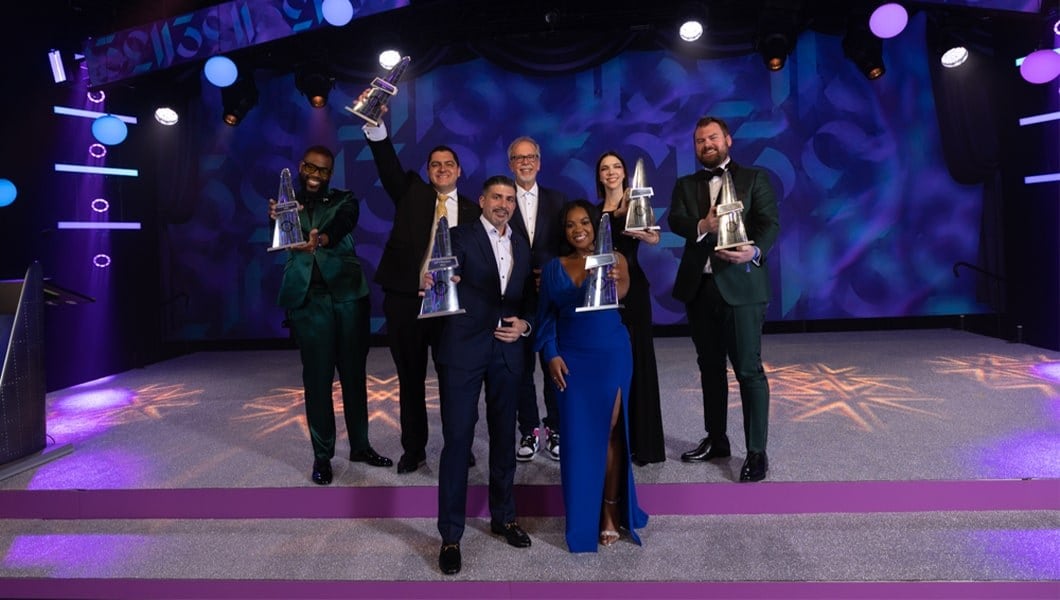 The Hall of Fame 13 inductees made heartfelt speeches and received their awards at the Hall of Fame Induction Ceremony. From top left: Brandon Blackwell, Victor Herrera da Silva, Full Sail President Garry Jones, Caris Baker, Aaron Hamilton Cook, Jeff "Supa Jeff" Villanueva, and Devan Renea.
On Thursday evening, students, grads, staff, and guests came together in the Full Sail Live venue to watch this year's Hall of Fame induction ceremony. Full Sail President Garry Jones and Mayor of Winter Park Phil Anderson both made heartfelt speeches about the importance of passion and Full Sail's commitment to its students and grads.
As each new Hall of Fame inductee fought back their tears (unsuccessfully) while accepting their awards, they spoke sincerely and emotionally about how honored they were to receive a place in Full Sail's Hall of Fame.
"If I were dreaming this would be when I would wake up," said Caris Baker. "This certainly is a beautiful night to remember, and it is a pure joy to be inducted into Hall of Fame 13."
Devan Renea shared what kept her inspired throughout her career: "As I always like to say, dream chasing is a journey. It's not a destination…. [My grandfather always said] 'You can't go wrong on the right road.'"
"Without [my parents] I wouldn't have gone to school, so shoutout to my parents…. I would like to thank all my show production teachers, instructors, and staff members," said Brandon Blackwell during his acceptance speech.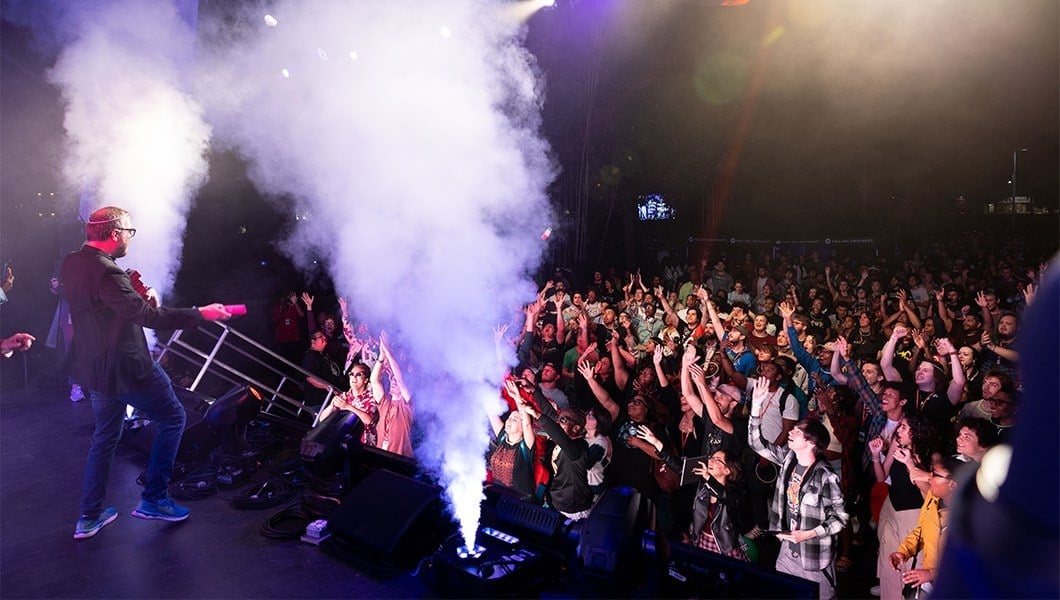 Prize giveaways were just one of the highlights of the post-ceremony Student Block Party.
The event culminated in a large block party complete with live performances, plenty of tasty food, and even a few giveaways for those who missed out on getting some exclusive Hall of Fame swag during the week.