Published Jun 26, 2023
Sports Marketing & Media Grad Brings the Fun to Bismarck Larks Baseball
Grad Joe Zollo serves as Director of Entertainment and On-Field Host with the NCAA-affiliated collegiate summer baseball team.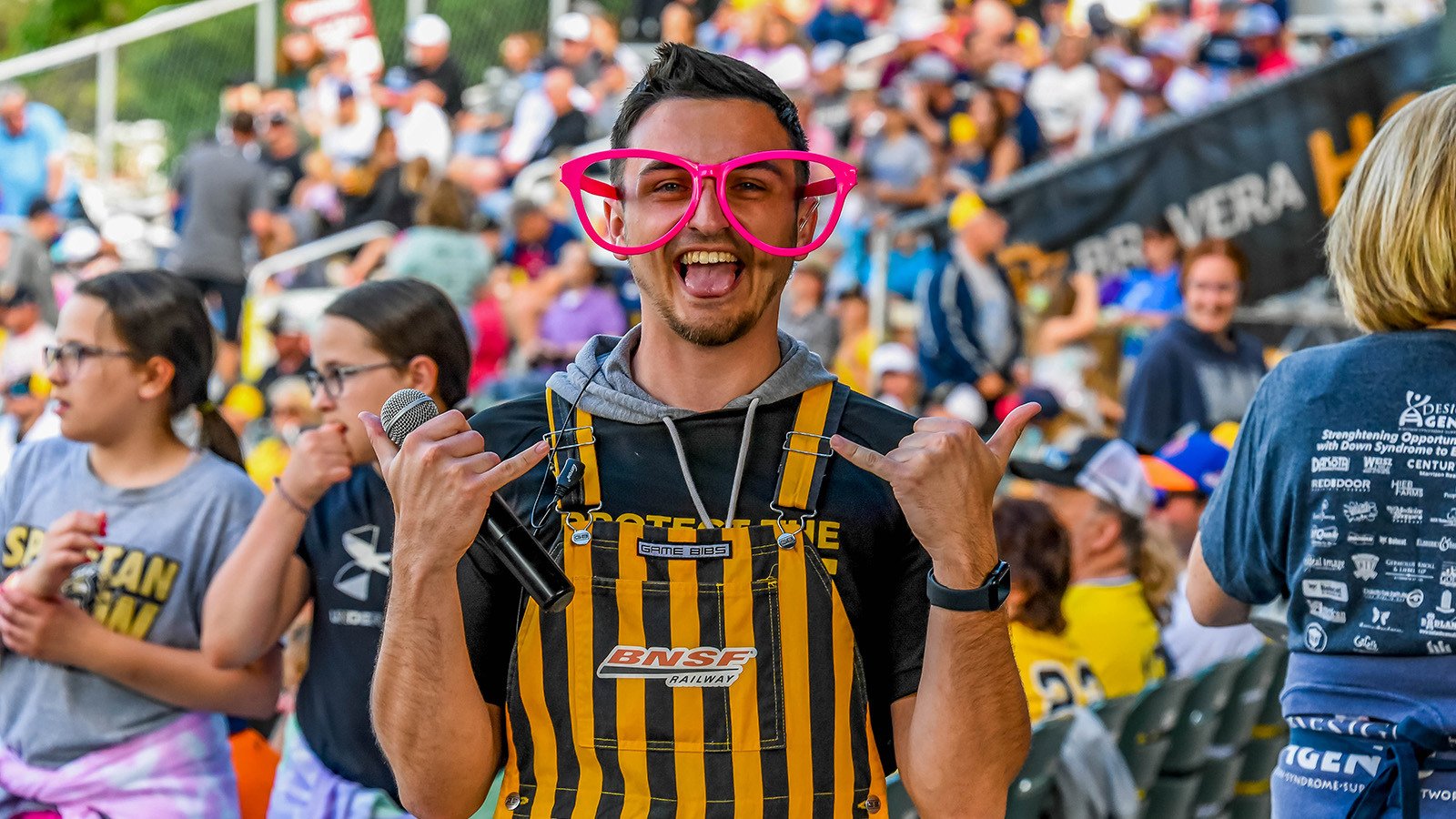 For Joe Zollo, growing up in New England made it tough to avoid being a sports fan.
"It's really hard to not like sports in a city with 12 championships in your lifetime," he says. "I started playing t-ball when I was three and haven't stopped playing sports ever since."
With such a passion for athletics, it was no surprise that Joe was interested in pursuing a career in sports journalism. But after a heart-to-heart with a family friend and New England Patriots writer, Joe quickly realized journalism wasn't the right angle for his career objectives. "He told me, 'Joe if you don't want to work long hours for pennies, don't get into journalism.'"
Pivoting to an interest in business, Joe had heard about Full Sail and felt it would be the perfect fit for his approach to education. "I don't really care for the traditional college experience. I'm not a partier. I didn't need to go to a big school. I was just like, 'All right, get in and out, get into the industry.'" After visiting the campus and attending a Behind the Scenes tour, Joe decided the Sports Marketing & Media program would be the perfect place to marry his lifelong love of sports and his desire for a successful and impactful career.
After a few jobs following graduation, including a part-time role with the Boston Red Sox that Joe secured while still in school, he found himself doing something he never expected: Moving to North Dakota. Receiving a job offer with summer collegiate baseball team the Bismarck Larks, Joe relocated to the Midwest.
A part of the Northwoods League – a baseball organization whose alumni include Curtis Granderson, Max Scherzer, and Brandon Crawford – the Bismarck Larks see a 72-game regular season throughout the summer that emphasizes the fan experience, focusing on entertainment and the lighter side of professional sports. Filled with dance breaks, fan participation, and of course America's pastime, Larks games give Joe the chance to flex his creativity, comedy, and magnetic personality in front of nearly 2,000 fans nightly.
Hired as a content creator and even hosting a few games during his first season, Joe grew with the team as did his scope of work. Today, Joe works as the Director of Entertainment and On-Field Host for the Larks, a role that requires him to perform throughout the summer season, while spending the nine off-months planning and preparing for next season. "We're pretty much preparing nine months for a three-month season. In the fall, it's looking back on the previous season, looking back at what fans have said, what sponsors have said, and trying to see what we can do better next year."
During the season, Joe's job doesn't lack for excitement. "[A normal game day] is making sure the script is right and tight, getting rundowns set, sponsors are all happy… going over the ballpark, making sure the video board is all set up, everything's loaded for the evening, sounds are all set, and any practices that I need to go through. Then, gates open and I act like a maniac for four to five-and-a-half hours… I love my job."
A natural on camera and as an entertainer, Joe still credits much of his success to his time at Full Sail.
"The amount of stuff that I learned is insurmountable, I think. And I say it every time I come back [to Full Sail], whatever they're telling you, and you may roll your eyes and be like, 'Oh, that's bull.' And maybe 10% of it is, and they're trying to hype it up a little bit. But 90% of it is probably dead accurate… because these people have been in the industry. These people know what the industry is and they're not just teachers."