Published Apr 19, 2018
The Nature Conservancy Alongside Lead Collaborator Full Sail University Launch "The Monarch Initiative"
The premier Central Florida Migrating Mural created by Ink Dwell Studio is located on Full Sail's campus, with its sister mural calling downtown Orlando home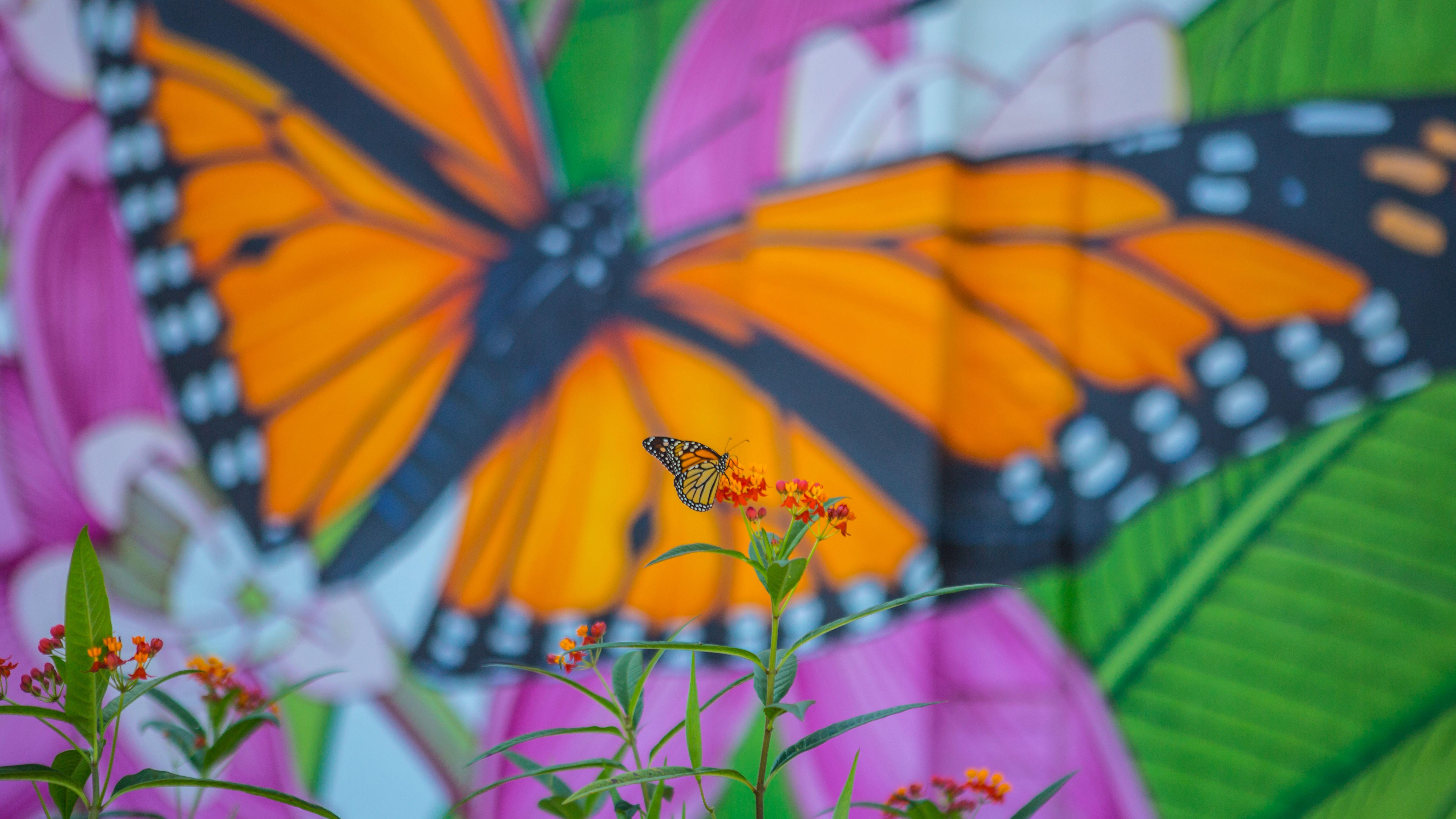 The Nature Conservancy, alongside Full Sail University, announces "The Monarch Initiative," focused on the iconic and imperiled monarch butterfly, a symbol of the many conservation challenges that pollinators and wildlife, natural systems, and people face in Florida and around the globe. The unique program is launching in Central Florida, in collaboration with Full Sail University, to increase awareness of the value of nature in our lives and encourage conservation action. The Monarch Initiative is a multifaceted campaign of digital and social media engagement, on the ground activities, compelling outdoor art, and community partnerships.
The Nature Conservancy is the world's largest conservation organization, working to protect lands and habitats that are critical to monarchs and pollinators and support healthy natural systems that sustain us. The Conservancy is addressing climate change, leading sustainable agriculture practices on our farmland, and supporting greenspace in urban areas. In Florida, the Conservancy has helped protect more than 1.2 million acres of vulnerable lands and waters, and owns and manages more than 52,000 acres in 25 Conservancy preserves.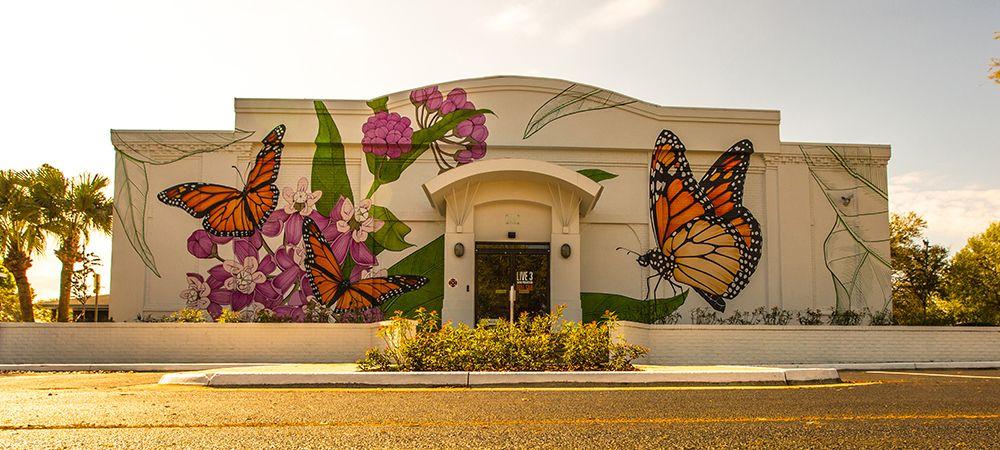 "The Monarch Initiative brings the importance of well-functioning natural systems into sharp focus. Monarch butterflies rely on the same landscapes that support clean air and water and benefit all of us," says Temperince Morgan, The Nature Conservancy in Florida's executive director. "The initiative aims to inspire action from Floridians who are passionate about creating a healthier, more sustainable world. The world we depend on, also depends on us – as a community, we can build a future where people and nature thrive together."
As lead collaborator of The Monarch Initiative, Full Sail University, an award-winning educational institution focused on entertainment, media, arts and technology, is playing a pivotal role in helping to create needed attention. Full Sail is engaging its university community comprised of students, staff, faculty and alumni, as well as bringing community partners, including local municipalities, neighboring higher educational institutions, and businesses on board to create a broader reach and highly visible campaign. Full Sail also designed and is hosting the campaign's microsite, boosting awareness through student-led online initiatives, creating the campaign's logo, supporting user-generated content, and engaging its alumni network to increase impact. The University has an on-campus commitment to environmental responsibility and students and faculty that are engaged in conservation issues.
"Our campus is home to a creative community of technology-savvy individuals with a passion for utilizing their talents to inspire change. In listening to our own community, I learned that our students, staff and alumni were interested in taking part in an environmental effort where they could utilize their talents to make a global impact for good. In partnering with The Nature Conservancy and Ink Dwell studio two years ago to bring The Monarch Initiative to life, this allowed Full Sail to engage the Central Florida community in an effort to create a template for community activation that can be replicated across the nation and beyond. So far the response from our civic, legislative, educational and commerce leaders has been tremendous, and we are excited to see continued acceptance and participation in The Monarch Initiative," says Full Sail University President, Garry Jones.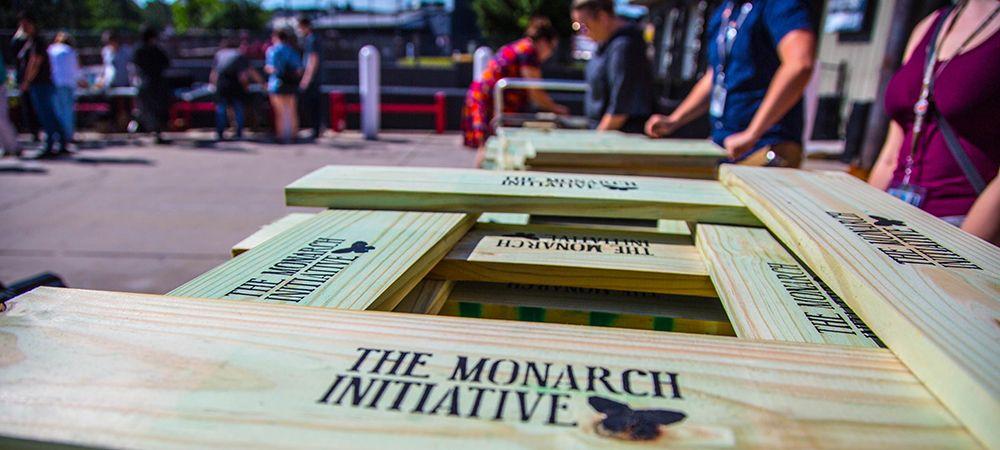 The Monarch Initiative is further raising awareness through the Migrating Mural, an acclaimed public art initiative. Founded by Ink Dwell studio, the Migrating Mural is a series of public art installations that celebrate wildlife along migration corridors it shares with people. The installations add beauty to the local environment while driving conservation education focused on species and ecosystems under threat. This new multi-year Migrating Mural, which will stretch across North America mirroring the monarch's migration from Canada to Mexico, focuses on this butterfly, their habitats, its role as a pollinator, and the challenges it faces.
"Monarch butterflies and other pollinators are beautiful animals vital to the health of our planet, but they're small and easy to overlook," says Jane Kim, the artist who is creating the work and co-founder of San Francisco-based Ink Dwell art studio. "Public art of this magnitude makes them impossible to ignore."
The premier Central Florida mural, titled Milkweed Galaxy, was painted in exacting detail and spectacular color. The mural appears on the campus of Full Sail University across the entire front façade of Full Sail Live 3 located at 3150 University Boulevard in Winter Park, Florida and is surrounded by new butterfly-friendly landscaping. The mural is highly visible to the public and cannot be missed from University Boulevard, where approximately 40,000 viewers pass by each day. The second mural, titled Midnight Dream, is located in downtown Orlando and was completed just in time for Earth Month, April 2018. The canvas – the wall of an entire building at 520 South Magnolia Avenue – was revitalized by an illustration of monarchs among their essential milkweed.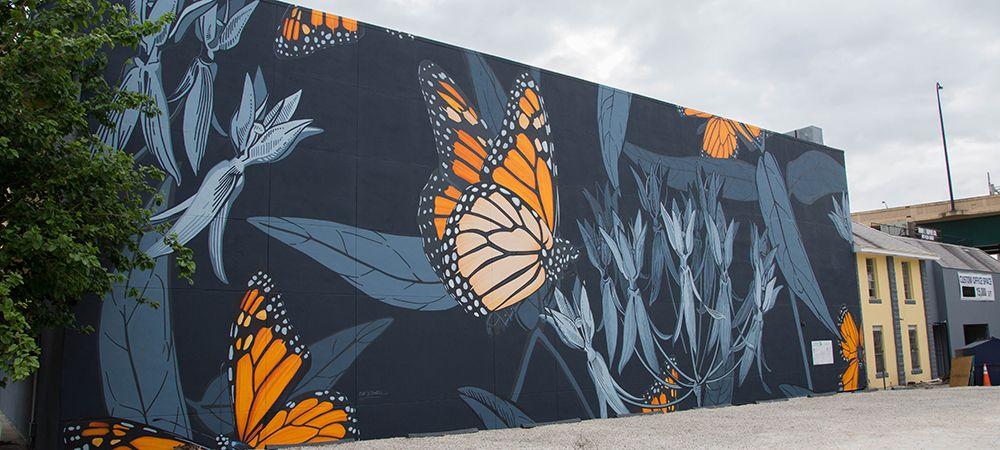 "This new campaign and the incredible art featuring beautiful but imperiled wildlife will capture the attention, interest, and heart of all who see it," says the Conservancy's Morgan. "We're grateful for our allies at Full Sail University and for the artistry of Ink Dwell, which enable us to showcase the beauty and magic of the monarch while encouraging action on behalf of essential conservation efforts."
The Monarch Initiative kick-off event culminates on April 19th with a series of celebrations across Central Florida. Several Orlando-area elementary schools will teach students the value of conservation by planting gardens on their campuses designed to attract pollinators. Participating local businesses are set to distribute native milkweed see packets to incentivize planting and aid in habitat restoration. Several institutions are also replanting storefront garden boxes with native, pollinator-friendly plants. Local coffee shops have agreed to donate their used coffee grounds – a natural fertilizer – to the cause. Finally, the City of Orlando is lighting up iconic monuments across the community in honor of The Monarch Initiative.
"Through our Green Works Orlando initiative, we've worked to make Orlando a showcase model for sustainable cities and realize that our collective quality of life is inherently tied to the health and protection of our natural resources," said Orlando Mayor Buddy Dyer. "We are delighted to collaborate and partner with The Nature Conservancy and Full Sail University in the launch of the Monarch Initiative and are excited to officially unveil the Migrating Mural in downtown Orlando that serves as a reminder that each of us can take action to ensure people and nature thrive together."
Winter Park Mayor Steve Leary further added, "In 2012, during the process of becoming a Green Local Government, the City of Winter Park began crafting plans to protect our wetlands, preserve our native plant community and continue removal of undesirable exotic vegetation, all of which are critical to the ecological health of our community. These efforts became what is known today as our Sustainability Action Plan, comprised of goals to preserve and grow the natural ecology of Winter Park today and in the future. We are honored to work side by side with The Nature Conservancy, Full Sail University, and the City of Orlando to support the Monarch Initiative. I encourage the central Florida community to be inspired to support the initiative by visiting Winter Park to see our orange fountains in Central Park, mini butterfly gardens along Park Avenue, and the beautiful butterfly gardens of Mead Botanical Garden."