Published Dec 07, 2018
A Super Smash Bros. Champion on What It's Like to Win the Title
Grad Franck "Farren" Marasigan shares how competitive gaming helped him branch out beyond the film department.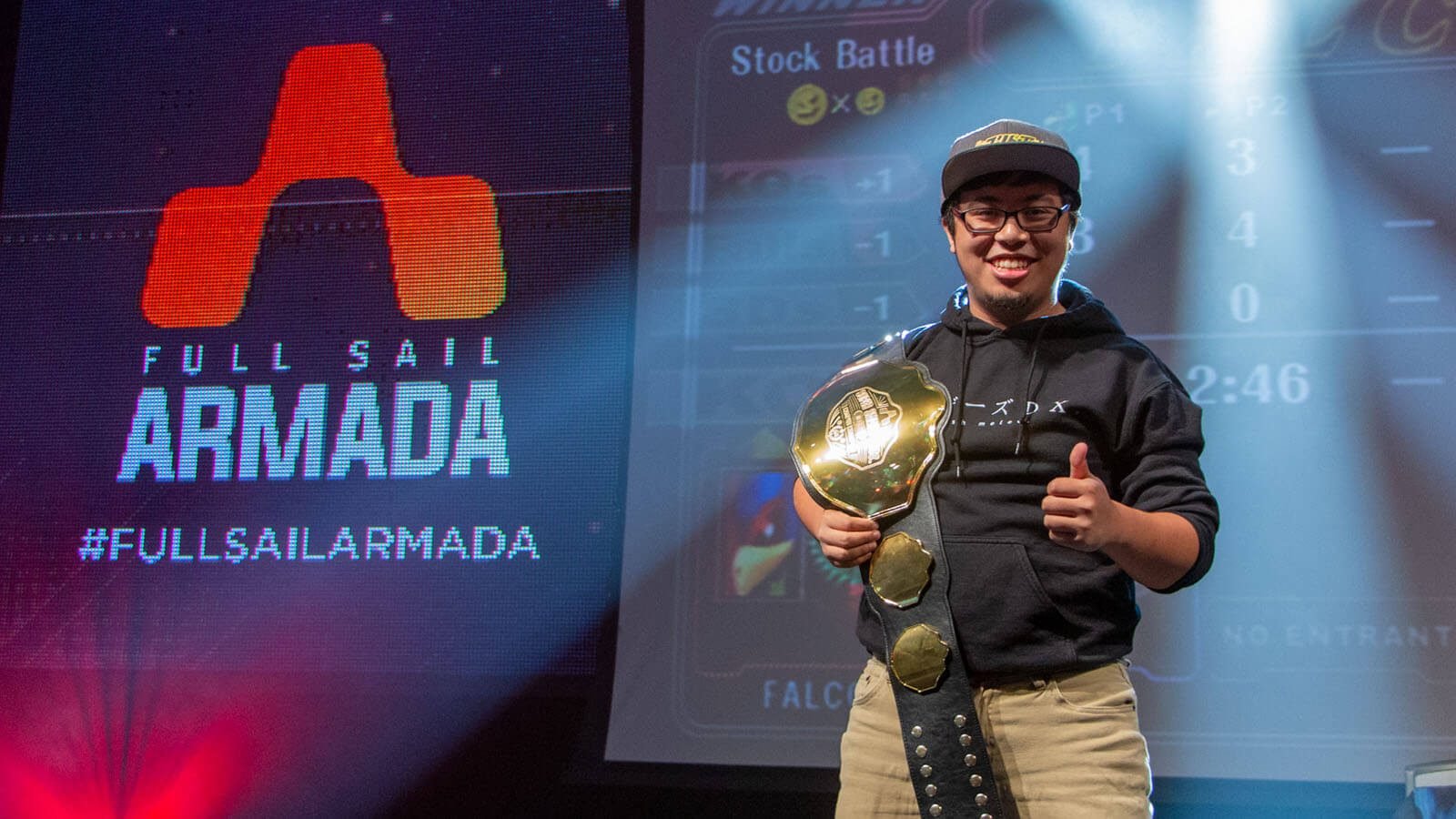 Last April, Franck "Farren" Marasigan sat in the audience during Full Sail's first Super Smash Bros. Melee tournament watching other players take a shot at the title. His title. He'd placed first in the qualifying rounds the week before, and now it was time to bring it home.
"I was a little anxious," recalls Farren. "But it was more or less me getting in my own head. This wasn't a friendly competition at someone's house; this was an event with a live audience, plus more people watching online. If I messed up, I would be that guy."
As Farren watched the other players duke it out, he stretched his fingers to warm them up. In just a few short weeks he would graduate from Full Sail's Film bachelor's program. This was his last chance to cement his legacy. He made a silent promise to himself. He was going to win the championship belt no matter what.
Farren began his journey to the championship on accident more than a year before the events leading up to the finals. One day after class, he happened upon a flyer advertising Full Sail's Super Smash Bros. Club.
"I grew up on Super Smash Bros., and when I got to Full Sail, I started playing competitively. Joining the club felt like a good way to meet people and push me forward as a gamer," he says.
For months, Farren and the other members of the club would meet up and compete. They used a spreadsheet to track their rankings and plan events. When someone couldn't make it, the group would record themselves playing so they could watch it later. But as the founding members entered the final project phases of their degree programs, the club's meetings became infrequent.
Right when it looked like the club might disband, Full Sail launched Full Sail Armada, the university's official collegiate esports league. Full Sail Armada would fold in all the existing gaming clubs under one umbrella. They would handle events, scheduling, and the task of promoting the league to new students, which would free up players with limited time. For Farren and his friends, the announcement meant they could finish out their college careers playing Super Smash Bros. It was a win-win.
A few months later, Full Sail Armada announced a Super Smash Bros. Melee tournament to be held in the Full Sail Live Venue. Farren was all in.
On the day of the tournament, Farren sat in the audience watching the other players. It would come down to him and another player named Cross. He took a deep breath.
"That's something that I've come to learn throughout my time playing. Whenever you're getting stressed out, just stop, take a deep breath, and assess the entire situation. If you're able to take it one piece at a time, it's not as overwhelming," he says.
He thought about everything competitive gaming had given him during his time at Full Sail. How he didn't know anyone outside of the Film program until he started hanging out with the Super Smash Bros. Club. Thinking about his friends made him feel stronger. Finally, Farren and Cross squared off in the final match. As an homage to the founder of the original Super Smash Bros. Club, Farren chose his best friend's color and tag to represent in the final bout. In an effort to get in Cross' head, Farren chose to play as Falco, the character Cross most often used in the game. As the two battled for the belt, the match remained too close to call.
"I came down to last lives. At one point, I almost threw the game," recalls Farren. "I knew I had to do something, so I ended up jumping off the stage and taking my opponent down with me. I kamikazed my way to a win."
The Live Venue exploded in cheers.
"When they brought out the belt, I couldn't believe it. The entire time I was playing I just kept thinking, 'That belt is mine.' So when I won, and they handed it to me, everything came full circle," says Farren.