Published Mar 11, 2016
Elbert Perez and the VR Revolution
Since graduating from Full Sail University's Game Design & Development degree program in 2005, Elbert Perez has worked on everything from indie games to titles at Microsoft Studios.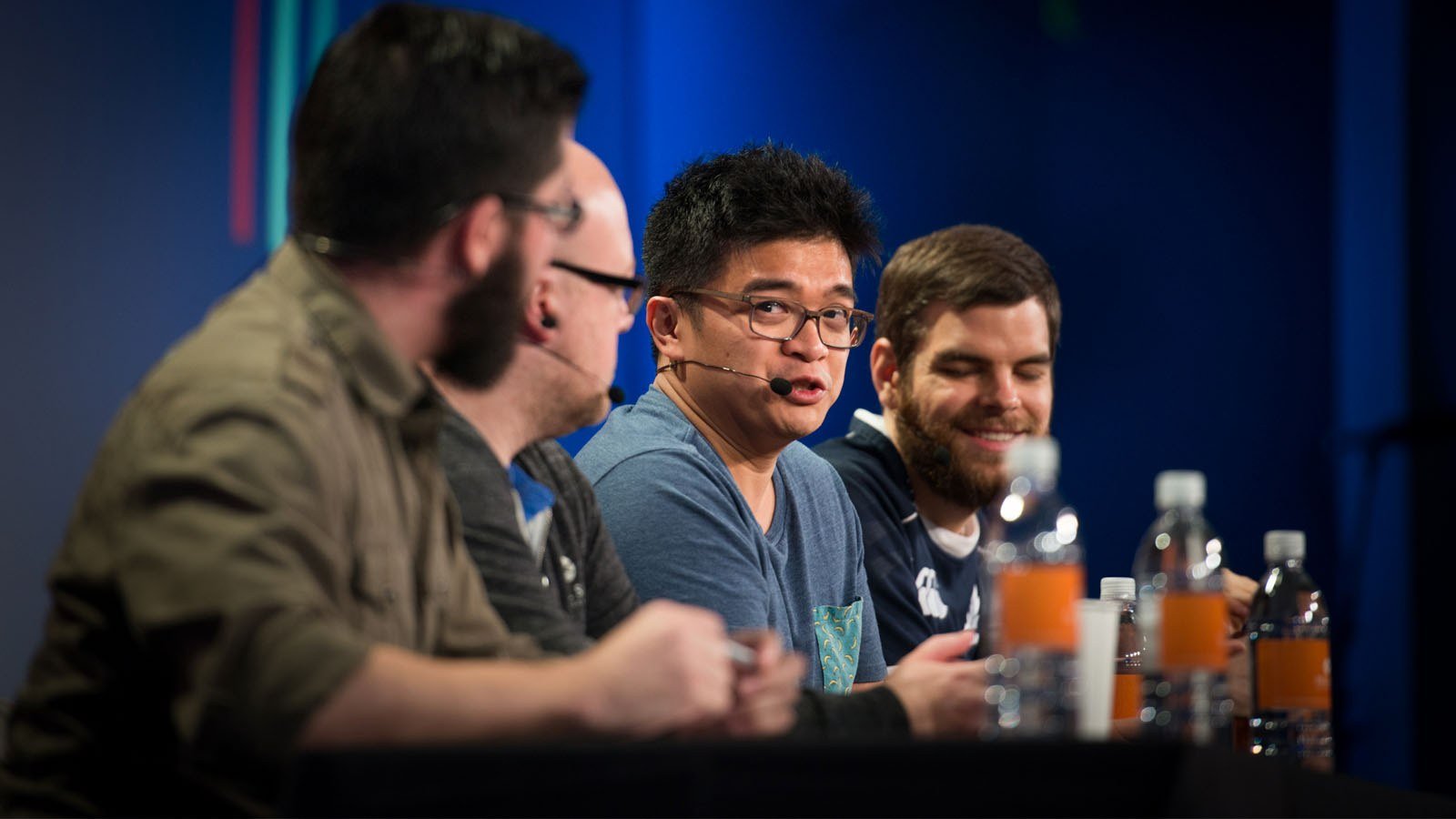 Elbert Perez is no stranger to the gaming industry. Since graduating from Full Sail University's Game Design & Development degree program in 2005, he's worked on everything from indie games to titles at Microsoft Studios such as Halo 4, Ryse: Son of Rome, and various Xbox Live Arcade titles. But the latest phase in his career is also the most significant for Elbert because it ushers in not just a new chapter in his own life, but a bold new direction in gaming itself.
As Senior Software Prototype Developer for the HTC Vive headset, Elbert has been working as a part of the team that is building the SteamVR-powered set to provide consumers with a new and immersive home virtual reality experience. Developed in conjunction with Valve (the company behind similarly-immersive games like Portal and Half-Life), Vive will make its official debut in April of 2016, but you can pre-order the device right now. The world of VR is one that Elbert was definitely familiar with from past projects, but the work he's done since joining HTC this year has been an experience full of firsts.
In his role at HTC, Elbert interfaces directly with the company's UX designers to help turn their ideas into reality – a process that takes on a whole new level of meaning when placed in the context of VR.
"The one key thing about VR is that you can't say something is a good idea until you actually try it. That's been our mantra for all things," Elbert says. "Everyone might have a consensus on paper, but once you integrate it and put it in, you see if it works or not. My job is to take all of the UX designers' ideas and prototype them."
Elbert's experience with the Unity game development platform was one of the primary reasons that HTC brought him onboard with Vive, and he essentially hit the ground running once he started with the company.
"I joined just as we started ramping up vertically, so there really wasn't any of that 'sitting around' time that sometimes happens when you first start a new job," he says. "We definitely have a deadline and it often feels like we don't have a lot of time, but HTC has been good about not working ourselves to death."
Because HTC is a global company, much of the engineering for the Vive has taken place in Taiwan. This has led Elbert to take four international business trips this year, and also provides something of a logistical challenge, as that whole side of the game development typically happens while Elbert and his co-workers in Seattle are sleeping at night.
"Sometimes the time difference is good, because I'll wake up and things are ready for me to pick up where I left off the previous day. But then there are times when I go to the office in the morning and see something that happened with the programming in Taiwan and it's like, 'oh, really?' But it is fun to get to work with a different side of the planet," he says. "Being exposed to a different culture and different set of work ethics has really opened my mind."
Anyone working in the game industry on a new project or title will tell you that the anticipation for the product to hit stores only gets higher the closer things get to completion. For a relatively untapped realm like the VR world of the Vive, that excitement is exponentially increased.
"We're about to open up a whole new world of experiences – not just in gaming, but in other areas like the film industry," Elbert says. "What will the new movie experience be like? Can you walk around inside a scene? I hope that films can become more like games, where people go from being a passive observer to becoming active, with their actions changing the scene and characters."
And even beyond the realm of entertainment, VR technology also holds the potential to impact our everyday lives in ways that weren't even options just a few years ago.
"From helping soldiers recover to PTSD to having dentists train on virtual reality patients, there are so many applications for the way VR can fit in our world. Someone building a factory can visualize their line and not have to construct and deconstruct a thing just to test it and spend millions of dollars in the process," says Elbert. "And these possibilities are just the tip of the iceberg. Five years from now, we'll look at those ideas and think 'wow, we've a long way.' I'm at ground zero of the VR revolution, and there's no better place for me to be."