Published Jun 29, 2015
Faculty Member Builds Iron Man Prosthesis for a Super Kid
Full Sail faculty member Pat Starace has worked with some of the biggest names in advertising and motion pictures, but says his biggest accomplishment to date is creating a 3D printed Iron Man hand for a child in need.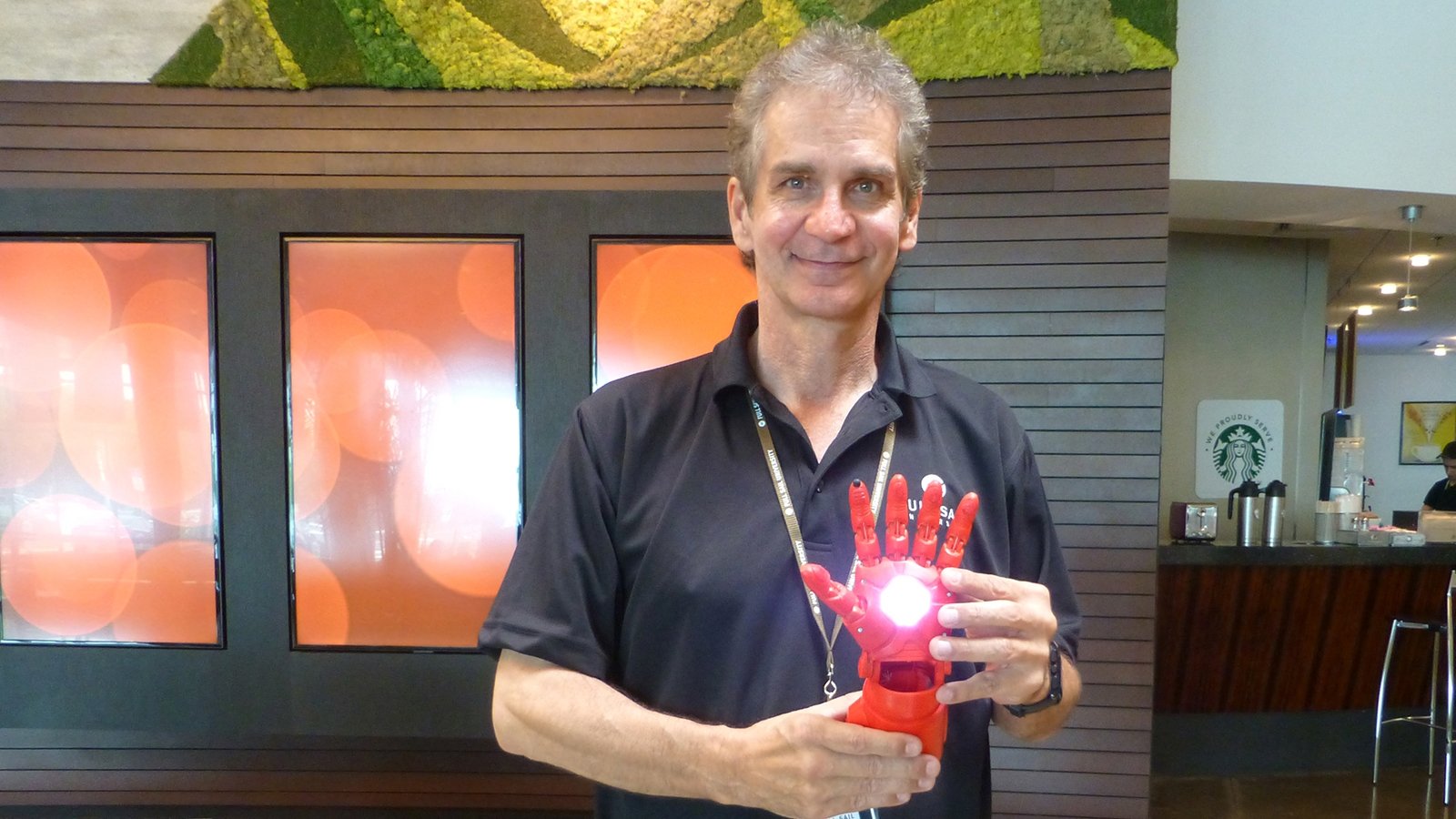 Full Sail Course Director Pat Starace picks up the box that's been resting inconspicuously on the ground beside him.
We're sitting in the lobby of 3B, chatting about his 20 plus years spent working in the advertising and motion picture industries, where he created models, digital animations, and effects for dozens of companies including MasterCard, Nabisco, and US Airways. As a young model maker in 1979, Pat worked on a revamp of the opening sequence for CBS's flagship news magazine 60 Minutes. The stopwatch used in that sequence now resides in the Smithsonian Institution's popular culture collection.
"This is something I'm really proud of," says Pat, reaching in to the box to remove something from its depths.
Considering his resume, one expects him to present something precious, or iconic. Instead, he draws out an ordinary, oblong piece of plaster criss crossed with penciled in grid lines. "This is a cast of what Tyler started out with," he says.
He reaches into the box again, and pulls out a startlingly detailed prosthetic hand modeled after Iron Man's glove. "And this is what Tyler has now."
Pat has a long history of using his talents to give back, and most of his efforts center around helping kids in need. So when a friend gifted him a 3D printer, he knew he wanted to use it to do something that would have a huge impact on a child's life. After some initial research, he decided to create an artificial limb that challenged the rules of traditional prosthetic design.
"As long as it's functional, it doesn't even have to look like a human hand," he says. "In Tyler's case, I'm not trying to make this prosthetic hand grab things as well as the other hand. Instead, I wanted to load it up with features like Bluetooth. We're in the digital age. My goal was to make a hand that could do things his other hand can't."
After modeling the hand in Maya and Softworks, Pat set to work printing. It was a process that proved to be more difficult than he originally anticipated. The sheer volume of parts pushed his printer to the limit— he'd run a 20 hour print only to have the process fail in hour 19. At one point, the printer's controller got so hot that it caught on fire.
"It was perseverance. I knew I just had to keep working through the problems. Despite the challenges, watching the hand take shape was an incredible experience," he says.
Luckily, Pat was able to replace the burned out controller and finish the job. After all of the pieces were printed, it was time to work in the electrical components of the hand. True to his vision, Pat packed the hand with features.
Bending the hand forward at the wrist reveals a pair of low diode infrared lasers. Magnets in the middle and ring fingers allow the wearer to easily pick up metallic objects, while a capacitive touch stylus in the index finger facilitates interaction with touchscreen devices. Pat even threw in a universal remote that allows the wearer to turn any television on and off and scroll through channels.
A specially designed mobile app uses low power Bluetooth to connect the hand to any mobile phone, allowing the wearer to exercise their hand and wrist in a way that feels more like a game as opposed to tedious physical therapy. The app also comes equipped with an alert function that causes the hand to vibrate when activated, an especially useful feature for parents looking to get their child's attention. Pat also wanted to share his love of programming with the recipient of the hand, so he included an Arduino board that the wearer can learn to program right on their wrist.
As the hand continued to come together, word of what Pat was doing was spreading. His story was picked up by several national media markets, including Gizmodo, Mashable, and The Washington Post. Applications started pouring in from all over the country from parents of kids who needed a hand.
"The response was overwhelming," says Pat, who only had the resources to create a single hand and a reference prototype. "I'm just one guy, and I'm filtering through all of these responses. Finally, I found Tyler, who lives in a small town in Texas. When I say small, I mean 2,200 people. They don't even have a traffic light."
On January 3rd, Tyler's 8th birthday, Pat and a friend made the drive from Florida to Texas to deliver the hand in person. Pat says he spent much of the 13 hour drive soldering the final electrical components. "I had this picture in my head of a little kid holding up their hand and the thruster lights in the palm lighting up. Those lights had to work. If they didn't, the whole thing would feel like a failure."
Back in the 3B lobby, Pat holds the prototype hand as if it were something more precious than anything you could find in a museum. He bends the hand backwards at the wrist, illuminating a ring of dazzling white LED lights in the palm. He smiles.
"That goes down as one of the most awesome days of my life— when Tyler held up his hand and it lit up."
Pat says he hopes the hand helps people see past Tyler's disability and focus on what a remarkable kid he is.
"I took all my skills, everything I do, and put them to use on this project. And what I think happened, what I hope happened, is that we were able to turn the tables, where a disability has now become and ability."
For a closer look at the Iron Man hand, check out Pat's website.