Published Jul 21, 2023
Faculty Profile: Randy Baker (Course Director, Digital Cinematography)
Randy Baker's passion for filmmaking has found him working with a wide range of collaborators, from award-winning directors to Hulk Hogan.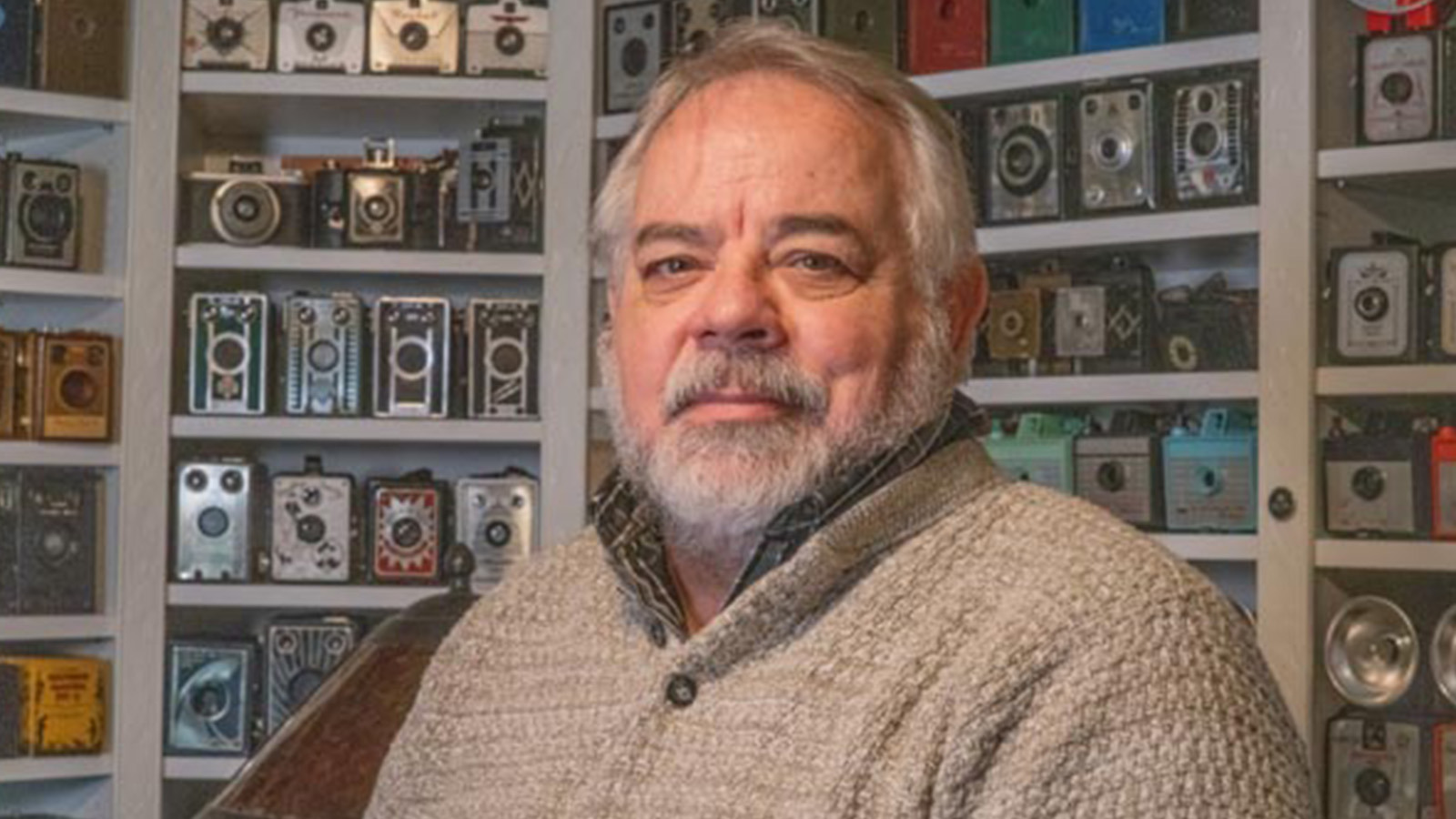 Randy Baker grew up in rural Indiana with a deep love for everything related to moviemaking.
"If you've ever seen Steven Spielberg's Super 8 movie, that was my childhood," Randy chuckles. "I got my first camera when I was 13. By the time I graduated high school, I'd done probably 20 or 30 short films."
That first camera was just the beginning of a long love affair with video equipment. His office – along with a couple other rooms in his house – are lined floor to ceiling with cameras is varying shapes, sizes, and ages. Currently, Randy owns one of the largest private camera collections in the country: "I own about 3,000 cameras, he says. "Obviously, I'm a gadget freak. I'm a camera guy at heart."
When a film crew came to Muncie to shoot the 1982 documentary Middletown, Randy was able to land a job as a production assistant. He found himself working alongside Emmy and Academy Award-winning director Peter Davis, Academy Award-winning cinematographer Haskell Wexler, cinematographer Paul Goldsmith, and Kathleen Kennedy – who would soon become Steven Spielberg's producer.
"It was a very small crew, and I was just very lucky," he states earnestly.
As Randy continued working in the industry, he found himself at the forefront of the reality television boom in the early 2000s.
"We started in the early days of reality television. I thought reality television was going to be a fad, but that didn't happen. One of the very first reality shows I did was Hogan Knows Best. I actually came up with the name for the show."
Working on Hogan Knows Best meant Randy wasn't just working with actors on an artificially-lit set – he was filming intimate details of the lives of Hulk Hogan's family in their home.
"I grew up with his kids and spent four years [with them] during their formative years, so they called me Uncle Randy. And I still keep in touch with everybody."
From there, Randy moved on to roles on several popular reality shows, including, Dr. K's Exotic Animal ER, Swamp Brothers, Extreme Home Makeover, and Secrets of the Zoo.
Randy worked as a cameraman for many of these projects, but he also has experience producing and directing.
"The thing that I tell my students all the time is the great thing about this industry is I spent my entire career waking up every day saying, 'Okay, what cool thing do I get to do today? What cool person do I get to meet today? What cool place do I get to go? And more importantly, what cool thing do I get to learn?'"
Randy says he has a "job-by": a hobby that's also a job. This has made his career feel more like a journey, rather than a series of paid projects.
"I've been doing this since I was a kid, but it's just something that I absolutely love to do. It gets in your blood and it's hard to get out," he says.
At Full Sail, Randy hopes to inspire this same type of passion as a course director for the online Digital Cinematography bachelor's program.
"Our degree program is for people who are wanting to start their own production companies or wanting to do multiple television and blogging and video projects. It's all the vertical markets," he explains.
The Digital Cinematography bachelor's program has multiple opportunities for students to get hands-on experience, and Randy invites students to not shy away from taking risks.
"One of the first big speeches I give in my class is that you have to give yourself permission to fail in this class. You're going to fail. Everybody's first film sucks," he laughs.
"But if you put the right amount of time in learning the craft, practicing, and with just a little bit of natural ability, it won't take long until you're pretty good at telling a visual story."