Published Oct 21, 2022
This Grad is Bringing Pensacola State's Athletics to the Masses
Digital Cinematography and Entertainment Business graduate Scott Brumfield has helped launch PSC's streaming athletic network and the school's new esports team.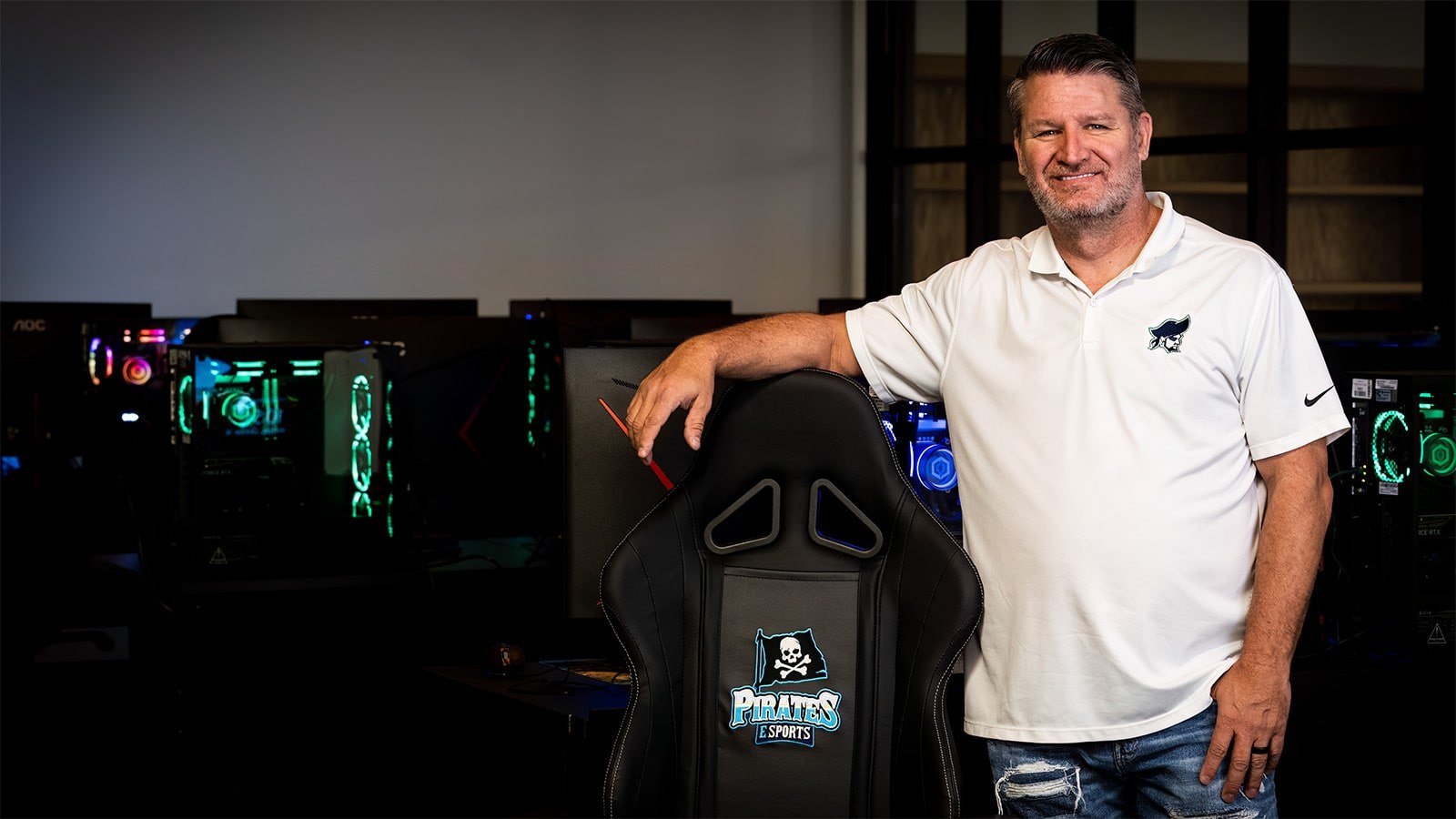 Scott Brumfield is helping athletics at a smaller college find a larger audience. As the Athletic Media Director and Coordinator of Esports at Pensacola State College, Scott has helped launch the Pirate Network, PSC's live-streaming athletics channel, as well as the college's new esports team, the PSC Pirates. The videography skills and business acumen he developed in Full Sail's Digital Cinematography bachelor's and Entertainment Business master's programs are helping him succeed at PSC.
Scott became interested in videography when he helped out with production, graphic design, web development, and live streams for his church in Myrtle Beach, South Carolina. He already had a Web Development degree, but his experience with the church inspired him to pursue a degree in the visual arts.
"I researched quite a few schools across the country, and I kept coming back to [Full Sail] for two major reasons. Number one was that alumni would pop up in the different awards ceremonies, whether it be from gaming to the movie industry to the music industry. I felt like a school that had that kind of performance from its students probably had a good opportunity to educate me better. And then the second part was the LaunchBox. For a struggling person in the industry, it's not cheap to go out and buy the equipment to get started. That really solidified it for me that I would have not just the education, but I would also have the tools I needed to succeed," Scott remembers.
Scott had just started working in live sports, so he chose the Digital Cinematography bachelor's program to advance his existing knowledge of the production industry. He decided to add the Entertainment Business master's degree to help him expand Hellcat Productions, a company he'd started with a business partner who was a former Navy pilot.
Hellcat produced the first complete live broadcast of the Blue Angels Air Show at Pensacola Beach, then created a weekly live show for the Aviation Museum to maintain public interest. Simultaneously, Scott was working as a contractor broadcasting Pensacola State's basketball games. He sold Hellcat and was hired full time as PSC's Athletic Media Director and Coordinator of Esports a year later.
As the Athletic Media Director, Scott creates visuals that help promote the school's athletics. "I do everything related to graphic design, photography, videography, live streaming of the sporting events, and just giving us an overall presence here for not only the attendees of the college, but the families that can't be here to watch their children play," Scott explains. "And in that process, I took us from live streaming on Facebook and YouTube to our own service on Roku, Amazon Fire, and Apple TV called the Pirate Network to bring those sports and events to the public."
Scott was also brought in to help launch the Pensacola State College Pirates, the school's brand-new esports team, which is playing in the National Junior College Athletic Association Esports (NJCAAE). He worked with the school to design the team's arena, a future mobile gaming bus for promotions, and the Pirates' overall branding.
"We designed everything from the logo to the jerseys, and we have recruited 20 students that are on our team. They started competing on October 3rd… The NJCAAE has also adopted its own version of [simulation racing game] iRacing called Speedway, and we're going to get a system from them and have a team competing," says Scott.
Scott loves connecting with PSC's student-athletes, and he hopes that his efforts will shine a light on their talents.
"[I like] giving the college the ability to promote them in a way that a lot of athletes aren't getting at other junior colleges or small colleges. And hopefully, through that, we're able to help them go to the Division One level or professional level through some of what we're doing."