Published Aug 16, 2016
Full Sail Grads Behind the Scenes on 2016 Vans Warped Tour
Full Sail grads Tatiana Mieux and Nikki Berna fill vital show production roles on the 2016 Vans Warped Tour.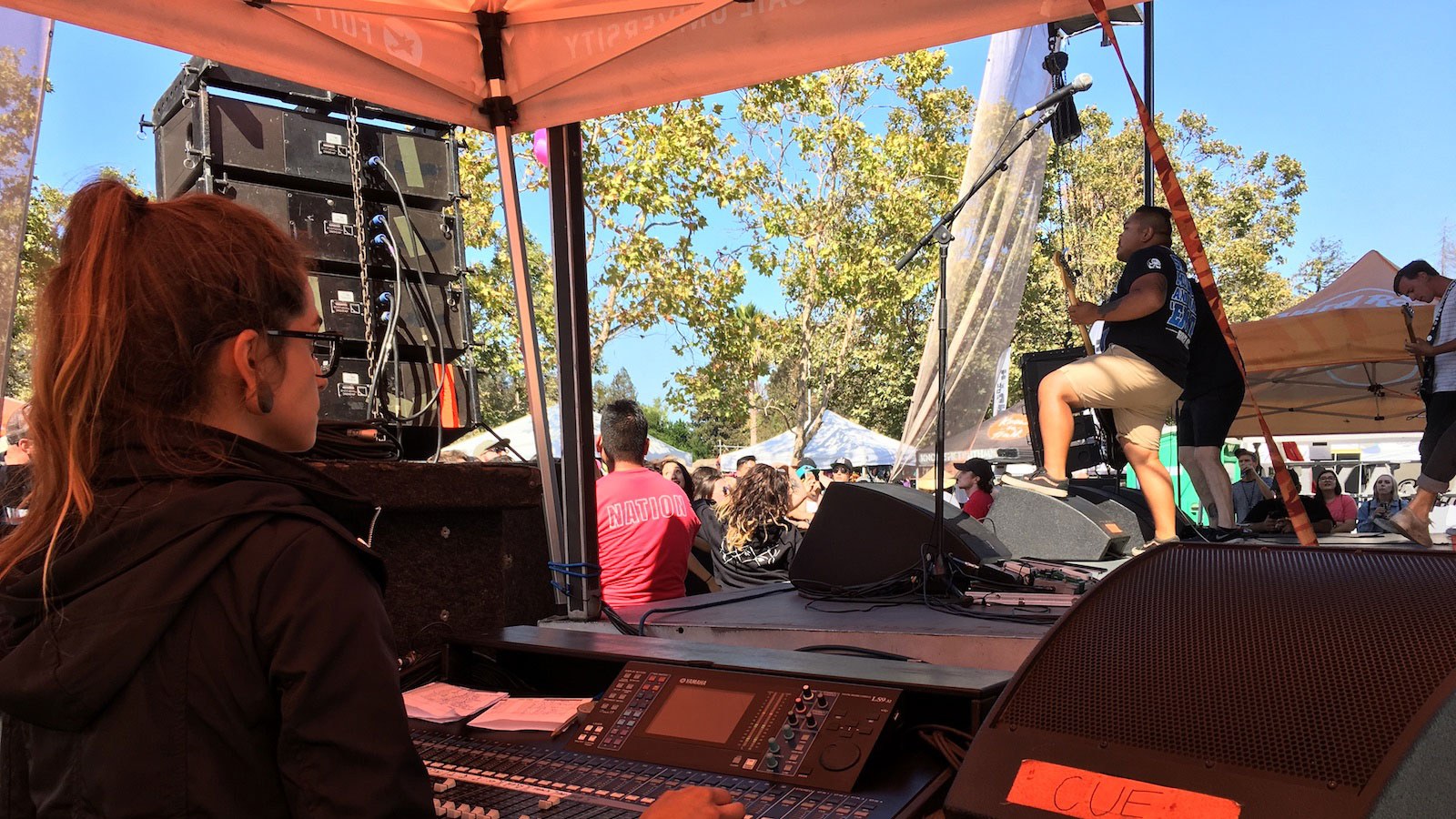 In the blistering summer heat, Tatiana Mieux holds up a spare schedule in front of her eyes to block the sun as she talks to a tour manager about bus call. Although the sun is setting into her tent and sponsors are packing up for the day, Tatiana's work on the production side of Vans Warped Tour is far from over.
This is Tatiana's third Warped Tour since graduating from Full Sail's Entertainment Business degree program in 2013, and this year she holds the title Production Special Ops. "It basically means two things," she explains. "I am a wealth of information for everyone, and I am also everyone's third hand to make sure the little tedious things get done so they can focus on the bigger picture. Basically I am the first to set up in the morning, and the last to finish."
Being a large traveling festival with so many components, questions are never in short supply at Warped Tour. Tatiana assists tour managers, bands, and sponsors with everything from where to send laundry, to where to send drop shipments.
While Tatiana continues to answer questions in the production area, the last of the bands are taking to the stage to perform for the fans that stayed till the end. At the Full Sail stage, monitor engineer and Show Production grad Nikki Berna prepares the stage before settling in behind her monitor to mix the live sound.
Although this is Nikki's first touring gig, her job as a full time monitor engineer for House of Blues Orlando has given her plenty of experience. "It's much different than a house gig," says Nikki. "Gear can be very temperamental and you are constantly troubleshooting. Plus, unlike a house gig, you don't have all of your tools right there in front of you. I've certainly learned a lot on this tour."
Nikki focuses her attention to the band as they take the stage, and as they begin their first song, Digital Arts & Design grad Caroline Gardner is breaking down her sponsor tent after a day of hustling in the heat. As the Tour Administrator for Peta2, Caroline's responsibilities include managing a 10 person team, taking inventory, telling people about her organization, and helping to set up and take down the tent each day.
Previously, Caroline did graphic design freelance work in New York City for various animal rights organizations, but she knew her end goal was to work on tour. "I wanted to end up touring with my degree," Caroline explains. "I wanted to be able to design on the road for bands and organizations that I am passionate about."
When Warped Tour wraps up at the end of the summer, Caroline will be taking on a new position that is part time office work and part time touring in hopes of getting more involved with the merch design and tent designs for the company. "I'm excited that I found something that can merge my worlds: touring, animal rights, and graphic design."
As the final music note rings out against the night, the sponsor trucks are packed up, and the last of the tour managers leaves the production area, these three Full Sail grads wander back to the buses that they call home, knowing they had yet another hectic yet successful day working for Vans Warped Tour.