Published Jan 22, 2018
Full Sail University and WWE
For more than five years, the collaboration has provided one-of-a-kind educational and professional opportunities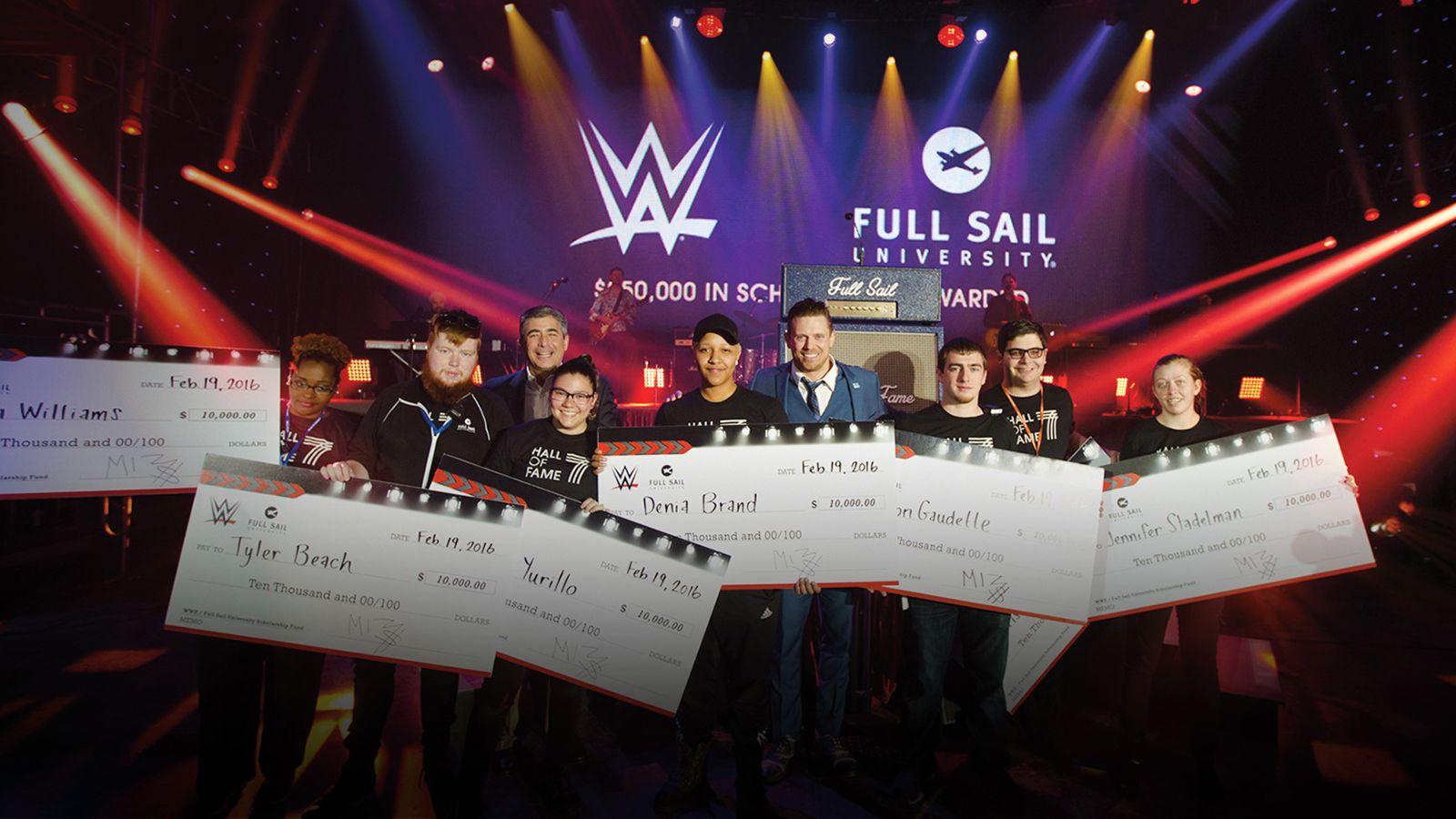 In May 2012, Full Sail University and WWE launched a partnership to bring live tapings of WWE NXT to the Full Sail campus and create a scholarship fund for students. In the years since, this partnership has resulted in hundreds of hours of practical production experience for students, multiple career networking opportunities for students and grads, and hundreds of thousands of dollars in scholarship awards.

At the center of this collaboration are regular tapings of the WWE NXT television series in the Full Sail Live Venue – which airs in more than 60 countries worldwide. In the years since the partnership announcement, hundreds of episodes of NXT have been produced, with Full Sail students involved with their promotion and production. Spearheading these efforts is the WWE & Full Sail Student Initiative, which provides opportunities to volunteer, learn alongside, and shadow with WWE employees in areas like marketing, social media, media production, graphic design, and more. For any given event, approximately 50 to 60 students will participate on the day of the production, with roughly 30 more assisting throughout the week to set up and strike equipment in the Live Venue.
The program has also allowed students to assist on other WWE productions in the Central Florida area and beyond, including WrestleMania events in New Orleans, San Francisco, and Orlando. Students were able to take on production roles as part of the camera team and in other support positions, helping broadcast the organization's largest annual event to a record number of households through the WWE Network and pay-per-view.
In addition to supporting the practical education of students, proceeds from NXT ticket sales go toward a scholarship fund for students enrolled at Full Sail. To date, WWE has awarded nearly $400,000 in scholarship funds to students.
This is only a portion of the campus events and opportunities that have been open to students as part of the Full Sail and WWE partnership, and we've also seen many continue to work with the company after graduation.
Reflecting on this unique relationship, Full Sail President Garry Jones says, "We are humbled by the continued dedication from WWE in recognizing the efforts and dreams of our students. Collaborating with WWE has elevated the education experience here at Full Sail University by creating many opportunities for our students to be mentored by some of the best minds in the entertainment production industry. We can't wait to see what the future holds for this evolving partnership."
Other notable Full Sail/WWE collaborations include:
In June 2015, Full Sail announced that the USA Network series WWE Tough Enough would be produced and broadcast from the Full Sail campus. "The announcement that the new season of the USA Network television series WWE Tough Enough will be produced and broadcast live from Full Sail University is an incredibly important milestone for Central Florida's entertainment and film sector, and another wonderful point of collaboration between WWE and Full Sail University," said Orange County Mayor Teresa Jacobs at the time.
In April 2017, WWE and Hire Heroes USA hosted a Veteran Career Panel & Networking Event at Full Sail. The event was open to the public for all military members and veterans, as well as their spouses, and featured over 40 companies.
In August 2013 Full Sail and WWE hosted the "WWE Hackathon," a global game jam-style contest available exclusively to Full Sail students. 64 students participated, and during the 48-hour hackathon, designed, prototyped, and presented an action game concept to a panel of WWE judges, as well as other communication/technology professionals.
In February 2014 Full Sail served as the host for an episode of NXT ArRIVAL, which was the first in-ring event to be live streamed on the recently launched WWE Network, the sports entertainment giant's subscription-based video streaming service.