Published Sep 17, 2021
Sportscasting Grad's WWE Podcast Featured on Spotify's Ringer Podcast Network
Evan Mack, an on-air personality for several WWE productions, has been given his own debut show as part of a network partnership between Spotify's "The Ringer" and WWE.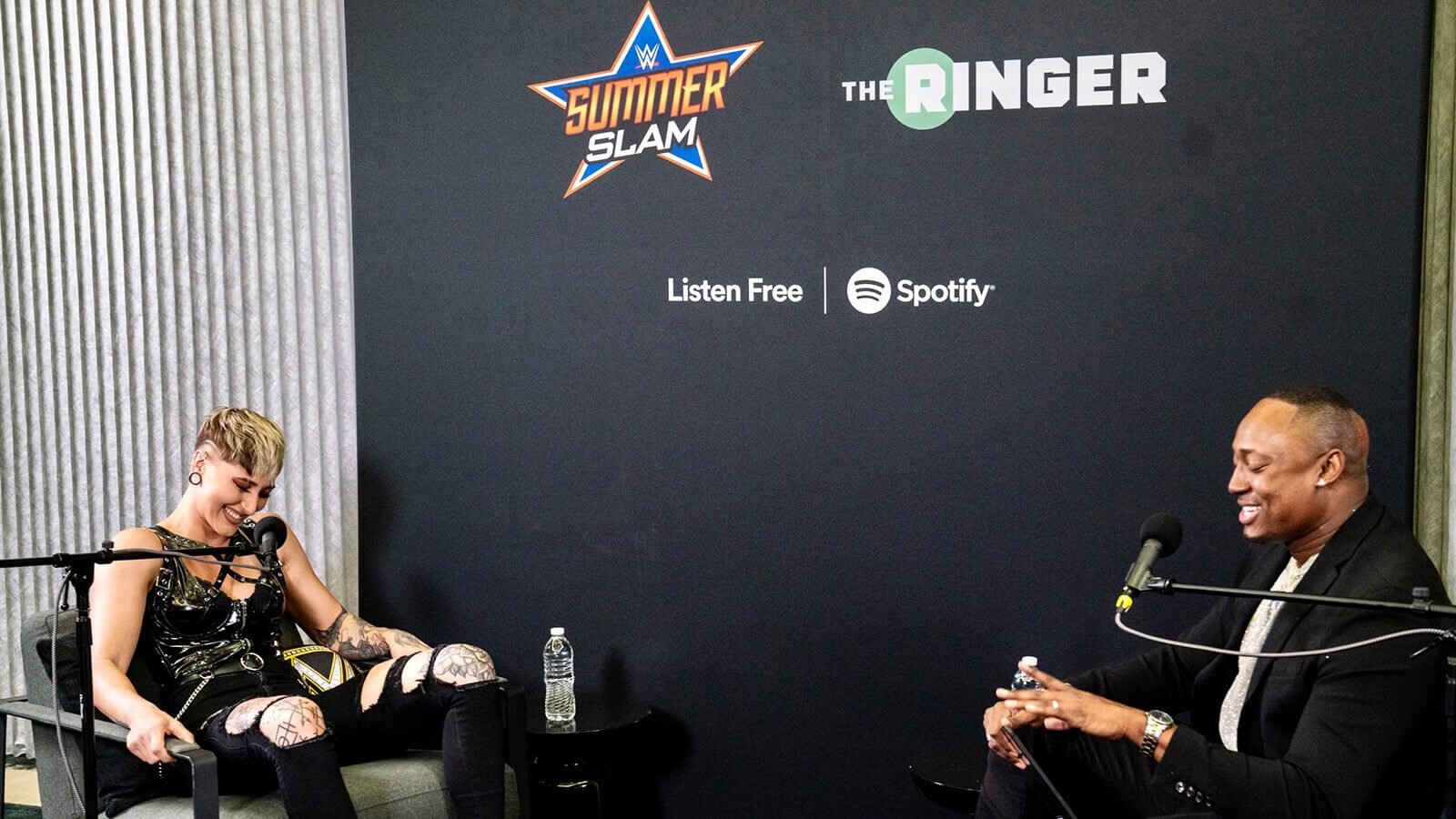 Recently, The Ringer – a media company founded by Bill Simmons and purchased in 2020 by Spotify – announced a partnership with WWE to create an audio network (The Ringer Wrestling Show) that will feature existing WWE programming in addition to new, wrestling-centric content – some of which will feature the work of Sportscasting grad and WWE on-air personality, Evan Mack.
Originally a contributor on The Masked Man Show, Evan was given the reins to develop and launch a debut podcast series of his own following the announcement of The Ringer Wrestling Show. Titled MackMania, the podcast gives viewers exclusive interviews, on-the-ground coverage of live events, and a unique fan perspective with some of the WWE's greatest stars.
With four episodes currently available, MackMania underwent changes before becoming what it is today. "I initially thought we'll do a review show," he says. However, a conversation with Bill Simmons inspired a change of heart and Evan recalls meeting Bill for the first time in Las Vegas, fresh off a plane at Allegiant Stadium for WWE's SummerSlam.
"One of the things he said to me was 'Evan…don't be afraid. Do your show. Do what you want to do,'" he says.
With encouragement from Bill's words and full creative freedom given to him by Spotify, Evan plans to push the envelope of sports entertainment podcasting with MackMania, and feature everything from classic and modern wrestling, match speculation and analysis, and discussions about current events within the wrestling community.
"Now I'm ready for everything because I met the godfather of podcasts," he says.
This huge undertaking was made easier thanks to the skills he gained during his time at Full Sail University and networking opportunities with titans of the sports entertainment industry like Gus Ramsey (Program Director for Full Sail University's Dan Patrick School of Sportscasting and Bill Simmons (Founder and CEO of The Ringer). "I can't thank this school enough for the tools and tricks of the trade," he says. "Because of Full Sail…and without Gus…I probably wouldn't have this."
As part of The Ringer Wrestling Show, MackMania can be listened to alongside The Masked Man Show and several upcoming features exclusively on Spotify.