Published Mar 01, 2021
Graphic Design Grad Marty O'Neill on Designing and Producing Hollywood's Biggest Podcasters
The Creative Director of L.A.-based Drastic Graphics works with Anthony Anderson, Dope as Yola, and more to create visually engaging online content.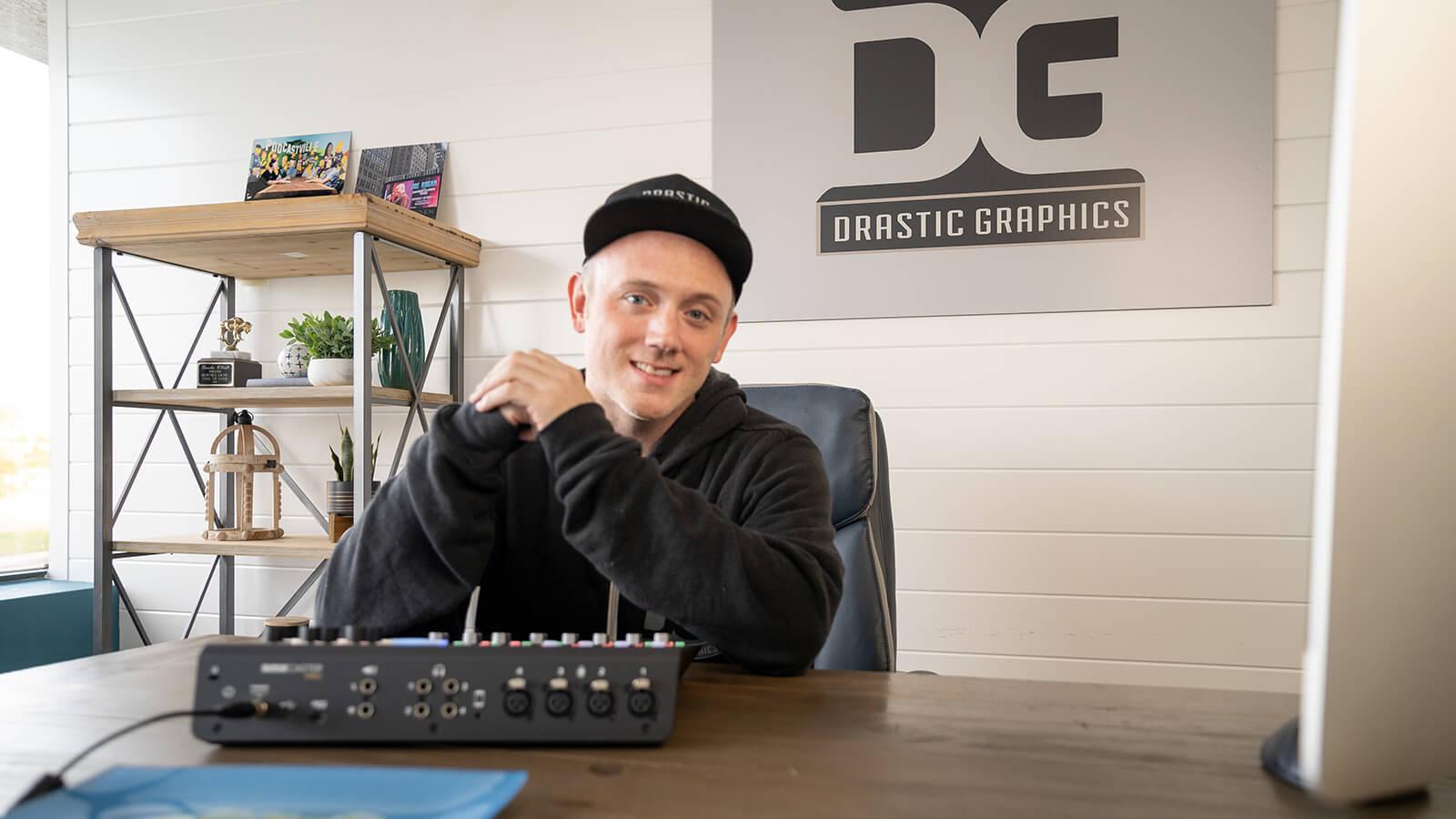 Graphic Design grad Marty O'Neill started Drastic Graphics as a small business creating party fliers and mixtape covers in his hometown of Buffalo, NY. Eventually, Marty developed his homegrown brand into a body of work that would have global visibility, leading Drastic Graphics to new opportunities in podcasting, comedy tours, and eventually seeing his graphics on the massive screens outside of New York City's Madison Square Garden.
Building his foundation in branding and design for popular comedy podcasts like The Joe Rogan Experience, Marty has started to shift his focus, turning Drastic Graphics into a full-fledged creative agency, offering clients branding, audio and video production, and web design services. It was not his original plan.
"I didn't want to learn production. I had resistance against it as far as just like, I don't have extra money for the this. I don't even have the time or the mental bandwidth to learn all this." But Marty also had set a goal for himself, "I said, 'Next year, I'm going to be the biggest videographer in comedy.'"
Now taking the first steps into executive production, Marty's creative agency is currently at work on upcoming podcasts from Black-ish star Anthony Anderson, former Fifth Harmony member Ally Brooke, and popular YouTuber Dope as Yola's Dope as Usual podcast.
"[We are] able to offer essentially everything that a good podcaster would need," says Marty on his role on the upcoming shows. "We can come in and really offer everything, where [the host] can just focus on the content of the show.
"All of my graphic skills are now being used in the context of the bigger scheme," says Marty. "It's like I'm not just doing a poster for somebody. It's all the thumbnails, all the web graphics, all the graphics. I feel like that's important for students to recognize that you may set off on one path that you're good at, but it ends up blossoming into all these other skills that really end up taking your career to the next level."
As Marty and the Drastic Graphics brand continue to grow, the grad has been able to further develop his production skillset capturing behind-the-scenes content for social media on Super Bowl commercial shoots for T-Mobile featuring Anthony Anderson and the cast of The Voice. The chance to learn from industry pros has been a highlight for Marty when getting to work BTS on such large-scale productions.
"Watching the lighting department, how they diffuse the light versus just using a softbox, how they bounce light around and paying attention to how they light each different scene, indoor, outdoors," says Marty. "I'm just trying to be mindful of that now that I'm building sets for podcasts."
Marty has been able to continue learning and developing what he and the team at Drastic Graphics can offer clients while building his stellar reputation among some of comedy's biggest acts. The grad was also hired to capture and create social content for Not a Sports Show, an upcoming series hosted by comedian Lil' Rel Howery featuring sports legends like Shannon Sharpe, Paul Pierce, Melvin Ingram, and Kenny Smith.
The grad is certainly grateful for his time with Full Sail preparing him for a busy and demanding career in the entertainment industry.
"The fact that I could do it online was everything," says Marty. "I learned to think and critique academically, which [is a skill] I don't think I would have gotten otherwise."