Published Oct 13, 2022
Healthcare Technology Lab Powered by AdventHealth University Opens at Full Sail
Full Sail and AdventHealth lab aims to advance healthcare through innovative applications of technology including VR, 3D printing, and more.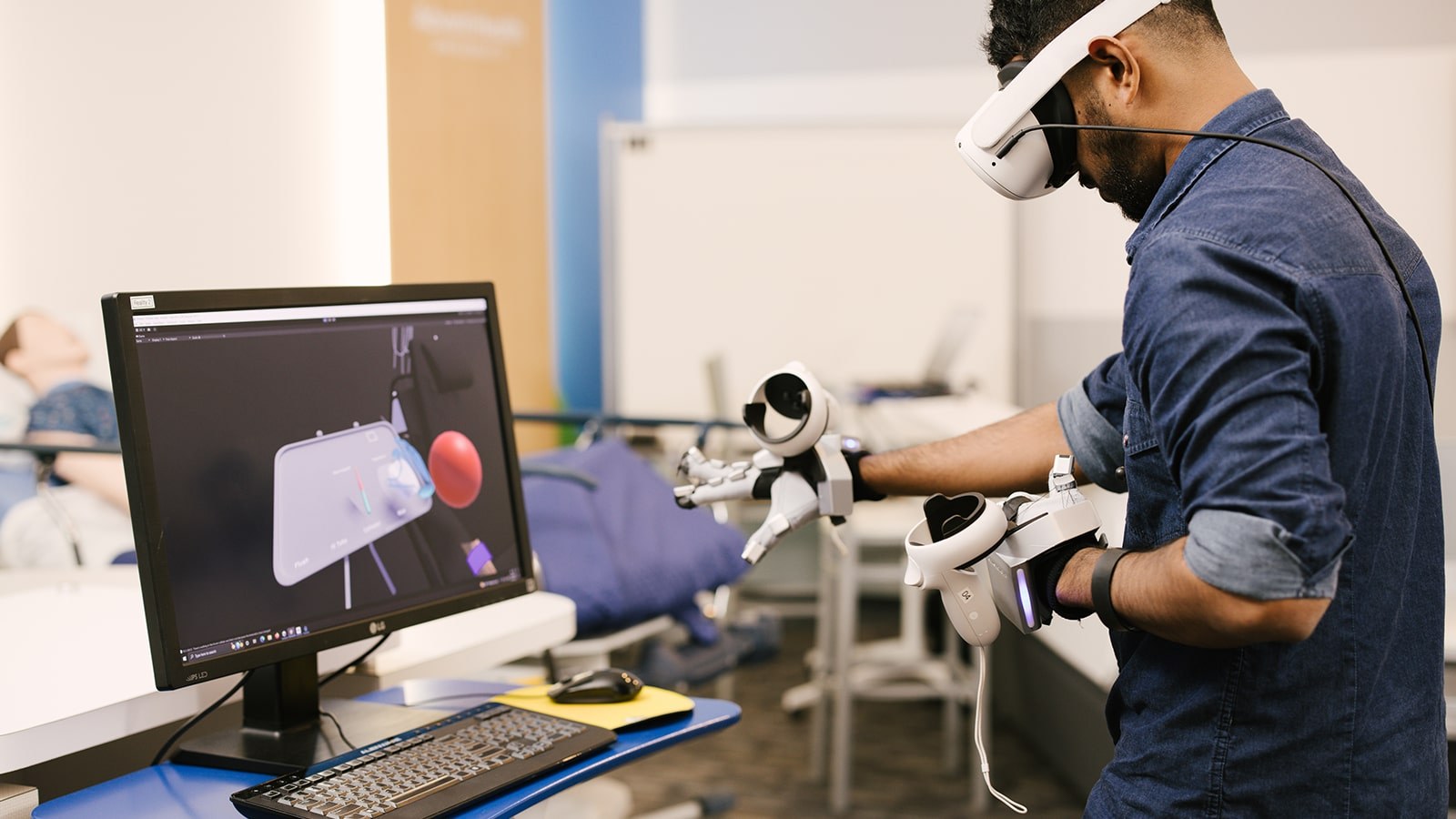 Full Sail and AdventHealth University (AHU) are coming together to launch a brand new lab on campus, the Full Sail University Healthcare Technology Lab powered by AdventHealth University. The healthcare tech lab is the latest addition to Full Sail's 110-plus studios and labs, and is designed to give the teams at Full Sail and AHU a space to develop innovative solutions to enhance patient safety, training for nurses and other medical professionals, and collaborate on joint healthcare research projects.
Focusing on the intersection of technology and healthcare, the new campus space will be accessible to students in Full Sail degree programs focused on emerging technologies as well as students in a variety of AdventHealth University degree programs including Occupational Therapy and Nursing. Students will be able to explore innovative healthcare applications and get hands-on experience with access to industry-standard equipment and technology including a Stratasys F770 Large Format 3D Printer.
"At Full Sail University, we encourage our students to not only make emerging technologies solutions for fun or class credit but also to serve a purpose and make an impact within the community," said Dr. Shawn Stafford, Director of Research and Course Director at Full Sail University. "The medical expertise provided by AdventHealth University allows our students to create research-backed solutions to real-world problems, much like they will when they enter their professional careers. We look forward to seeing the great projects that will come to life in this new lab facility and that continue to come from this partnership."
For Full Sail and AdventHealth University, this partnership serves to bolster opportunities for students while exploring practical solutions for the healthcare industry. Past collaborations have included a winning prototype in the Interservice/Industry Training, Simulation, and Education Conference's Iron Dev competition and the development of immersive virtual reality training modules for AHU nursing students.
"AdventHealth University is thrilled to collaborate with Full Sail University on this state-of-the-art classroom and lab," said Edwin I. Hernandez, Ph.D., President and CEO of AdventHealth University. "This partnership is a wonderful example of leading-edge technology providing solutions to how we train and support health care workers, particularly as they enter the workforce. We are excited to see where this takes us, as the possibilities stretch as far as our imagination."
Request more info about Full Sail's degree programs in emerging technologies here.