Published Mar 28, 2022
New Media Journalism Grad Leading Marketing with Campus Nation
Master's grad Sydney Phillips wears many hats as the Marketing Director for the sports broadcasting company.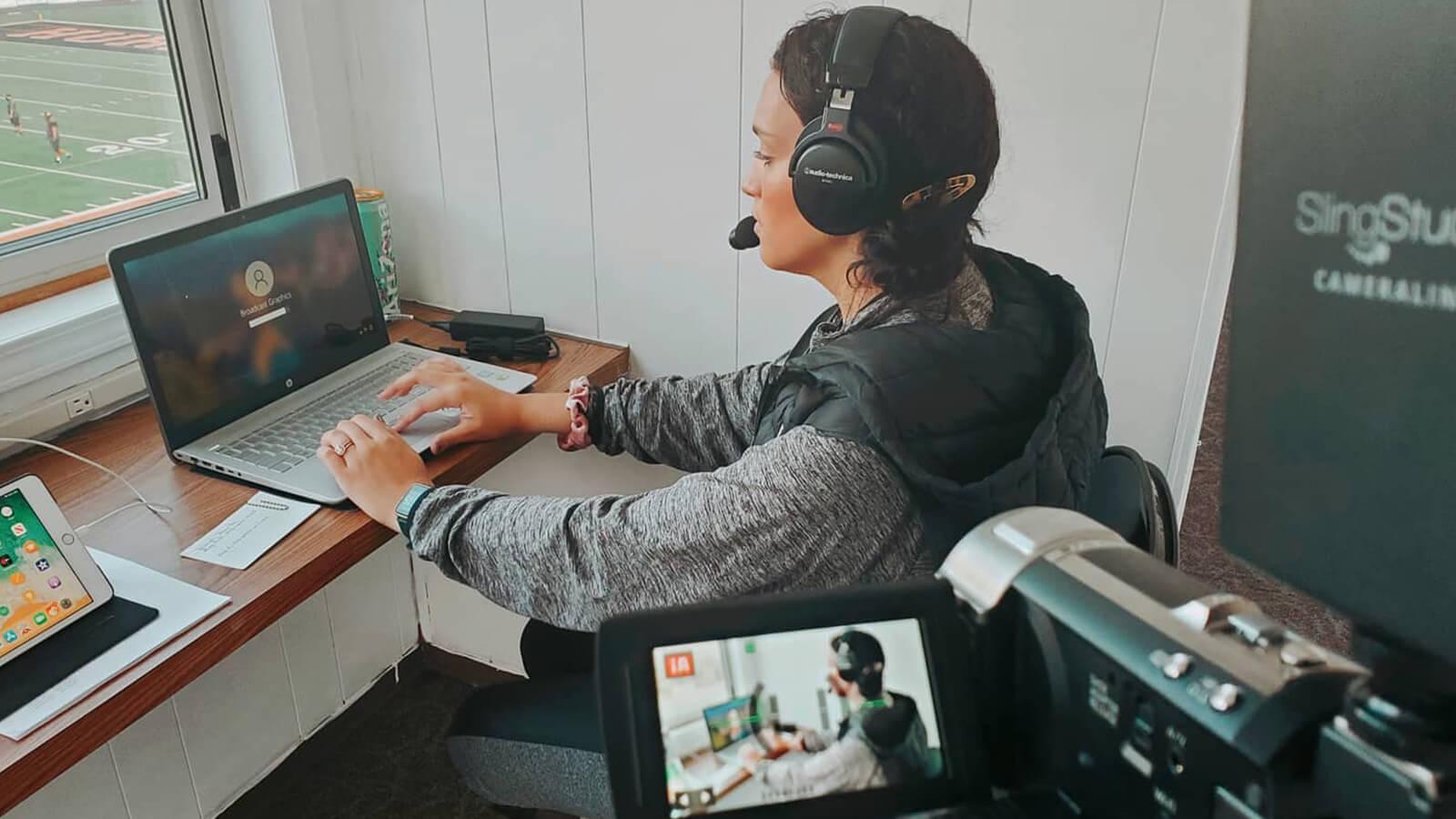 For Sydney Phillips, the opportunity to apply her undergraduate degree in advertising and public relations with sports broadcasting company Campus Nation was a great way to hit the ground running. "I grew up in the tech era. I was super into social media, and I wanted to make money doing that somehow," she recalls.
But it wasn't long before Sydney realized she could bring more to the table by pursuing her master's degree with Full Sail.
"After I started working with Campus Nation, I learned I was going to need a lot more to my skill set than just graphic design and making static arrangements," she says. "I decided to pursue getting the New Media Journalism degree because it came with more than a focus on writing. The new media component comes with being able to display information in a format that's interesting and engaging."
Through the program, Sydney was able to further develop her skills in marketing and communication, subsequently encouraging the growth of Campus Nation. "We went from streaming high school and Division 2 and Division 3 schools to semi-professional football leagues," she says. "We actually acquired a deal with the Ohio State Club Athletics [a Division One school] to broadcast them as well."
While a title like Marketing Director may lead one to believe Sydney works only with standard brand promotion, the growing company sees her working in a variety of disciplines to grow the brand's reputation and engagement. Part of her role includes standard marketing practices in optimizing SEO and acquiring sponsors. Sydney not only creates and distributes social and web content for Campus Nation, but is also engineering broadcasts, hiring for broadcast roles, and more.
"A lot of people don't realize a journalism degree is a degree in research. You can research any topic and really break it down to the point where you can explain it to a five-year-old," says Sydney. That allows her to apply her degree to a wide assortment of work in sports media. A strong believer in constant learning, the grad has gone on to teach herself even more post-graduation, including coding and video editing.
"If you do have experience, never stop learning, because the more you use the skillset, the better you get at it," says the grad. "And I didn't know that I couldn't get better at it until I find myself learning new ways to edit a project. I'm like, 'Oh, I didn't know you could do that.'"