Published Oct 26, 2020
This Show Production Grad Helps Run International Live Events
As the Director of Specialty Services for ENCORE-PSAV Mexico, Rodrigo Losada coordinates events for large companies in dozens of different countries.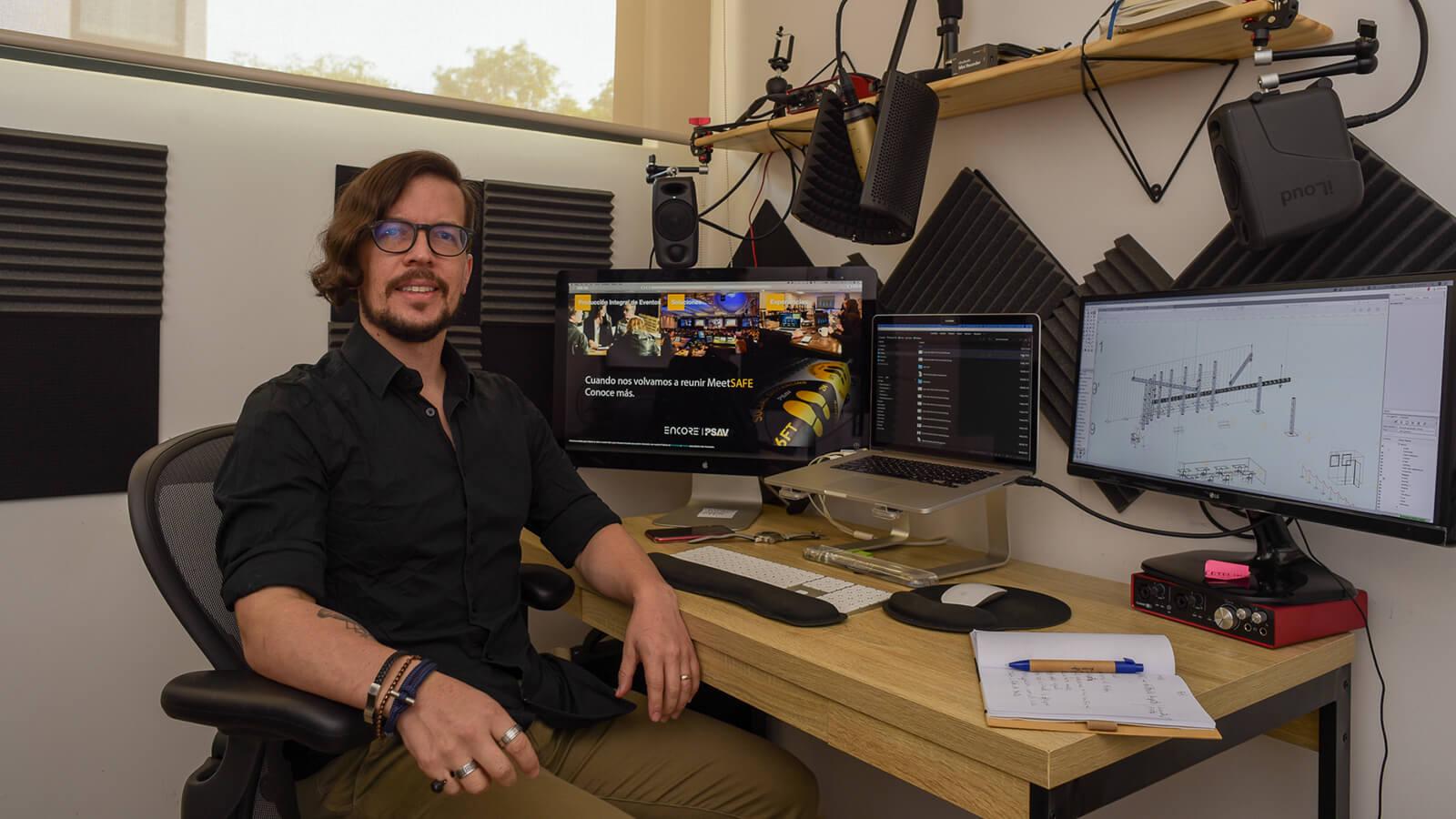 Rodrigo Losada has been working in live event production for a long time. The Show Production grad had 18 years of experience putting on exceptional events in Colombia, but his commitment to lifelong learning brought him to Full Sail's campus in Florida. Today, he imagines different ways to connect with and inspire others on a grand scale as the Director of Specialty Services for ENCORE-PSAV Mexico.
Rodrigo got his start as a DJ and event producer in Colombia and eventually founded his own creative agency, Illusion Entertainment Ltd. After years of nonstop work, Rodrigo decided to take a break and go back to school. He says he chose Full Sail for its comprehensive degree programs.
"I looked around at production schools around the world; they mainly only focus on sound," he says. "I love sound, but I think I wanted to have a little more experience in some other areas of show business, like lighting, video, and all of that. Full Sail had the most complete program."
When he arrived on campus in 2012, Rodrigo quickly connected with his fellow international students. "The international office was, and has always been, helpful. The networking in the first day, almost immediately, we're out there, we're getting to know people from around the world."
He says the university's real-world approach to learning made every lesson fun and accessible. Rodrigo had an especially good time in a class that taught him how to use media servers.
"The fact that I was able to take all the media server computers we had in the lab classroom and put them in the Full Sail Live venue for our final live show made it fun," he says.
After graduation, Rodrigo started working at ENCORE-PSAV, the world's largest audio-visual equipment provider. They plan, design, and provide technology for events at hotels, convention centers, and entertainment venues around the globe. Rodrigo worked his way up and became the Director of Specialty Services for their Mexico division in 2019. He built ENCORE-PSAV Mexico's in-house creative agency; he currently runs that team as well as the scenic shop.
During his time with PSAV Mexico, Rodrigo's gotten to produce shows, run a marketing team, and run a digital services team that created apps for the virtual and hybrid events the company created during the COVID-19 pandemic. He was also the show caller for a massive Amazon Web Services event that took place in eight different countries.
When it comes to success in the live events industry, Rodrigo emphasizes the importance of humility, patience, and paying your dues.
"You need to take time to develop some skills," Rodrigo says. "When you go to school, yes, you learn something, but you're inexperienced… Don't expect to be the CEO of the company the next year you are out of school. In order to be there, you need to work a lot of hours. Be patient, pay your dues, and keep on working."