Published Oct 14, 2021
Two Entertainment Business Grads Are Bringing Comic Culture to Houston's Historic Third Ward
Sharmane Fury and Byron Canady's Gulf Coast Cosmos is promoting diversity and nerd culture in Houston's historic Black community.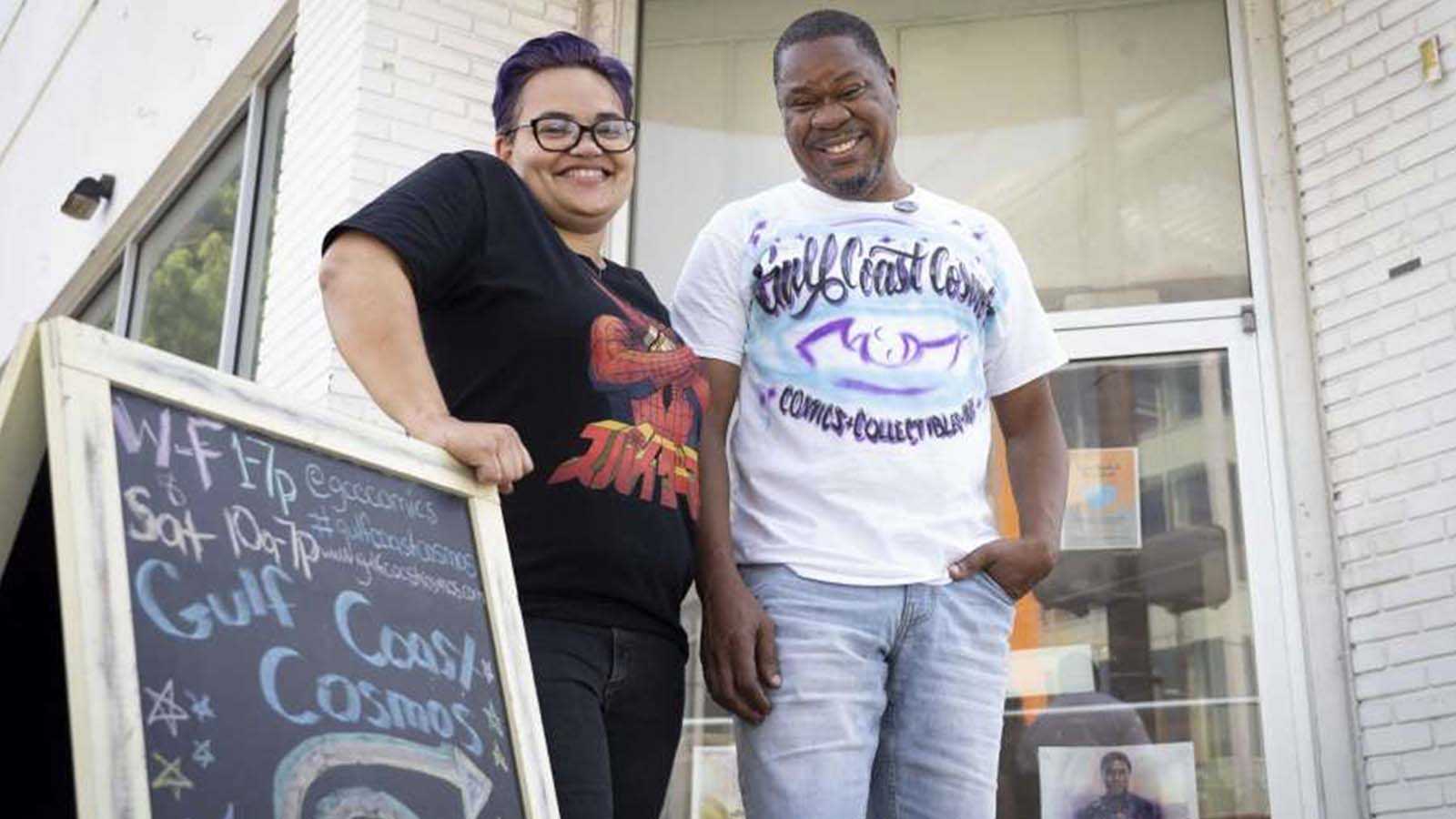 When Sharmane Fury and Byron Canady first met as students in Full Sail University's Entertainment Business master's program, they knew fairly quickly that their shared interest in comics would make for a fast friendship. What they didn't know then was how the combination of comics, camaraderie, and their Full Sail degrees would lead to fulfilling and successful careers as owners of their very own comic book shop, Gulf Coast Cosmos.
For both Sharmane and Byron, the decision to open a shop came from not just a love for panels about heroes fighting for justice but also from wanting to right some specific injustices, namely, the lack of representation they often felt as adolescents when skimming through the racks in search of their favorite comics.
"You have to find your own path or your own means of relating to a character or a hero when they don't look like you," says Byron. "Later, when I found X-Men, then found Falcon, and later I then found Black Panther. There was something that I was totally enthralled by that I could also relate to completely, as opposed to having to, I don't know, find a way to say, 'Yeah, he's cool, but….'"
Propelled by the knowledge that characters they could relate to did actually exist but just weren't being featured on the stands, Sharmane and Byron opened their business with a clear vision. "We have a shared mission of wanting to make sure that people who look like us are represented in this space, so the people who come into our shop feel like they're not isolated or alone," says Sharmane.
Even the location of the shop was influenced by this mission, opening in Houston's historic Third Ward. "Historically, Third Ward has been the cultural hub for the Black community in Houston," says Byron. "It was absolutely necessary for us to come here, to set up here in the neighborhood, in the community, and represent the people."
Our community is reflected in what they see, and if they want Superman, they've got to dig through the box."
—Sharmane Fury
The grads' current storefront is a part of Project Row Houses as well as Houston's Emancipation and Economic Development Council – a project working to turn old homes into artist-in-residence spaces – only furthering their deep connection and contribution to the historic community.
"There are comic book shops and things like that in the area, but they're not showcasing the comics of the people, of the characters that look like the people in this neighborhood," Sharmane says. "For us to be here, and both be Brown people, both be queer people, both be people that have been the other in one space or many spaces, we can service this community in a way that shows them that you're the main character in that story, you're not always the sidekick."
Increasing representation isn't all the duo is doing for the community. An adjunct marketing professor at the University of Houston, Byron has worked to connect with local literacy groups to bridge the gap of entertainment, education, and literacy while the shop has worked with local organizations like SHAPE to create safe and positive spaces for the youth community in the Third Ward.
During their time in the Entertainment Business master's program, both Byron and Sharmane gained the skills to not only successfully manage Gulf Coast's ecommerce site and brick and mortar location, but they also learned how to keep culture and community center-stage without sacrificing the growth of the business. "Being in comics, you have to do creative events. There isn't just one set thing you have to do, and I think Full Sail did give us that, especially with the way that they structured the program with every month it being a different focus," says Sharmane.
For Houston native Byron and Long Beach-raised Sharmane – who hosts the podcasts Militantly Mixed and BLERDcoMIXed which focus on topics surrounding intersectionality – the purpose behind opening Gulf Coast Cosmos has been worth all the risk of starting up a new business.
"So people are getting to see Black and Brown people on the posters instead of what they expect to see when they come into a comic book shop, which is a lot of powerful white guys and their sidekicks," says Sharmane. "Our community is reflected in what they see, and if they want Superman, they've got to dig through the box."