Published May 05, 2023
Varsity 'SMITE' Team Wins League Championship
Full Sail Armada's varsity SMITE team finished an undefeated spring season as the AGL & NECC league champions.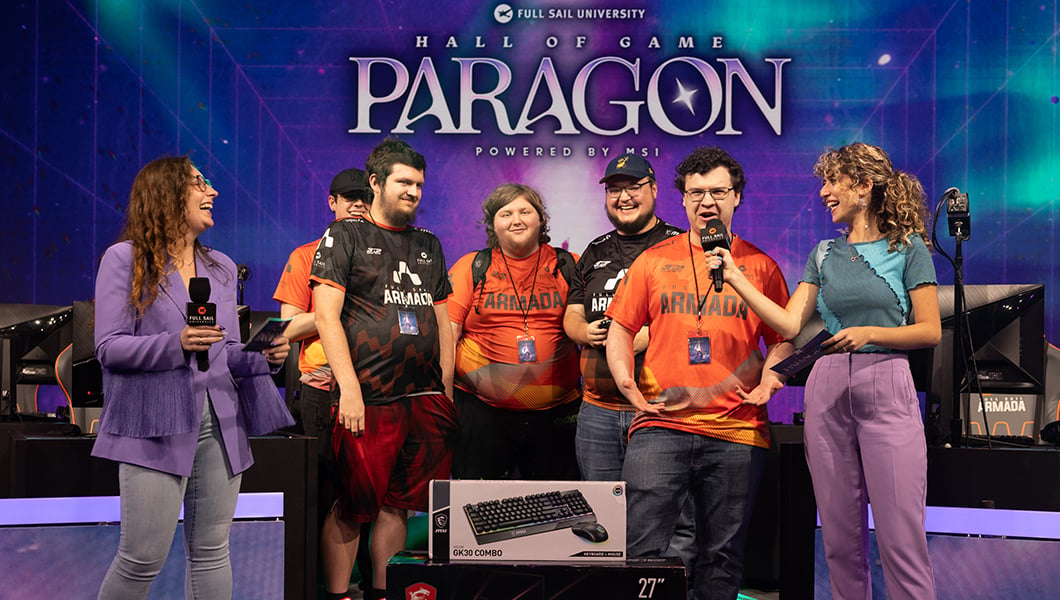 Full Sail Armada's current varsity SMITE roster has maintained a steady hold on the collegiate competitive circuit, recently finishing out a blockbuster spring season as league champions. Going 12-0, the team dominated in the Albion Giants League (AGL) and National Esports Collegiate Conference (NECC) Championship, coming in first place over universities including Texas A&M, Penn State, Clemson University, and Colorado State.
A long-standing team on the Armada roster, SMITE players brought their top tier play this season, even defeating Armada's alumni SMITE team during Hall of Game: Paragon.
"Most of our SMITE team members have been together for multiple seasons," shares Armada Team Manager Hoyt Dingus. "This has given them the ability to experiment with their strategy, really get to know how each other play, and build trust on a level that not everyone gets to experience."
Players on the team excelled throughout the season, gaining recognition from their peers with team captain Tyler "Saphreon" Sessler and Seth "Proflux" Chambers being voted as MVP and Breakthrough Player, respectively.
"All of [our athletes] stand out in one way or another, but the team would not be where it is without the leadership of their team captain," says Hoyt. "Saphreon is always looking out for his teammates, he wants to see them do their best. It also helps that he is one of the most mechanically sound SMITE players that has come through the doors at Full Sail Armada."
Looking forward to the fall season and the future of Armada SMITE play, the team is overjoyed and feeling accomplished after such a successful season. "All the hard work they have put in season after season has paid off for them big time and I could not be more proud," says Hoyt, even though the team's success may even mean the end of one of Armada's most infamous beards. "I made a bet with them that if they win the final I would shave my beard and they really wanted to make me keep my promise," he laughs.
Interested in joining Armada? Learn more about our teams and tryouts here.