Published May 04, 2023
Gaming and Esports at Hall of Fame 13
Full Sail Armada and the gaming and esports community at Full Sail came together to celebrate graduate success and professional development during Hall of Fame.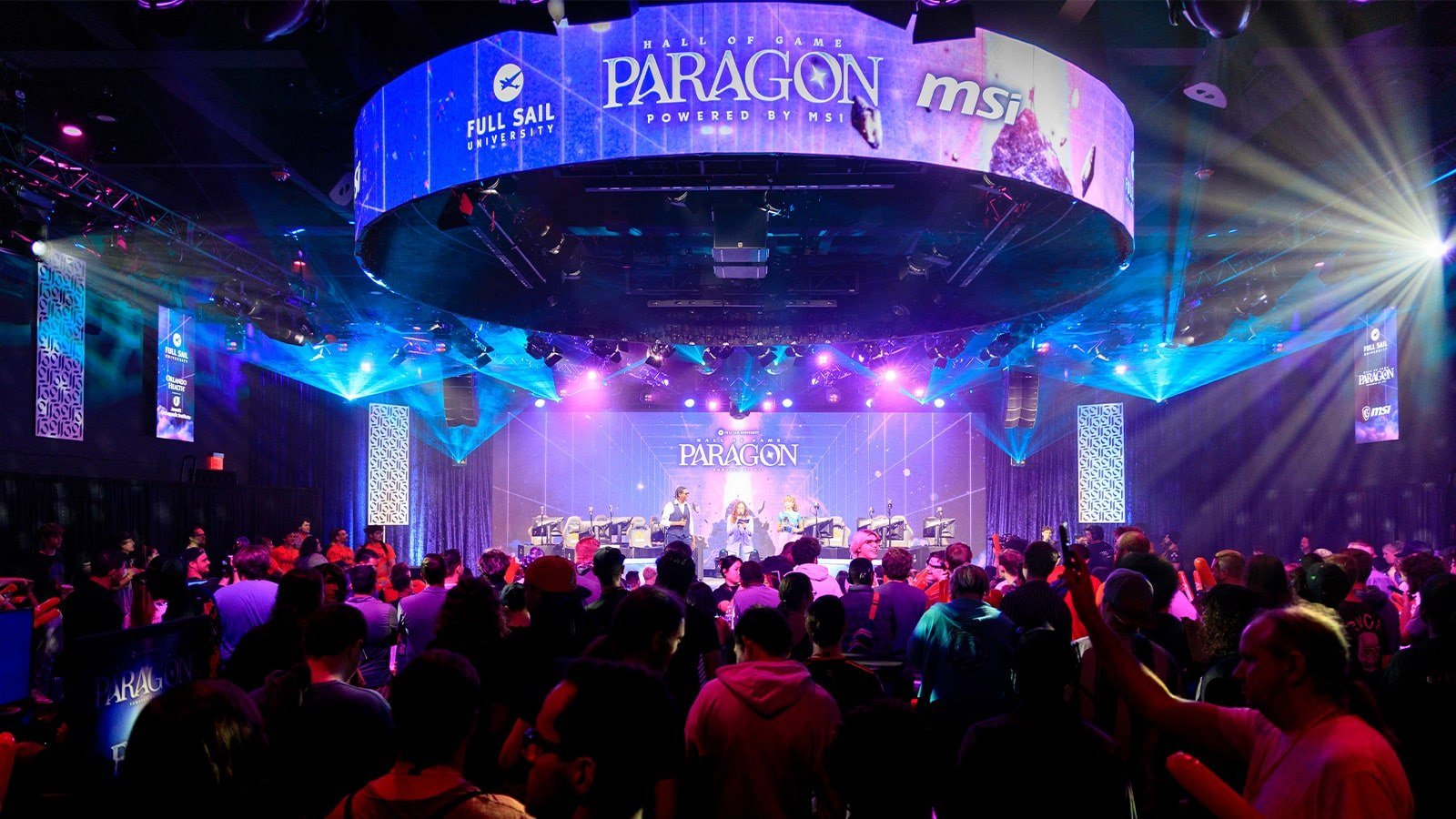 During Full Sail University's 13th Annual Hall of Fame week, Full Sail Armada and the university's esports and gaming community came together to celebrate graduate success while doing what they do best: gaming. From a live esports exhibition where Armada players defended their reputation on their home turf to networking opportunities where new Armada members could connect with grads and former players, the week offered something for everyone.
Hall of Game: Paragon
The Armada community kicked off the week with Hall of Game: Paragon, the latest installment of the annual esports exhibition. The event welcomed students, alumni, faculty, and staff to watch Armada varsity teams compete against returning alumni teams in games of Valorant, SMITE, and Overwatch while audience members cheered on their favorite players from the crowd in the Full Sail University Orlando Health Fortress.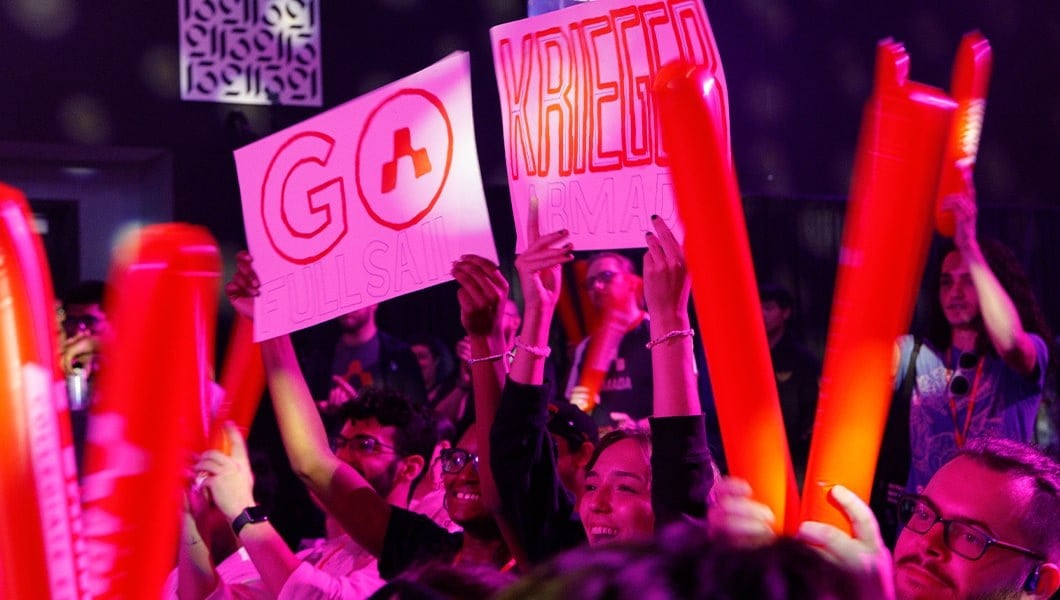 A close-up of the cheering crowd in The Fortress during the show.
Members of the Armada Stream Team streamed live from the venue, which also featured free-play gaming stations courtesy of MSI, RedBull racing simulators, and a community Super Smash Bros. tournament. Outside the venue, students enjoyed giveaways, additional free-play gaming stations, and of course delicious food trucks.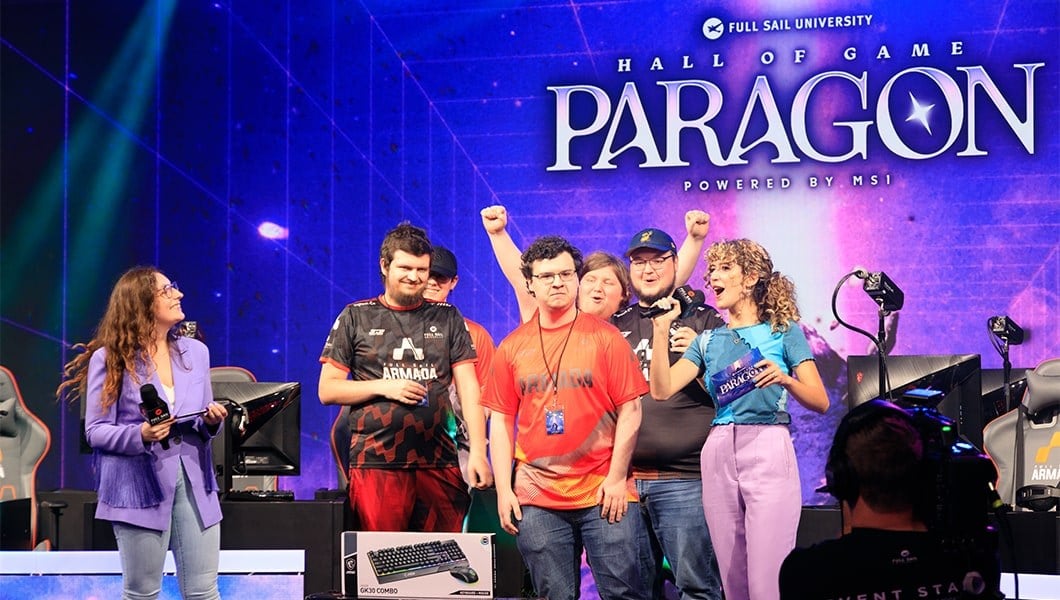 Armada's undefeated SMITE varsity team celebrating their win on stage.
Armada varsity teams commanded the stage, winning in all three match-ups against the returning Armada alumni. While the event invited the Full Sail community to engage with Armada, it also provided real-world experience, featuring a robust student event-production crew and student hosts and casters from programs including the Dan Patrick School of Sportscasting and Game Development.
Scholarships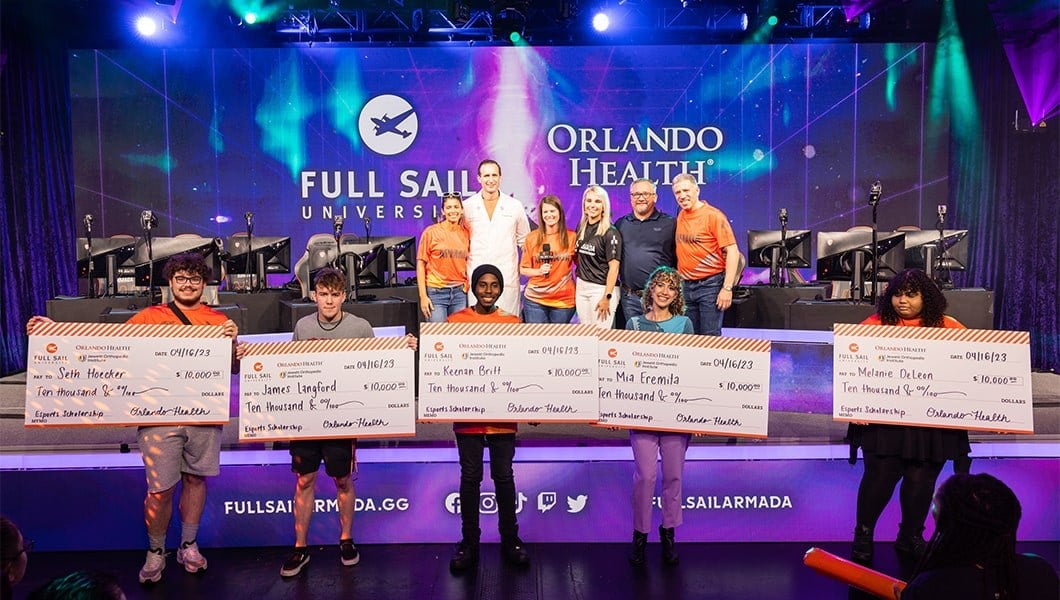 Students being awarded scholarships on behalf of Orlando Health during Hall of Game: Paragon.
During Hall of Game: Paragon, five students in Armada varsity programs were awarded scholarships for their contributions to the community, commitment to their academic success, and competitive spirit. On behalf of the Orlando Health Jewett Orthopedic Institute, the students were awarded a total of $50,000 in Full Sail scholarships to apply toward their educational goals.
From degree programs including Game Business & Esports, Sportscasting, and Film, the students awarded represent the variety of roles in the collegiate esports organization from casting and streaming to competitive play and student leadership. Recipients included Mia Eremita (Sportscasting bachelor's student), a member of the Armada Stream Team; James Langford (Game Business & Esports bachelor's student), Captain of the Call of Duty team; Melanie DeLeon (Game Business & Esports bachelor's student), Armada Online Student Vice President and a member of the SMITE team; Keenan Britt (Film bachelor's student), member of the Super Smash Bros. team; and Seth Hoecker (Film bachelor's student), Captain of the Rocket League team and Armada Student President.
Armada Connects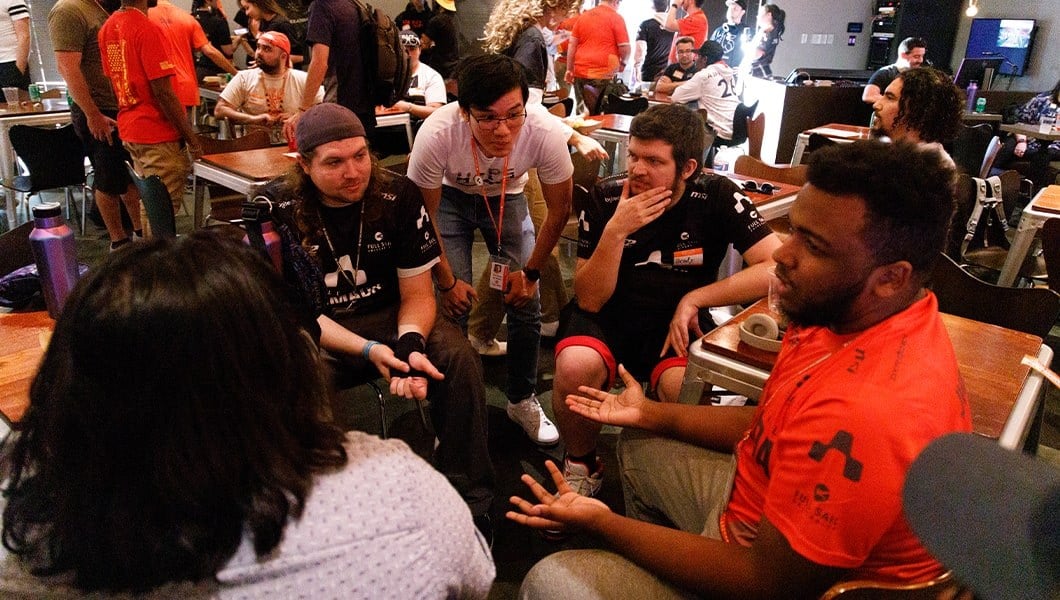 Current Armada students, alumni, and staff chatting during the Armada Connects mixer.
Halfway through the week, Armada staff hosted Armada Connects, a networking event that welcomed Armada students past and present to gather in the Treehouse for an evening of networking, food, community, and sweet, sweet Armada swag.
Former Armada club presidents and current student leadership gathered to celebrate five years of collegiate esports at Full Sail, while club members were able to chat with Armada staff members, meet fellow athletes, and connect with grads in the industry including Call of Duty League caster Landon "LandO" Sanders and Director of Gaming & Esports at Pivot Agency Matt "Burns" Pothoff.
D20 Deathmatch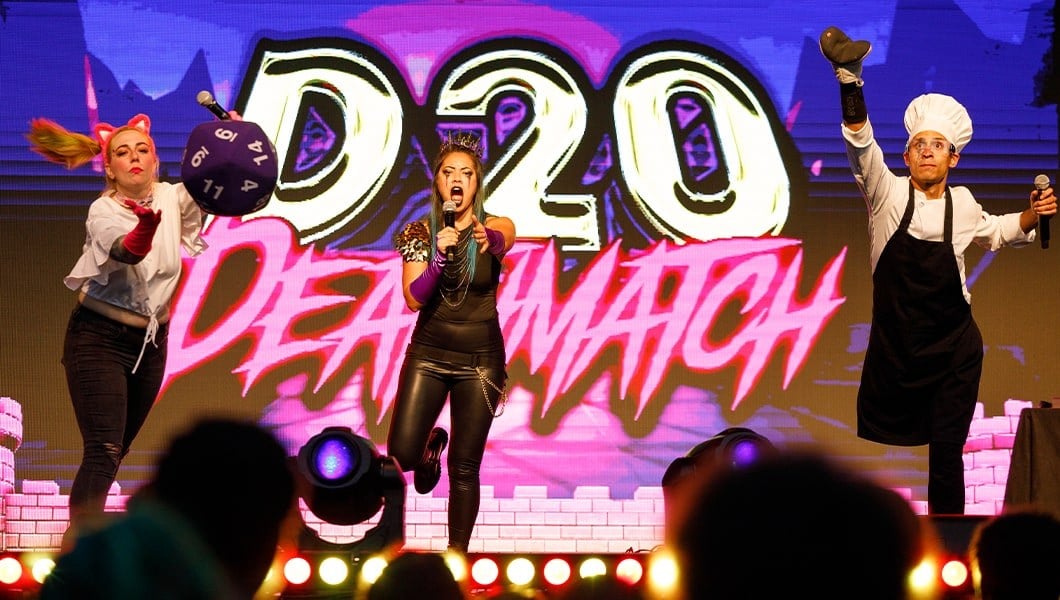 Erin Eberhardt, Becca Godsey, and Kyle Roach on stage during D20 Deathmatch.
Full Sail's gaming community isn't just digital. During Hall of Fame, students witnessed an epic live Dungeons and Dragons actual play featuring Game Business & Esports instructor Becca Godsey. Becca and her cohost Drew brought a live version of their popular web series D20 Deathmatch to students on campus in a live face-off pitting Hall of Fame 11 inductee Erin Eberhardt and Full Sail Armada Community Specialist Kyle Roach against one another in an explosive deathmatch.
With smoke machines, a giant 20-sided die, and plenty of loud heavy metal, D20 Deathmatch transformed the outdoor stage into a live D&D Thunderdome where competitors rolled for their lives. The audience roared for Kyle – playing as Chef GPT – as the other players did their best to take down the fan favorite. The campaign featured laughs, screams, and lots of make-believe violence for students watching in the crowd.
To learn more about the Armada community and how you can get involved, join us on Discord!