Sep 14, 2016
'Set It Off' Announce Album Release Event at Full Sail University on October 4th
Set It Off has announced a special album release event that is set to take place on Tuesday, October 4th at Full Sail Live, the state-of-the-art performance venue on the campus of Full Sail University in Winter Park, FL. The event, presented by Full Sail University and sponsored by Monster Energy, will include a full band live performance, a Q&A session (moderated by the 2016 Vans Warped Tour Monster Energy Pit Reporter, Tori Kravitz), and an exclusive meet and greet with fans. The event will also be the only place to get the album early, ahead of its official release date. It will take place from 6pm – 9pm, with the live performance portion of the evening beginning at 7pm EDT and made available via streaming live online here.
A limited number of free tickets to the album release event will be made available to the public. Seating is limited, and will be available on a first come, first served basis.
Upside Down is set to release on October 7th, 2016 through Equal Vision Records. The album was recorded in Los Angeles, CA with producers Brandon Paddock (Panic! At The Disco, Avril Lavigne, Pentatonix), Erik Ron (Saosin, Panic! At The Disco) and Mike Green (5 Seconds of Summer, All Time Low, Cassadee Pope). It was chosen as one of the "Most Anticipated Albums of 2016" by Alternative Press Magazine and is now available for pre-order by visiting http://setitoffband.com/.
Set It Off recently released a lyric video for "Life Afraid" - view the video on Vevo or view the video on YouTube. The band previously released the song and music video for "Something New" which was co-written with Alex Gaskarth of All Time Low. Watch the music video for "Something New" here.
In a joint statement, the band says, "We are all extremely excited to be releasing our new record Upside Down, and for the world to finally hear what we've been working so hard on for the past year. We are anxious for fans to hear our new songs, as they are our most mature work to date. We've challenged ourselves to break down genre walls – pulling influences from pop, hip-hop and R&B. Brace yourself – this is Set It Off at the pinnacle of our careers."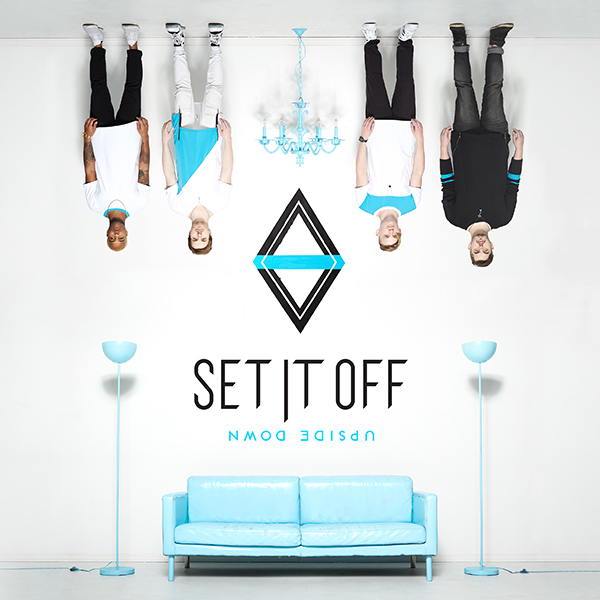 Upside Down Tracklisting
1. Something New
2. Uncontainable
3. Life Afraid
4. Upside Down
5. Want
6. Diamond Girl
7. Tug Of War
8. Admit It
9. Hypnotized
10. Never Know
11. Crutch
12. Me w/o Us
Fans caught a taste of Upside Down earlier this year with the release of the new song and music video for "Uncontainable", which is now available for purchase and streaming on digital accounts such as iTunes and Spotify. Those who pre-order Upside Down will receive "Life Afraid", "Something New" and "Uncontainable" as instant grat tracks.
The band just completed the entire 2016 Vans Warped Tour where they performed main stage and have announced an upcoming headline tour in October. The Something New Tour will kick off October 6th in St. Petersburg, FL at State Theater. Tickets and VIP Packages are available now at www.setitoffband.com.
Something New Tour Dates
OCT 06 St. Petersburg, FL @ State Theater
OCT 07 Jacksonville, FL @ Jack Rabbits
OCT 08 Pensacola, FL @ Vinyl Music Hall
OCT 09 Birmingham, AL @ WorkPlay Theatre
OCT 11 Nashville, TN @ Rocketown
OCT 13 Chapel Hill, NC @ Local 506
OCT 14 Lancaster, PA @ Lizard Lounge
OCT 15 Howell, NJ @ GameChangerWorld
OCT 16 Pittsburgh, PA @ The Club at Stage AE
For more information:
http://setitoffband.com/
http://www.equalvision.com/

Follow Set It Off:
http://facebook.com/setitoffband
http://twitter.com/setitoff
http://instagram.com/setitoff

About Full Sail University:
Full Sail University is an award-winning educational leader for those pursuing careers in the entertainment and media industry. Founded in 1979, Full Sail has been recognized as one of the Top Five Game Degree Programs by Electronic Gaming Monthly, one of the Best Music Programs by Rolling Stone Magazine, and one of the Best Film Programs by UNleashed Magazine. In 2011, Full Sail received the "21st Century Best Practices in Distance Learning Award" from the United States Distance Learning Association, was named the "School/College of the Year" by the Florida Association of Postsecondary Schools and Colleges, and was recognized as one of the Top 100 Social Media Colleges by Studentadvisor.com.
Full Sail offers Master, Bachelor, and Associate campus and online degree programs in areas related to animation, art, business, education, graphic design, film, marketing, web development, music, recording arts, sports, and video games. Full Sail graduate credits include work on OSCAR®, Emmy®, GRAMMY®, ADDY®, MTV Video Music Award, and Spike Video Game Award nominated and winning projects.
www.fullsail.edu
www.twitter.com/fullsail
www.facebook.com/fullsailuniversity
www.fullsailblog.com
Press Kit
Download a fact sheet about Full Sail, high-res images, and information about our campus and online programs from our press kit.
For media inquires, contact Casey Tanous at 407.679.0100 or email [email protected].
Full Sail Press Kit Images

Stay Connected