Sep 19, 2018
Full Sail University's Dan Patrick School of Sportscasting and Rollins College Athletics Announce New Educational Partnership
Today, Full Sail University's Dan Patrick School of Sportscasting and Rollins College Athletics are proud to announce an educational partnership whereby students from Full Sail's Dan Patrick School of Sportscasting are lending their voices to the Rollins athletic department by calling all of the college's home sporting events.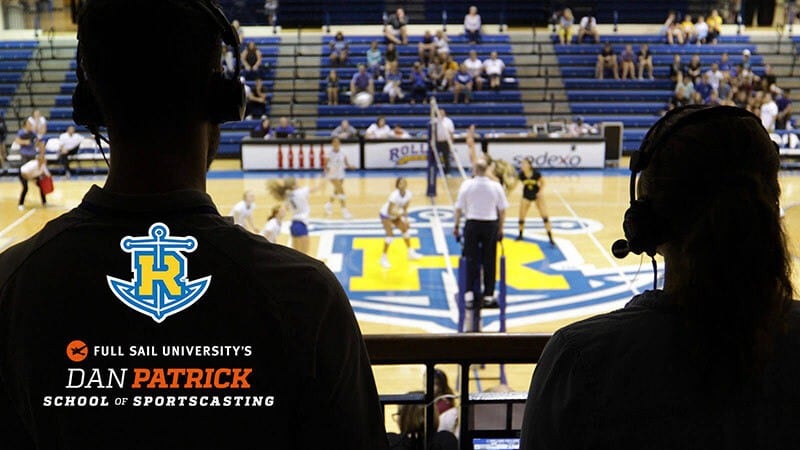 As part of the partnership, Rollins provides access for Full Sail's students within the Dan Patrick Sportscasting degree program to call and provide color commentary to roughly 150 of Rollins home games and events spanning both Men's and Women's sports at the college. Ranging from soccer and volleyball to baseball, lacrosse, and everything in between, Rollins athletes can now count on their fans to be engaged in the action as the Tar Nation tunes in to hear Full Sail students delivering play-by-play commentary live, online and over the airwaves on RollinsSportsLive.com as well as on WPRK.
"When you come to a sporting event at Rollins College you will now get the best of both Rollins College student athletes and Full Sail's Dan Patrick School of Sportscasting students," said Nate Weyant, Assistant Athletic Director for Strategic Communications for Rollins. "We are happy to provide the next generation of sportscasters with live-action and engaging stories to hone their skills — it's a win-win for both schools."
"As a graduate of Rollins and someone who began his broadcasting career calling Rollins games on WPRK, and as a program director at Full Sail, I'm excited for both institutions to continue their strong relationship of working together to support students," said Gus Ramsey, Program Director of Full Sail University's Dan Patrick School of Sportscasting. "Our relationship provides tremendous opportunities for our students at Full Sail to hone their craft as sportscasters, and for the student athletes at Rollins to have dedicated sportscasters calling their events." Ramsey further added, "With both schools proudly calling Winter Park home, we are excited to share this announcement with our community and hope folks will come out to join us in supporting the talented students on the field and in the announcing booths at home events."
This is not the first educational collaboration between the two schools. Last year Full Sail and Rollins began an educational collaboration where students from Rollins provide their talents in musical performances – including individuals and ensemble groups, while students from Full Sail utilize their talents for music production and recording arts. By combining the performance and recording aspects of music, each school is able to provide a full and all-encompassing experience for their students, and foster an environment where they can learn from one another.
About Full Sail University:
Full Sail University is an award-winning educational leader for those pursuing careers in entertainment, media, arts and technology. Founded in 1979, Full Sail has received accolades throughout its history, including most recently: One of the 2018 "Top Graduate & Undergraduate Schools to Study Game Design" by The Princeton Review, one of the 2016 "Top 25 Music Schools" by The Hollywood Reporter, and one of the 2017 "Top 50 Film Schools" by The Wrap Magazine. The Florida Association of Postsecondary Schools and Colleges also named Full Sail the 2016 "School/College of the Year."
Full Sail University is a graduate and undergraduate degree-granting institution offering on-campus and online degree programs in areas related to Art & Design, Business, Film & Television, Games, Media & Communications, Music & Recording, Sports, and Technology. With over 64,000+ graduates worldwide, Full Sail alumni have worked on countless award-winning projects with individual recognition including OSCAR®, Emmy®, GRAMMY®, ADDY®, MTV Video Music Award, and Video Game Award honors. For more information visit, fullsail.edu.
www.fullsail.edu
www.twitter.com/fullsail
www.facebook.com/fullsailuniversity
About Rollins College Athletics:
Beginning with its first intercollegiate contest in 1895, Rollins College boasts one of the richest traditions in small college athletics. Located in Winter Park, Florida, Rollins is a member of NCAA Division II and the Sunshine State Conference. Rollins claims 23 National Championships, 91 Sunshine State Conference Championships and 10 Sunshine State Conference Mayor's Cup All-Sport Trophies. Rollins sponsors 22 varsity sports known as the "Tars," a slang term for a sailor and one of the most charismatic nicknames in all of sports. For more information, visit RollinsSports.com. "Like" the Tars on Facebook and follow @RollinsSports on both Twitter and Instagram.
Press Kit
Download a fact sheet about Full Sail, high-res images, and information about our campus and online programs from our press kit.
For media inquiries, contact Casey Tanous at 407.679.0100 or email [email protected].
Full Sail Press Kit Images

Stay Connected