Mar 07, 2018
The Nature Conservancy Launches "The Monarch Initiative" in Florida to Inspire Conservation Action
The Nature Conservancy, alongside Full Sail University, announces "The Monarch Initiative," focused on the iconic and imperiled monarch butterfly, a symbol of the many conservation challenges that pollinators and wildlife, natural systems, and people face in Florida and around the globe. The unique program is launching in Central Florida, in collaboration with Full Sail University, to increase awareness of the value of nature in our lives and encourage conservation action. The Monarch Initiative is a multifaceted campaign of digital and social media engagement, on the ground activities, compelling outdoor art, and community partnerships.
The Nature Conservancy is the world's largest conservation organization, working to protect lands and habitats that are critical to monarchs and pollinators and support healthy natural systems that sustain us. The Conservancy is addressing climate change, leading sustainable agriculture practices on our farmland, and supporting greenspace in urban areas. In Florida, the Conservancy has helped protect more than 1.2 million acres of vulnerable lands and waters, and owns and manages more than 52,000 acres in 25 Conservancy preserves.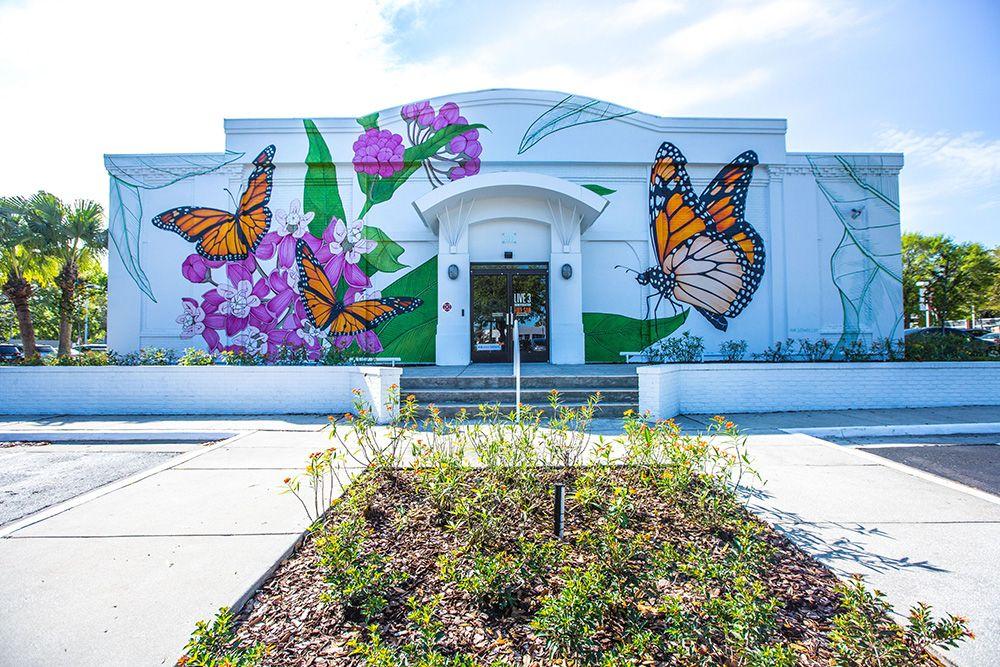 "The Monarch Initiative brings the importance of well-functioning natural systems into sharp focus. Monarch butterflies rely on the same landscapes that support clean air and water and benefit all of us," says Temperince Morgan, The Nature Conservancy in Florida's executive director. "The initiative aims to inspire action from Floridians who are passionate about creating a healthier, more sustainable world. The world we depend on, also depends on us - as a community, we can build a future where people and nature thrive together."
The orange and black monarch butterfly, Danaus Plexippus, completes an astonishing, nearly 3,000 mile multi-generational migration from Mexico to the United States and Canada, and requires habitat in our cities, on our farmland, along our coasts, and throughout our natural places. Meadows, marshes, pastures, and fields offer the milkweed on which they lay their eggs, and upon which their caterpillars feed. It is required for their survival. In the Fall, a single generation makes the trip to Mexico to overwinter. Over the last two decades, monarch numbers have dropped by more than 80 percent, from an estimated one billion butterflies in their winter range in Mexico in 1996 to only about 100 million in 2016. Major threats to monarch butterflies and all pollinators include habitat loss, pesticide use, and climate change. Like the iconic 'canary in the coal mine,' the monarch butterfly is a key indicator species of environmental health. Their dramatic population decline signals the need for urgent attention.
As lead collaborator and sponsor of The Monarch Initiative, Full Sail University, an award-winning educational institution focused on entertainment, media, arts and technology, is playing a pivotal role in helping to create needed attention. Full Sail is engaging its university community comprised of students, staff, faculty and alumni, as well as bringing community partners, including local municipalities, institutions, and businesses on board to create a broader reach and highly visible campaign. Full Sail is also designing and hosting the campaign's microsite, boosting awareness through student-led online initiatives, creating the campaign's logo, supporting user-generated content, and engaging its alumni network to increase impact. The University has an on-campus commitment to environmental responsibility and students and faculty that are engaged in conservation issues.
"Our campus is home to a creative community of technology-savvy individuals with a passion for utilizing their talents to inspire change. In listening to our own community, I learned that our students, staff and alumni were interested in taking part in an environmental effort where they could utilize their talents to make a global impact for good. In partnering with The Nature Conservancy and Ink Dwell studio two years ago to bring The Monarch Initiative to life, this allowed Full Sail to engage the Central Florida community in an effort to create a template for community activation that can be replicated across the nation and beyond. So far the response from our civic, legislative, educational and commerce leaders has been tremendous, and we are excited to see continued acceptance and participation in The Monarch Initiative," says Full Sail University President, Garry Jones.
The Monarch Initiative is further raising awareness through the Migrating Mural, an acclaimed public art initiative. Founded by Ink Dwell studio, the Migrating Mural is a series of public art installations that celebrate wildlife along migration corridors it shares with people. The installations add beauty to the local environment while driving conservation education focused on species and ecosystems under threat. This new multi-year Migrating Mural, which will stretch across North America mirroring the monarch's migration from Canada to Mexico, focuses on this butterfly, their habitats, its role as a pollinator, and the challenges it faces.
"Monarch butterflies and other pollinators are beautiful animals vital to the health of our planet, but they're small and easy to overlook," says Jane Kim, the artist who is creating the work and co-founder of San Francisco-based Ink Dwell art studio. "Public art of this magnitude makes them impossible to ignore."
The premier central Florida mural, titled Milkweed Galaxy, has just been completed. Painted in exacting detail and spectacular color, the mural appears on the campus of Full Sail University across the entire front façade of Full Sail Live 3 located at 3150 University Boulevard in Winter Park, Florida and is surrounded by new butterfly-friendly landscaping. The mural is highly visible to the public and cannot be missed from University Boulevard, where approximately 40,000 viewers pass by each day. The second mural is currently in progress in downtown Orlando and will be completed in time for Earth Month, April 2018. The canvas - the wall of an entire building at 520 South Magnolia Avenue - will be revitalized by an illustration of monarchs among their essential milkweed.
"This new campaign and the incredible art featuring beautiful but imperiled wildlife will capture the attention, interest, and heart of all who see it," says the Conservancy's Morgan. "We're grateful for our allies at Full Sail University and for the artistry of Ink Dwell, which enable us to showcase the beauty and magic of the monarch while encouraging action on behalf of essential conservation efforts."
The Nature Conservancy is bringing several of its programs together to support The Monarch Initiative, to help increase awareness and engage people around conservation challenges faced by monarchs and pollinators, including the educational program Nature Works Everywhere, and the citizen science project Habitat Network. Nature Works Everywhere provides curriculum, tools, and grants to help K-12 students understand the science behind nature, and Habitat Network, developed in partnership with the Cornell Lab of Ornithology, helps transform residential landscapes into more diverse and healthier spaces for wildlife, and families.
Additionally, The Nature Conservancy is working with Monarch Joint Venture, a partnership committed to conserving the monarch butterfly migration by coordinating conservation efforts across the United States and implementing science-based habitat conservation, research and monitoring, and education.
The Nature Conservancy owns and manage more than 2 million acres of land across the globe, as well as the largest network of private preserves in the U.S. The vast majority of U.S. lands protected by the Conservancy directly support habitat that enables milkweed to thrive. In Florida, there are 21 species of native milkweed, many of which can be found on the Conservancy's preserves and lands we've helped to protect, including Disney Wilderness Preserve in Kissimmee, and Tiger Creek Preserve in Babson Park.
Monarchs and other pollinators foster diverse ecosystems and serve as a cornerstone to global food security. The federal government estimates that native wild pollinators contribute $9 billion annually in crop benefits to U.S. farmers. Many of our favorite foods-apples, potatoes, tomatoes, strawberries, and onions-as well as staples like cheese, butter, sugar, and meat rely on pollinators. They are vital to our food supply. The U.S. Fish and Wildlife Service is currently considering protection for the monarch butterfly under the Endangered Species Act. Protection of habitat and proper management of working lands is essential for monarchs and pollinators around the world that need immediate attention and conservation action.
This is just the beginning for The Monarch Initiative. Stay tuned!
About The Nature Conservancy:
The Nature Conservancy is a global conservation organization dedicated to conserving the lands and waters on which all life depends. Guided by science, we create innovative, on-the-ground solutions to our world's toughest challenges so that nature and people can thrive together. We are tackling climate change, conserving lands, waters and oceans at unprecedented scale, and helping make cities more sustainable. Working in more than 65 countries, we use a collaborative approach that engages local communities, governments, the private sector, and other partners. To learn more, visit nature.org/florida. In Florida since 1961, with support from our members, we have helped protect more than 1.2 million acres of vulnerable lands and waters across the state. We own and manage more than 52,000 acres in 25 Conservancy preserves in Florida.
About Ink Dwell Studio:
Merging classical techniques of science illustration with modern fine art, Ink Dwell studio creates public and private commissions, illustrations, exhibitions, and fine art that inspire people to love and protect the natural world. In 2012, Ink Dwell created the Migrating Mural, a series of unique public art installations that highlights wildlife along migration corridors it shares with people. The subject of the first Migrating Mural was the Sierra Nevada bighorn sheep, which Ink Dwell memorialized through a series of six murals along a 120 mile stretch of California Highway 395. The Monarch Migrating Mural, which launched in 2017, explores the beauty and importance of the monarch butterfly along its migration route across North America, from Canada to Mexico. Ink Dwell has produced works for the Cornell Lab of Ornithology, National Aquarium, De Young Museum, Yosemite National Park, and others, which can be found at inkdwell.com.
About Full Sail University:
Full Sail University is an award-winning educational leader for those pursuing careers in entertainment, media, arts and technology. Founded in 1979, Full Sail has received accolades throughout its history, including most recently: One of the 2017 "Top Graduate & Undergraduate Schools to Study Game Design" by The Princeton Review, one of the 2016 "Top 25 Music Schools" by The Hollywood Reporter, and one of the 2016 "Top 50 Film Schools" by The Wrap Magazine. The Florida Association of Postsecondary Schools and Colleges also named Full Sail the 2016 "School/College of the Year."
Full Sail University is a graduate and undergraduate degree-granting institution offering on-campus and online degree programs in areas related to Art & Design, Business, Film & Television, Games, Media & Communications, Music & Recording, Sports, and Technology. With over 60,000+ graduates worldwide, Full Sail alumni have worked on countless award-winning projects with individual recognition including OSCAR®, Emmy®, GRAMMY®, ADDY®, MTV Video Music Award, and Video Game Award nominated and winning projects.
www.fullsail.edu
www.twitter.com/fullsail
www.facebook.com/fullsailuniversity
Press Kit
Download a fact sheet about Full Sail, high-res images, and information about our campus and online programs from our press kit.
For media inquiries, contact Casey Tanous at 407.679.0100 or email [email protected].
Full Sail Press Kit Images

Stay Connected