Dec 17, 2021
Full Sail University Partners with KLıC.gg to Host "Jump Off: Madden 22 Finals"
The 'Madden NFL 22' tournament and esports/lifestyle event with a $24,000 Prize Pool up for grabs hosted by 'T. Ross Podcast' hosts Terrence Ross (of the NBA's Orlando Magic) and Stephen Madison, will be held at the Full Sail University Orlando Health Fortress
Full Sail University is proud to collaborate with KLıC.gg and the T.Ross Podcast to host its first elite esports event of 2022, the EA Licensed, Jump Off: Madden NFL 22 Finals. The Jump Off: Madden NFL 22 Finals, co-hosted by Terrence Ross (Orlando Magic Guard/Forward & Twitch Streamer) and Stephen Madison (co-host and executive producer of the "T.Ross Podcast"), will take the stage at the Full Sail University Orlando Health Fortress – the largest esports arena on a college campus in the nation, on Saturday, January 29, 2022. During the event, the state-of-the-art arena will also be open for guests and attendees to experience the exhilarating Jump Off: Madden NFL 22 Finals live event, including a massive Madden NFL 22 LAN tournament, football culture vendors, and more.
Online qualifiers for the Jump Off: Madden NFL 22 Finals took place Saturday, December 11, 2021, and will also take place on Saturday, December 18, 2021. Finalists will advance to the finals which will be taking place on Saturday, January 29, 2022, in the Full Sail University Orlando Health Fortress. Finalists will be flown to Florida to compete with Celebrities and Content Creators for a chance to win a cash prize from a $24,000 prize pool.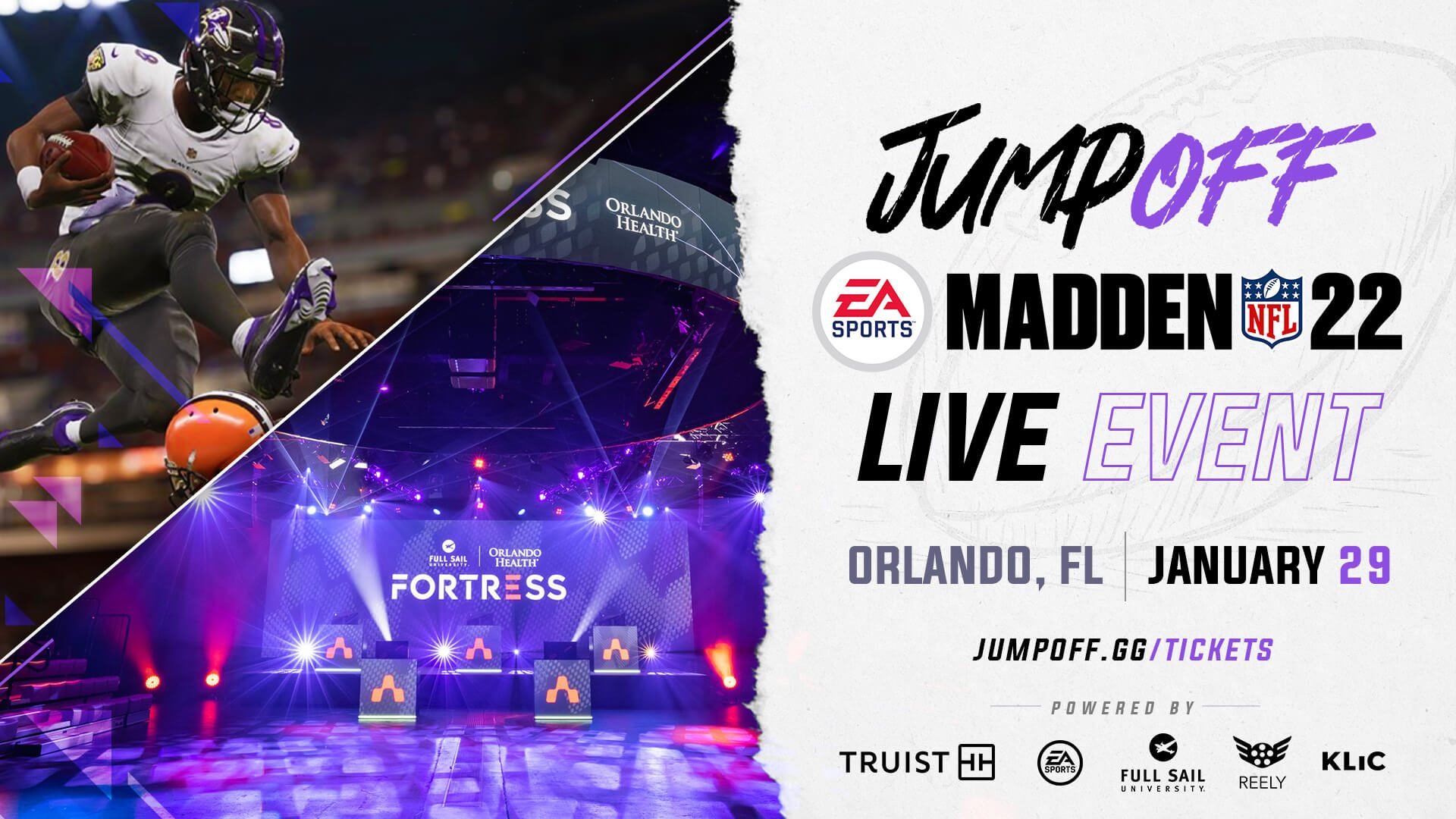 "Video games have been a part of my life since a young child," explains Terrence Ross, Co-Host of the T.Ross Podcast and NBA Slam Dunk Champion. "So now being in the position in my life to host an actual Madden esports event was a no brainer. Bringing this to life with the help of our partner Jose from KLıC.gg and everyone at Full Sail University in Orlando where the live event will be held, it has made a perfect combination for an event that no one has ever put on before!"
"I grew up playing Madden with my dad. To be able to have KLıC.gg collaborate with Terrence, Stephen and Full Sail University for our 1st ever Jump Off: Madden NFL event is too perfect. I'm excited!" stated Jose Salazar, CEO/Founder of KLıC.gg and Executive Producer/Co-Creator of Jump Off. "The advanced technology offerings and production spaces available at Full Sail, in addition to the passionate esports community within the university have made this setting the absolute right fit to host, stream, and showcase the Jump Off: Madden NFL 22 finals on KLıC.gg.
"Excited is an understatement for the Jump Off: Madden NFL 22 tournament," says Stephen Madison, Executive Producer of the T.Ross Podcast. "We are bringing a once in a lifetime opportunity to the esports world that combines pro gamers, pro athletes and the online community in a way that has never been seen before. None of this would have been possible without our partners at KLıC.gg and Full Sail University."
The Full Sail University Orlando Health Fortress is home to esports on Full Sail University's campus. The flexible live production space is designed to host everything from friendly campus game events to full competitive collegiate tournaments. The collegiate esports arena has seating and structures that can be arranged to support any kind of event, as well as 10 million pixels of LED wall to support dynamic visual presentations and graphics, capacity for 500, and a concert-level PA system.
Nine Full Sail graduates and one current student were involved in the making of EA SPORTS™ Madden NFL 22 holding titles such as Recording Engineer, Software Engineer, and Experience Designer among others. Current Full Sail University students and alumni will have the opportunity to work and shadow in production roles behind the scenes to bring the Jump Off: Madden NFL 22 finals to life.
"The Full Sail team is excited to kick off the new year with such an outstanding partner and standout esports event. Not only is the KLıC.gg team bringing the Jump Off: Madden NFL 22 event to our campus and the region, but they are also generously awarding one of our deserving students a $5,000 scholarship," said Sari Kitelyn, Director of Esports and Project Development at Full Sail University. "We look forward to the friendly competition that will take place in our venue next year on January 29."
During the Jump Off: Madden NFL 22 Finals, one deserving Full Sail University student will be awarded a $5,000 scholarship as a result of Full Sail's partnership with KLıC.gg.
To learn more about Jump Off, click here.
About KLıC.gg:
KLıC.gg is a multi-view streaming platform where users have the capabilities to view multiple streams simultaneously and control their viewing experience. KLıC empowers event producers & viewers to choose from who, to what, to where, to when, to why and how they watch any live event; changing the viewing paradigm forever.
About T.Ross Podcast:
The T.Ross Podcast is an up and coming podcast onto the scene, Hosted by NBA star Terrence 'T.Ross' Ross and Stephen 'Potsi' Madison. Unlike many podcast that focus on one specific topic, T.Ross Podcast has a wide range of conversations ranging from basketball talk all the way to conspiracy talk. The podcast has had many popular guests from different worlds of entertainment such as NBA player Fred VanVleet, NFL Pro Bowler Mike Evans and even comedian Shapel Lacey.
thzproductions.com
instagram.com/tross.podcast
twitter.com/PodcastTross
About Full Sail University:
Full Sail University is an award-winning educational leader for those pursuing careers in entertainment, media, arts and technology. Founded in 1979, Full Sail has received accolades throughout its over 40-year history, including most recently being featured on the 2021 "Top 50 Film Schools and Instructors From Around the World" list by Variety Magazine, named a 2021 "Top Graduate & Undergraduate Schools to Study Game Design" by The Princeton Review, recognized as a 2021 "Top Music School" by InTune Monthly, and recognized as the 2019 "School/College of the Year" by the Florida Association of Postsecondary Schools and Colleges.
Full Sail University is a graduate and undergraduate degree-granting institution offering on-campus and online degree programs in areas related to Art & Design, Business, Film & Television, Games, Media & Communications, Music & Recording, Sports, and Technology. With over 80,230+ graduates worldwide, Full Sail alumni have worked on countless award-winning projects with individual recognition including OSCAR®, Emmy®, GRAMMY®, ADDY®, MTV Video Music Award, and Video Game Award honors.
fullsail.edu
twitter.com/fullsail
facebook.com/fullsailuniversity
Press Kit
Download a fact sheet about Full Sail, high-res images, and information about our campus and online programs from our press kit.
For media inquiries, contact Casey Tanous at 407.679.0100 or email [email protected].
Full Sail Press Kit Images

Stay Connected