Nov 16, 2021
Orlando Health Jewett Orthopedic Institute and Full Sail University Award $50,000 in Scholarship Funds
Four Full Sail Armada Students Awarded Scholarships for a Total of $50,000 Combined
Full Sail University and Orlando Health Jewett Orthopedic Institute are honored to celebrate four Full Sail students – all of whom are members of the university's esports community known as Armada. Each student was awarded the 2021 Orlando Health Jewett Orthopedic Institute and Full Sail University scholarship funds ranging from $10,000 to $15,000. In April 2021, following the naming rights partnership between Orlando Health and Full Sail University, the university's on campus esports arena formerly known as "The Fortress" was renamed the Full Sail University Orlando Health Fortress. A key component of the multi-year partnership is the Orlando Health Jewett Orthopedic Institute Esports Scholarship. Each year, $50,000 in scholarship funds will be distributed to qualifying students. This year, the scholarship recipients represent the four tiers of the Full Sail Armada community – leadership, gameplay, shoutcasting, and community.
"Our team of specialists at Orlando Health Jewett Orthopedic Institute supports every kind of athlete in this community and it's wonderful that we are able to partner with Full Sail University to provide scholarships to the Armada esports athletes," said Carlos Carrasco, president of Orlando Health Jewett Orthopedic Institute. "Giving back to the community is at the core of our mission and we look forward to continuing to support Full Sail students and the Armada."
Below are the Full Sail University student scholarship recipients: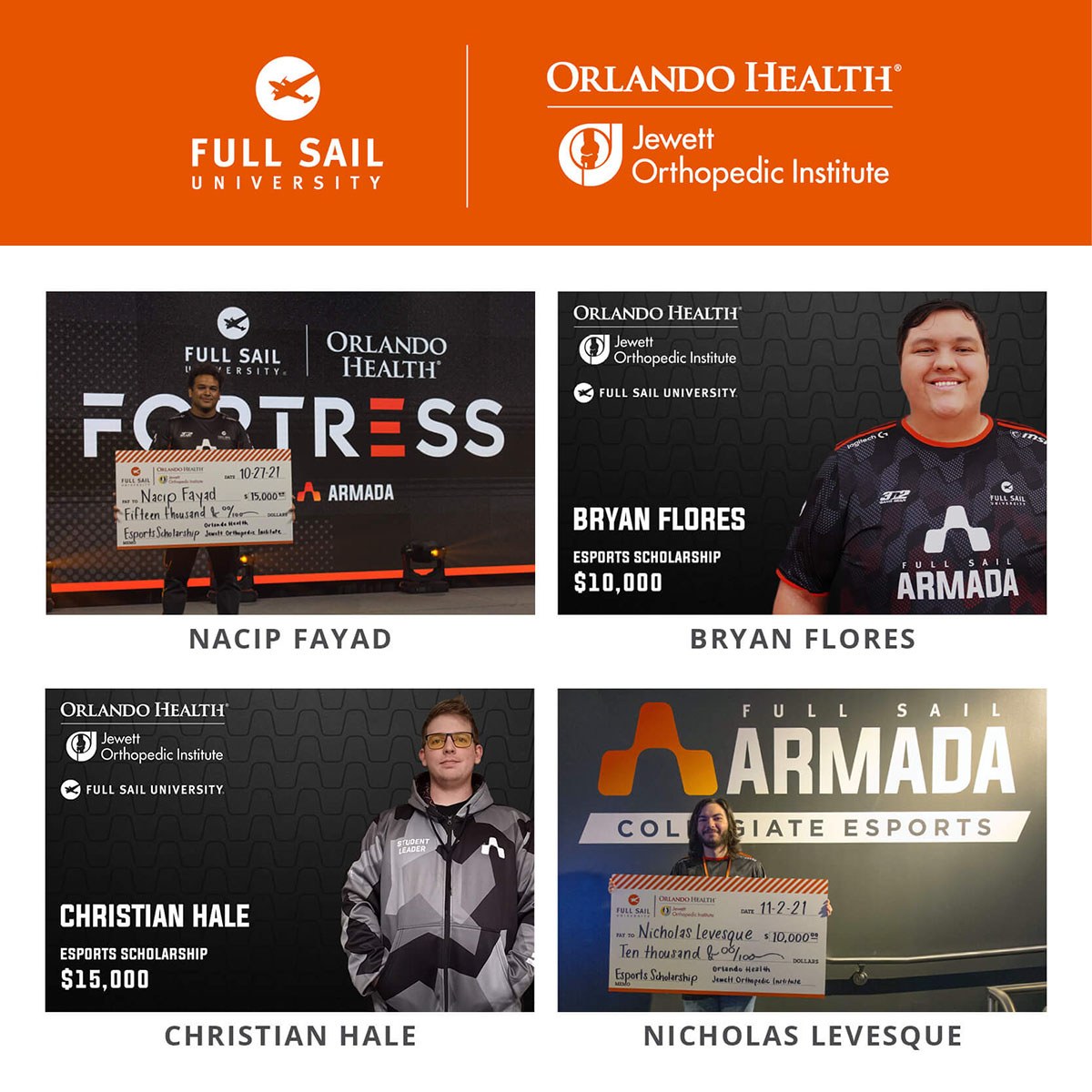 Nacip Fayad
Gamertag: Phoenix
Scholarship Amount: $15,000
Degrees: Music Production Bachelor of Science campus degree program (Graduated 2019), Recording Arts Bachelor of Science campus degree program (Graduated: 2020) and, starting his Entertainment Business Master of Science campus degree program end of November 2021.
Nacip "Phoenix" Fayad represents the leadership aspect of Full Sail Armada. Before re-enrolling to earn his master's in Entertainment Business at Full Sail, Phoenix was the Call of Duty (COD) team coach. Now as a student, Phoenix will be able to grow as a player on the Full Sail Armada Varsity Call of Duty team.
Bryan Flores
Gamertag: Bryonic
Scholarship Amount: $10,000
Degree: Full Sail University Dan Patrick School of Sportscasting Bachelor of Science online degree program (Current Student).
Bryan "Bryonic" Flores represents the shoutcasting component of the Full Sail Armada community. Upon enrolling into Full Sail, Bryonic transferred his current sportscasting knowledge to service the esports community. In addition to being a dedicated member of the Armada Rocket League Varsity team, Bryonic also commentates for Rocket League's esports events.
Christian Hale
Gamertag: SonicBatz
Scholarship Amount: $15,000
Degree: Game Art Bachelor of Science online degree program (Current Student).
Christian "SonicBatz" Hale represents the community portion of Full Sail Armada. As the first ever Armada Community Leader, he has taken on initiatives such as leading community game night on the Armada Twitch channel every Saturday night. His active presence on Discord and within the community has further enhanced the connectivity and collaboration of the Full Sail Armada community. SonicBatz helps build community by bringing people together.
Nicholas Levesque
Gamertag: Shweeb
Scholarship Amount: $10,000
Degrees: Game Design Bachelor of Science campus degree program (Graduated: 2021) and Game Design Master of Science degree program (Current Program).
Nicholas "Shweeb" Levesque represents the gameplay aspect of the Full Sail Armada team. Shweeb plays on League of Legends Full Sail Armada Varsity team and finished second overall in the Red Bull Solo Q Orlando Qualifier which featured over 100 players.
"It has been an honor to identify these four outstanding individuals to be the recipients of the first ever Orlando Health Jewett Orthopedic Institute Esports Scholarship. Each of these students continually go above and beyond to showcase their commitment to their educational pursuits as well as sharing their passion for esports" stated Sari Kitelyn, Director of Esports and Project Development at Full Sail University. "Many thanks to our partners at Orlando Health Jewett Orthopedic Institute for working alongside us to bring these scholarships to life."
Orlando Health and Full Sail University awarded this first group of Armada students for the Orlando Health Jewett Orthopedic Institute Esports Scholarship based on high academic achievement, financial need, and continued participation and leadership in the Armada community
To learn more about Full Sail Armada, please visit armada.fullsail.edu and for more information on Orlando Health visit orlandohealth.com.
About Orlando Health:
Orlando Health, headquartered in Orlando, Florida, is a not-for-profit healthcare organization with $7.6 billion of assets under management that serves the southeastern United States.
Founded more than 100 years ago, the healthcare system is recognized around the world for its pediatric and adult Level One Trauma program as well as the only state-accredited Level Two Adult Trauma Center in the St. Petersburg region. It is the home of the nation's largest neonatal intensive care unit under one roof, the only system in the southeast to offer open fetal surgery to repair the most severe forms of spina bifida, the site of an Olympic athlete training facility and operator of one of the largest and highest performing clinically integrated networks in the region. Orlando Health has pioneered life-changing medical research and its Graduate Medical Education program hosts more than 350 residents and fellows. The 3,100-bed system includes 16 wholly-owned hospitals and emergency departments; rehabilitation services, cancer and heart institutes, imaging and laboratory services, wound care centers, physician offices for adults and pediatrics, skilled nursing facilities, an in-patient behavioral health facility, home healthcare services in partnership with LHC Group, and urgent care centers in partnership with CareSpot Urgent Care. Nearly 3,400 individual physicians, representing more than 90 medical specialties and subspecialties have privileges across the Orlando Health system, which employs more than 23,000 team members. In FY21, Orlando Health served nearly 160,000 inpatients and nearly 3.6 million outpatients. During that same time period, Orlando Health provided approximately $648 million in total value to the communities it serves in the form of charity care, community benefit programs and services, community building activities and more. Additional information can be found at https://www.orlandohealth.com/, or follow us on LinkedIn, Facebook, Instagram and Twitter @orlandohealth.
About Full Sail University:
Full Sail University is an award-winning educational leader for those pursuing careers in entertainment, media, arts and technology. Founded in 1979, Full Sail has received accolades throughout its over 40-year history, including most recently being featured on the 2021 "Top 50 Film Schools and Instructors From Around the World" list by Variety Magazine, named a 2021 "Top Graduate & Undergraduate Schools to Study Game Design" by The Princeton Review, recognized as a 2021 "Top Music School" by InTune Monthly, and recognized as the 2019 "School/College of the Year" by the Florida Association of Postsecondary Schools and Colleges.
Full Sail University is a graduate and undergraduate degree-granting institution offering on-campus and online degree programs in areas related to Art & Design, Business, Film & Television, Games, Media & Communications, Music & Recording, Sports, and Technology. With over 80,230+ graduates worldwide, Full Sail alumni have worked on countless award-winning projects with individual recognition including OSCAR®, Emmy®, GRAMMY®, ADDY®, MTV Video Music Award, and Video Game Award honors.
fullsail.edu
twitter.com/fullsail
facebook.com/fullsailuniversity
Press Kit
Download a fact sheet about Full Sail, high-res images, and information about our campus and online programs from our press kit.
For media inquiries, contact Casey Tanous at 407.679.0100 or email [email protected].
Full Sail Press Kit Images

Stay Connected