Published Sep 27, 2016
Art, Choreography, Brain-Computer Interface: How Grad Nirmesh Gollamandala Brings It All Together
This grad, originally from Hyderabad, India, explains how dancing and choreography informs his graphic design.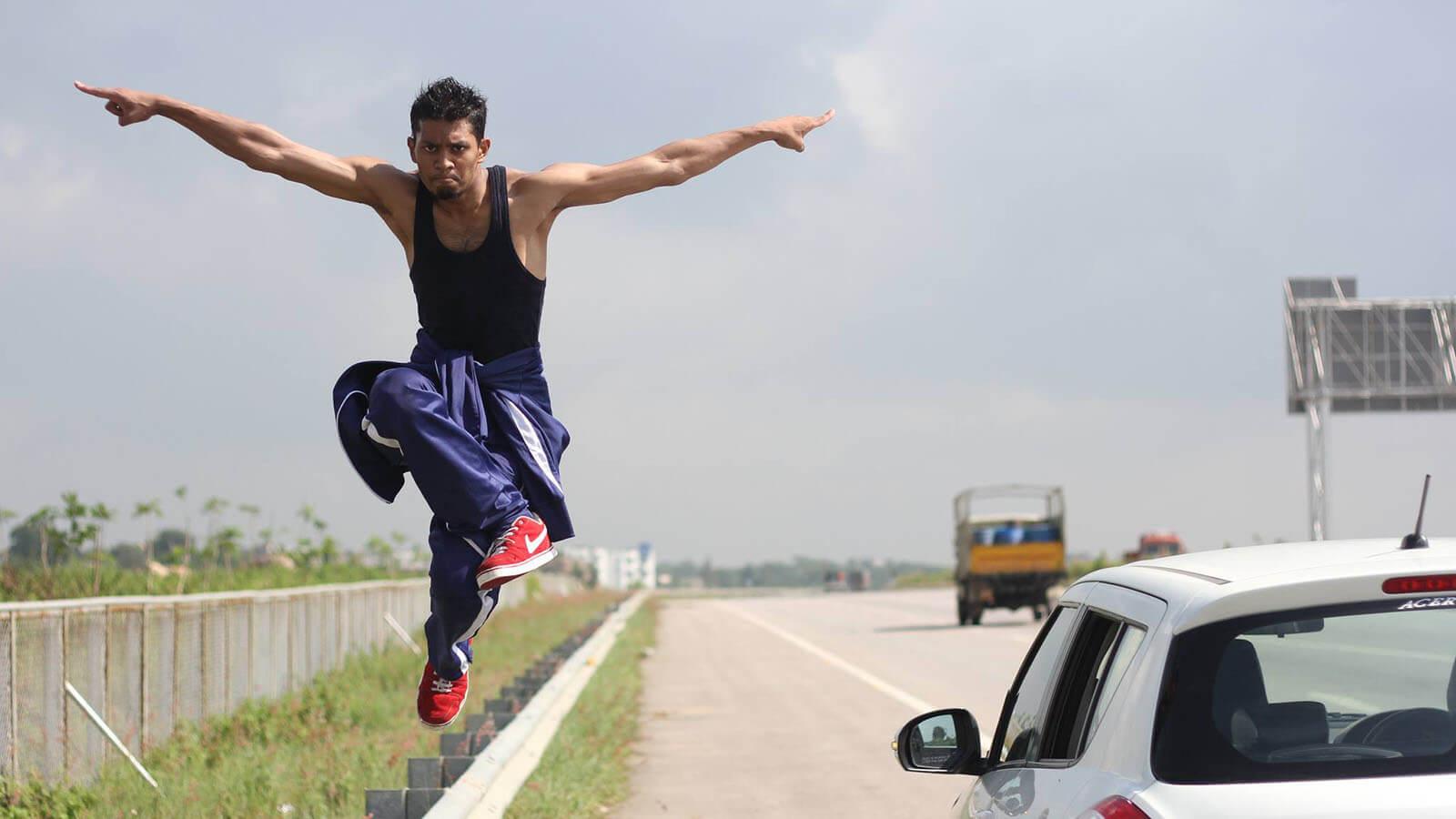 When it comes to deciding what you want to do for the rest of your life, more than one new graduate has been seized by panic while trying to define the future. Nirmesh Gollamandala is sympathetic to that struggle, but he falls just short of being able to truly empathize. That's because Nirmesh's plan for the future is simple: he wants to do everything. And he wants to do it by connecting your brain to a computer.
"I see my creative strengths as all being connected," says Nirmesh. "In fact, I think everything is connected. You just have to be able to see with the right eyes."
Growing up in Hyderabad, India, Nirmesh fell in love with hip-hop dancing at a young age. He also liked to sketch and play video games. As an undergrad majoring in computer science, he tried to find a balance between maintaining and cultivating all of his hobbies—art, choreography, and software development.
"At that time, I was doing too much," he admits. "I still hadn't found my way."
The problem wasn't that he didn't know what he wanted to do with his life, but rather that he had yet to figure out how all of his interests combined added up to a career. Graduation came and went. Nirmesh decided the answer to his dilemma was to continue his education, but he wasn't sure he could find a program that encompassed all of his interests.
"One day, I came across Full Sail's website. I got chills just looking at it, because it seemed to cover the entire spectrum of art that was in me. I knew I had to go there."
So, based on little more than a gut feeling, Nirmesh packed up and moved 8,000 miles away to enroll in Full Sail's Game Design Master's program.
It paid off.
"My time at Full Sail was a game changer," he says. "The first few months were spent learning as much as I could about the industry and how professional game studios work. In the sixth month, we had to choose a capstone project, and that's when I discovered UX."
That, says Nirmesh, was a huge turning point for him both professionally and personally. The more he learned about user experience testing, the more questions he had about what makes video games compelling in the first place. One day, his roommate brought home a Leap Motion sensor, a device that tracks hand motion and allows users to control a game through sensed movement.
"I'm a dancer, so movement is a big deal for me," he says. "I thought, if you can control a game just by moving your hand, why not take it to the next level? So I set out to define what that next level was."
Eventually, his research led him to something called the Brain-Computer Interface, or BCI. Simply put, BCI is any device that allows people to use brain signals to interact with an external device. It's stuff straight out of science fiction, and it's also one of the fastest growing fields of study in the computer science industry.
For Nirmesh, it was the answer he'd been looking for all along. The human mind is still a mystery in many ways, yet it's ubiquitous. "We all have a brain," he says. "It's my desire to unlock the hidden capabilities we all possess, and in doing so I'm able to integrate myself as both an artist and a technical guy."
"My dancing and choreography work informs my graphic design, which is directly related to the photography I do," he continues. "Photography is related to my vision for the future, and that vision forms the basis of my philosophy as a software developer. BCI helps me to understand how it all fits together."
Since graduating in 2015, Nirmesh has become an official member of the BCI Society, an organization devoted to "fostering research and development leading to technologies that enable people to interact with the world through brain signals." He's also working as an android developer for Expedent Corp, a global technology and IT consulting company.
"One of the biggest problems in BCI is portability. You need a powerful computer capable of machine learning and all those algorithms needed to run the programs, but carrying around a huge computer doesn't make sense from a hardware perspective. Mobile development allows me to hone my skills, which will hopefully help me solve the problem of portability."
He's still dancing, too. He and his choreography partner maintain a YouTube channel, Komet & Dragon, showcasing their work.
"When I was a kid," he says, "the biggest question was, 'What will I become in life?' Will I be a dancer? A scientist? A developer? I only knew I wanted to be everything. There were so many things in my mind. And that's when I decided my mind is different. I realized it was not a curse, but a gift, so I embraced it."