Published Sep 23, 2016
Bad Taste: Film Production MFA Grads Bite Into Film Festivals
Full Sail's Film Production MFA grads tap into each other's strengths and weaknesses to find success at various film festivals.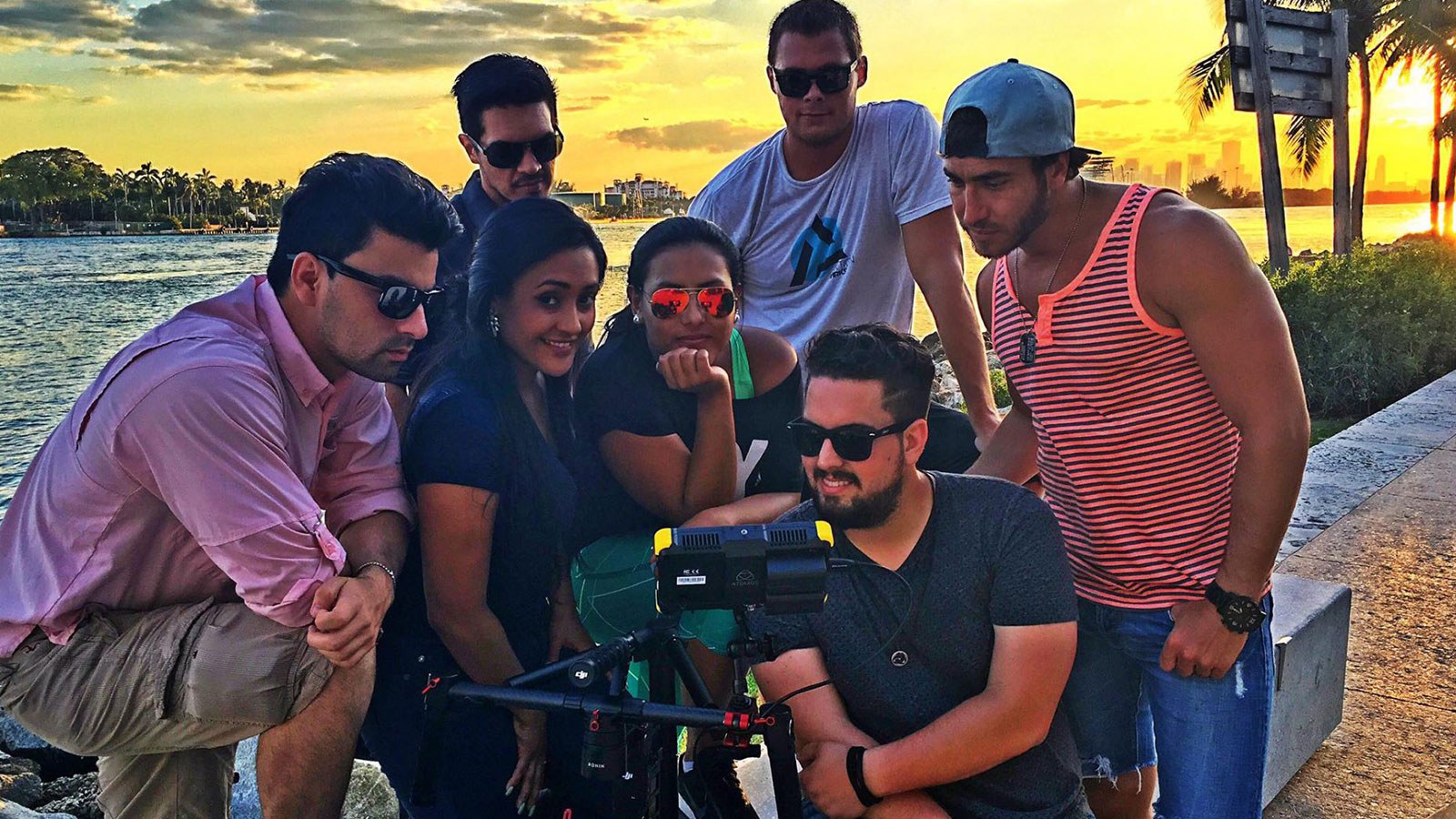 When you talk to Priscilla Rojas, you are immediately drawn to the excitement she has for her films and the people she has come across during her journey. She loves the actual process of making films, but more importantly, she's proud of the work she's done since graduating from Full Sail's Film Production MFA program in 2016.
Prior to her enrollment, Priscilla's primary background was in media communications, a subject she studied while in her home country of Venezuela. As part of her thesis, she made a documentary about Venezuelan cinema but the thesis ended up being more than just a project, it led her to Full Sail to get her master's degree in Film Production.
"I knew it was something that I wanted to do this for the rest of my life," says Priscilla.
During her first month in Full Sail's Film Production MFA program, Priscilla was assigned to a production team with fellow students Eduardo Aguirre, Miguel Escobar, and Andrew Wallace. The four would work together throughout the entirety of their degree program, with each taking different roles in the production process. It was through this team assignment that Priscilla and Miguel realized that their interest in film wasn't the only factor they had in common. They both realized that they had both studied media communications and had grown up only a short distance from each other in Venezuela.
"It's crazy because we lived really close to each other but we had never met prior to coming to Full Sail," says Priscilla.
Having backgrounds in different fields helped the group take on different roles through the completion of their thesis. Eduardo and Andrew rounded out the group. Eduardo had previously studied graphic design in his home country of Mexico, and was able to help the group with the marketing component of their film projects and Andrew's familiarity and background with cameras helped the group fill the gaps in production while filming.
"My background in media communications helped me in a lot of our tasks because I knew how to handle interviews and create schedules," says Priscilla. "I had the information I needed in preparation our film production."
As they went further into their program, their classes required the selection of a script in order to produce a thesis film. This thesis film would be presented as a package during their final months of the MFA program; creating a trailer for their project, marketing efforts, and tactics to submit to film festivals were part of the course, as well.
Bad Taste, based on a script written by Miguel, was selected as the group's thesis film. The lessons their instructors had been providing them would be beneficial to their group as the film has since been selected for inclusion in several international film festivals.
"Learning how to manage the different phases of film, from preproduction to dealing with the submission process to film festivals, was made easier because our instructors prepared us for that — we were made aware of how to lead a production to success," says Priscilla.
The experience of producing and getting Bad Taste into film festivals has been rewarding for Priscilla and the team. They were hoping to get their project submitted to a few festivals but did not expect it to be recognized so quickly. And while they're definitely proud that Bad Taste has done so well, it is her work with Eduardo on another project done for a class that has given Priscilla opportunities she could have never expected.
Following the success of Bad Taste, Priscilla and Eduardo decided to market and submit a film they had previously worked on together.
"Eduardo and I worked on this project called Blue Blood for our Experimental Filmmaking course," says Priscilla. "Eduardo was the one who had the idea to submit it to the International Vampire Film and Arts Festival."
Blue Blood, which has been selected for eight film festivals, is a short film set in the future and features a new species of humans that are more vampire-like and have the capability of affecting the existing race of humans.
Despite graduating in 2016, the group forged a bond throughout their time at Full Sail that has led them to impressive early success. Priscilla, Eduardo, and Andrew moved to Miami together to continue working on projects. They currently work for an independent production company, Alpha Entertainment Services, producing two television shows called La Hora del Brunch, a live show, and Destino en la Mira, which is about tourism and gastronomy.
For Priscilla and her colleagues, the lessons learned at Full Sail have helped them take their work from small beginnings to international settings.
"Peter Gordon, one of our instructors, told us that networking is fundamental these days," says Priscilla. "And it's totally true. I'm so thankful I made many friends and that we are still able to work together on these projects."