Published Apr 19, 2021
COVID Response: Business Program On-Campus Experiences
Entertainment Business, Music Business, and Sports Marketing & Media students are staying industry-ready with hybrid remote and campus learning.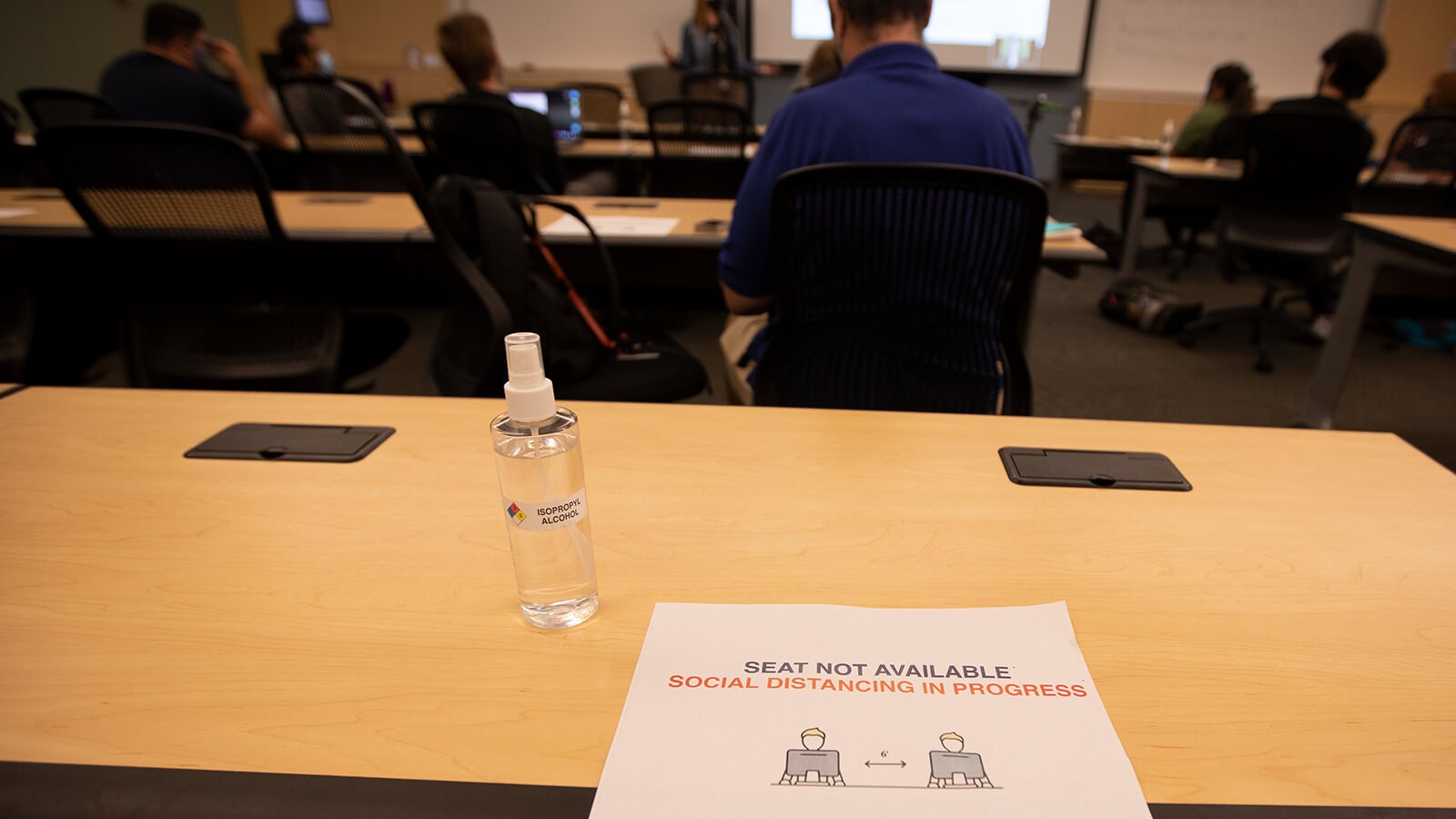 Full Sail's Entertainment Business, Music Business, and Sports Marketing & Media programs prepare students for the business side of glamorous industries with real-world education that prioritizes collaboration, hands-on projects, and networking. The COVID-19 pandemic threw a curveball at these campus degrees, but the departments rose to the challenge with hybrid learning that safely gave students the same benefits they'd enjoyed pre-pandemic.
Entertainment Business & Music Business
Entertainment Business Program Director Jackie Otero created voluntary on-campus options for lectures and campus-wide sessions that got students back to Full Sail to learn about business proposals, finance, digital marketing, and more without compromising their safety.
"Students have the option of attending at least one class-specific meeting per week, one business school-specific campus workshop per week, plus at least one campus-wide, in-person session per week," Jackie says. This helps students stay connected to the material in each class, as well as their degree program and the university at large.
Students have a lot of options if they choose to go to a campus-wide session. "The sessions include speed networking, writing workshops, a monthly collaboration incubator where students can work on personal projects together, guest speaking events, technical training workshops, content related to trends and technology, and more," says Entertainment Business master's Program Manager Victoria Wasinger.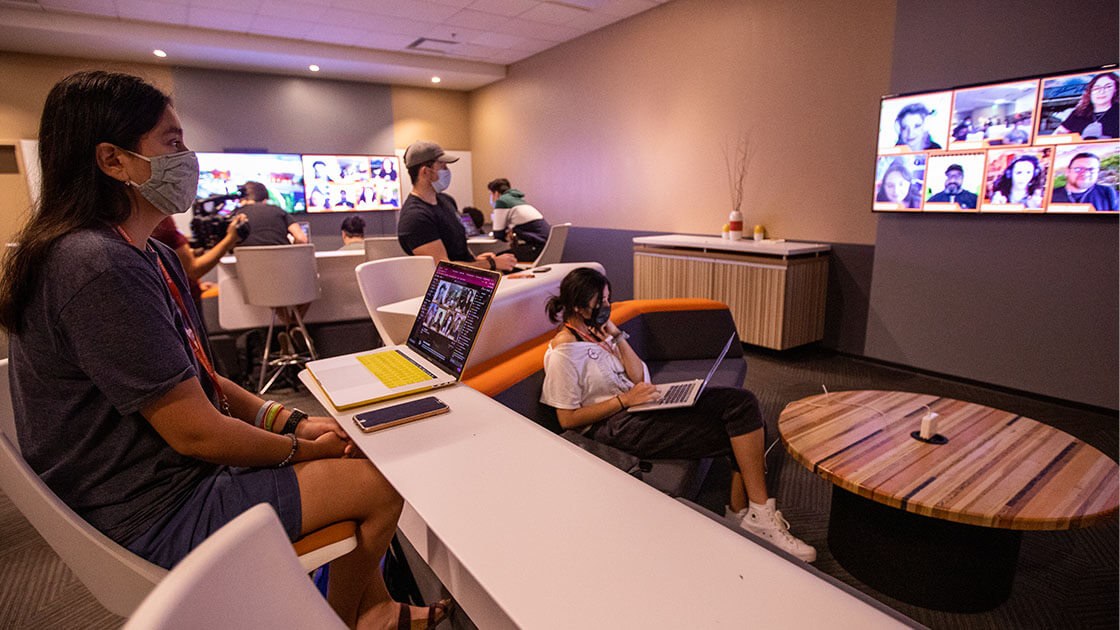 Business students gather for a socially-distanced class.
Sports Marketing & Media
Professional sports teams are getting back in gear after pandemic-related shutdowns, and Full Sail Sports Marketing & Media students are keeping pace with the industry through optional campus course offerings. Weekly individual class lectures and combined lectures are on the table, and the program hosts Business Workshops every Friday. These on-campus options give students time to gain proficiency with DSLR cameras, work on small group projects, and put the finishing touches on their final projects and presentations.
"The ability for campus students to be in the classroom with their instructor allows for much-needed conversations and learning to occur outside of normal lecture material," says RaeLynn McAfee, the Sports Marketing & Media Program Director. "More learning takes place in this ancillary time around normal lecture material when [students are] face-to-face in the classroom."
Safety & Technology
All Business instructors and students are following campus-wide safety protocols, including social distancing, mask requirements, and temperature checks. The programs are also using portable iPad stations and Neat bars with high quality audio and video to enhance virtual options for remote students and faculty.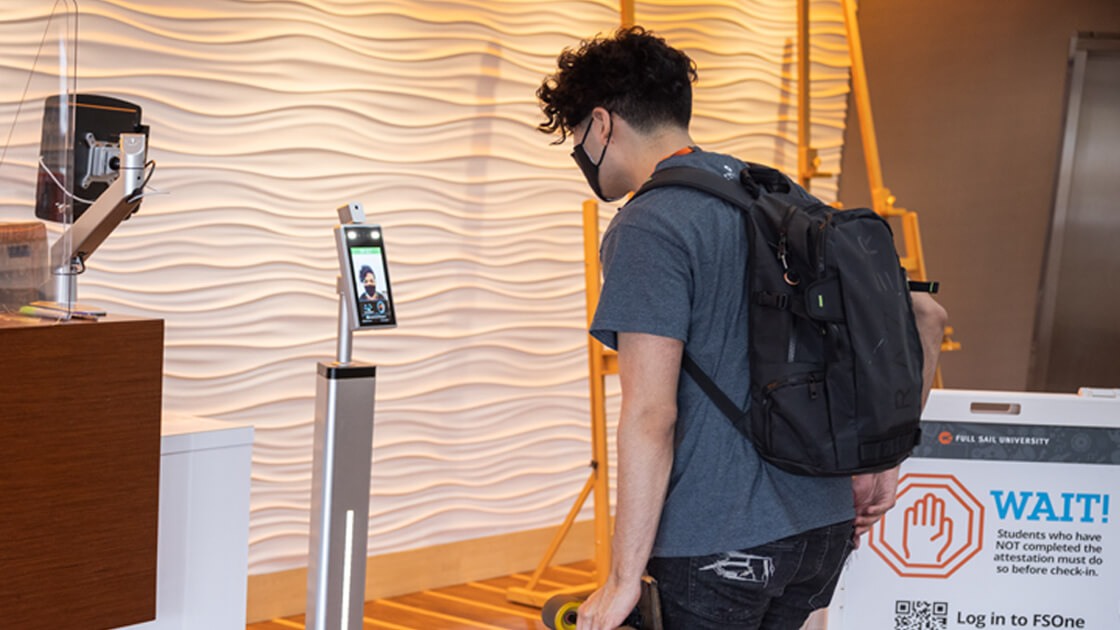 A student uses a temperature check station before entering campus.
Incoming students with questions about the safety protocols for their degree program should contact their Admissions Representative at 800.226.7625 for information and guidance.
Current students should consult Full Sail One for information about their upcoming lab schedules and can contact Full Sail Support with any questions or concerns about their on-campus experience.