Published Jul 12, 2023
Dual-Degree Grad Promotes Live Performances & Community Events at Cultural Center
Media Communications and Public Relations grad Rico Robinson is combining his theater background and his Full Sail education to promote performances at the Downing-Gross Cultural Arts Center.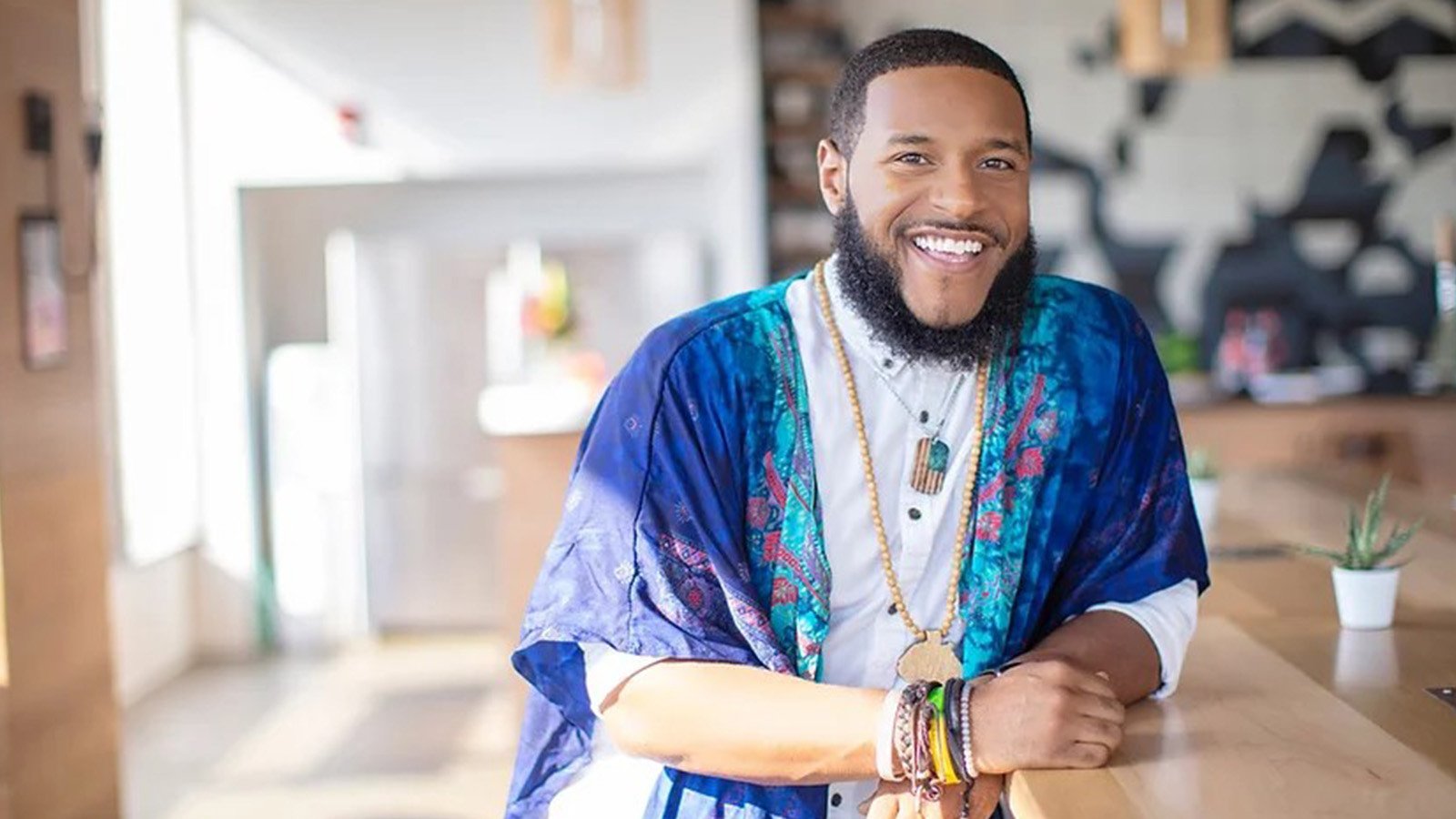 A seasoned actor with a theater background, Full Sail grad Rico Robinson decided to pursue communications so that he could find work that allowed him to continue performing. He signed up for Full Sail's Media Communications bachelor's program to grow his existing social media skills and develop other tools that would help him succeed in the marketing world. Today, Rico is using both his performance and communications background to promote concerts, exhibitions, and other events at the Downing-Gross Cultural Arts Center.
After graduating from the Media Communications program and following up with Full Sail's Public Relations master's degree, Rico worked in marketing at a nonprofit and hosted a pop-culture podcast called The Friday Podcast. He landed his current role as a Marketing Coordinator at the Downing-Gross Cultural Arts Center in Newport News, Virginia in 2022.
The Downing-Gross Cultural Arts Center is a multi-use space that hosts live performances, visual arts exhibits, community events, and classes for children and adults. The Center's crown jewel is the Ella Fitzgerald Theater, a 276-seat venue that celebrates the singer's life with performances from local and national artists. Rico's job as a Marketing Coordinator is to promote the Center's events, programs, and galleries on social media and other platforms.
"I run the social media pages for them on Facebook and Instagram, and then also do their website... When [employers] say marketing, they want everything. It's not this one direct lane, even though the social media and content creation, that's my favorite part," Rico says.
Taking on multiple marketing skills means juggling multiple responsibilities. Rico credits Full Sail with teaching him how to do that.
"Every day [at the Center] is something different. And what I've tried to do and what Full Sail really has helped me do is try to prioritize my day," he says.
At the beginning of the week, Rico updates the Center's website and makes sure that what's featured on the site – like gallery openings, upcoming events, or community activities – aligns with what's going on at the Center. Rico works on content creation and social media marketing on Tuesdays and Wednesdays; promoting the Center's monthly Tuesday open mic is a priority. Thursdays are for administrative meetings and for connecting with organizations outside of the center, like radio and TV stations, and Rico wraps up any loose ends on Fridays.
Figuring out each day's priorities has helped Rico tackle large marketing projects. So far, his biggest campaign was for the Center's Ella Fitzgerald Music Festival featuring Grammy-winning jazz singer Samara Joy as the headliner. Rico promoted the event on social media, used connections with iHeart Radio to spread the word on the airwaves, and put up billboards near the Center. The result was three nights of sold-out performances.
The Ella Fitzgerald Music Festival was a resounding success, and Rico is already working on new campaigns for upcoming events. He's marketing a free summer movie series for children in kindergarten and first grade, promoting a summer theater camp for older kids, and working on a campaign for the Center's anniversary in the fall. Rico can't say much about the anniversary celebration yet, but so far Nick West, the guitarist for Billy Porter, will be in attendance.
Rico spends a lot of his time promoting other artists' performances, but his idea about pursuing communications to keep himself in the performance world was dead on. His theater background gives him a unique way to connect with community members who visit the center.
"Recently I've just been giving a lot of tours of the center... A group asked me at the end of the tour, 'This seems so easy for you, what do you do outside of here?' So I told them that I'm an actor, I perform. They're like, 'Oh really? You sing, you dance?' I'm like, 'I do it all.' They're like, 'Well, sing something for us.' So right in the middle of The [Downing-Gross] Cultural Arts Center, I'm singing John Legend to the people on the tour, and they loved it, and it was a cool experience."