Published Sep 01, 2021
Film Production Master's Grad Garners National Attention Through Activism
Graduate E. Mackey takes a step back from a successful career in advertising to focus on social justice through photojournalism.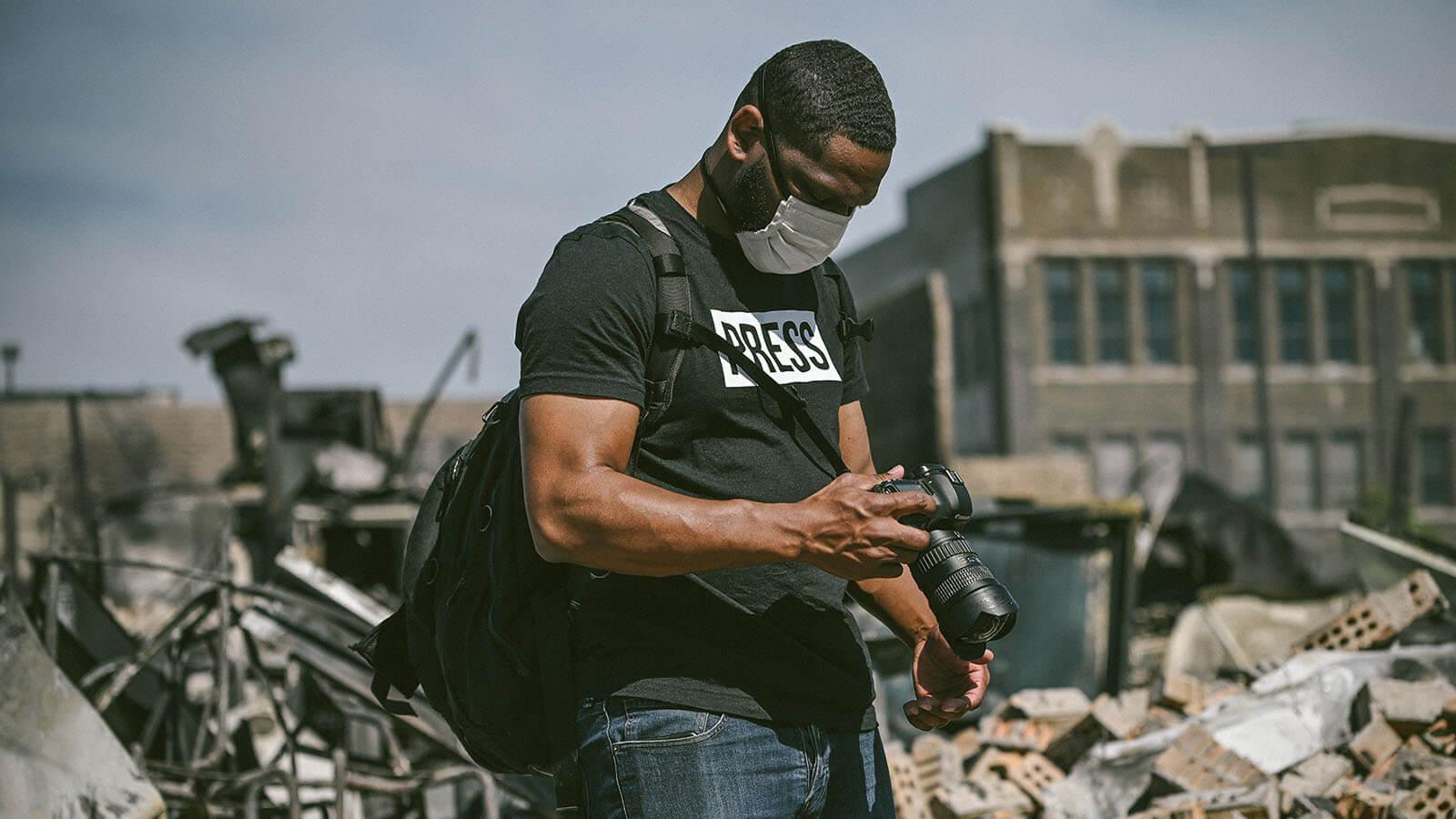 Entrepreneur, photojournalist, and activist E. Mackey has built a successful career in digital content creation working with some of the world's leading brands including Google, Amazon, and Twitter. CEO of creative agency Dope Heart Media and a graduate of Full Sail's Film Production MFA program, Mackey has been able to apply his vast knowledge in production and visual media to projects across the nation for over a decade.
But in the summer of 2020, in the wake of the murders of Ahmaud Arbery and George Floyd, Mackey's perspective and objectives began to shift. "It was a lot going on, and I just dropped everything," he recalls. "I told my clients, 'I'm sorry, you have to wait or be mad.' But everyone said, 'No, go out, do your thing.' So I ended up traveling to 11 different cities for three and a half months.
"What was happening resonated with me because these were things that I have dealt with personally. So as a storyteller, it just made sense for me to be out there."
Documenting his visits to protests throughout cities including Minneapolis, New York, Houston, and Los Angeles, Mackey found throughout his journey that the Black experience he set out to capture had more depth than even he had recognized.
"I thought, okay, I'm a photographer and I'm dope. As a Black man, I can go out there, and tell the world this story from a Black perspective," says the grad. "When I got out there, I was like, whoa, I may actually be learning more than I'm teaching."
Engaging with the perspectives of Black women and members of the LGBTQ+ community, Mackey uncovered a trove of stories worthy of the world's attention. "As I started learning about different experiences, I realized how I could have been a part of the problem. Not intentionally, but I was ignorant to a lot of things that [these groups] were dealing with," he says.
His experiences over last summer culminated in the authoring of the photo book Lift Every Voice and the development of "Choose Your Weapon: Views from the Front Lines of the War for Black Lives," an art exhibit currently on view at the Harvey B. Gantt Center for African-American Arts and Culture in Charlotte, North Carolina.
"I realized that we all have an opportunity to leave a mark on the world, to do something that makes the world a little bit better than we found it. We just have to go out and do it," he says.
The grad's work has been featured in news outlets including The Washington Post and CNN and he was even approached by Twitter — one of his longtime clients — to be featured for his activism during a campaign on the anniversary of George Floyd's death.
For those looking to share their stories, Mackey says, "The best advice that I can give is to plot your own path and be ready for everything that comes with it. Have unwavering faith in you, in your ability to create and to build, because I truly believe that the world needs whatever it is that you have to offer."