Published Jun 16, 2022
Full Sail Partners with Special Olympics USA to Host First-Ever Esports Invitational
The Full Sail University Orlando Health Fortress served as the home to the 2022 Special Olympics USA Games Unified Esports Invitational Rocket League esports tournament.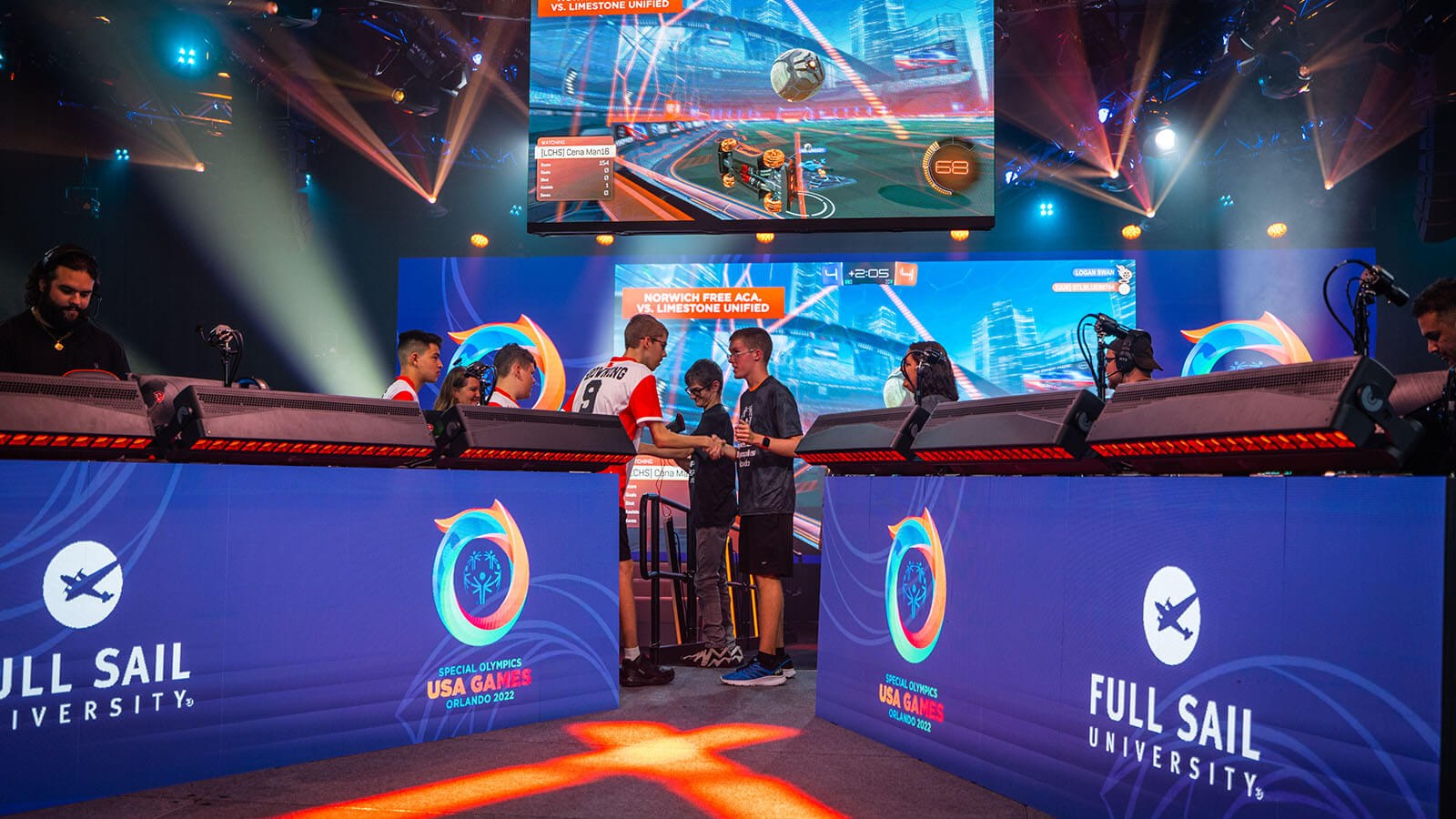 Full Sail University was proud to be the host site for the 2022 Special Olympics USA Games Unified Esports Invitational, as a part of the 2022 USA Special Olympic Games in Orlando. The Special Olympics' first-ever esports exhibition was produced by Full Sail at the Full Sail University Orlando Health Fortress and broadcast on ESPN3. The event invited Special Olympians from throughout the state to play live in the Fortress against teams competing online from organizations and schools from around the country.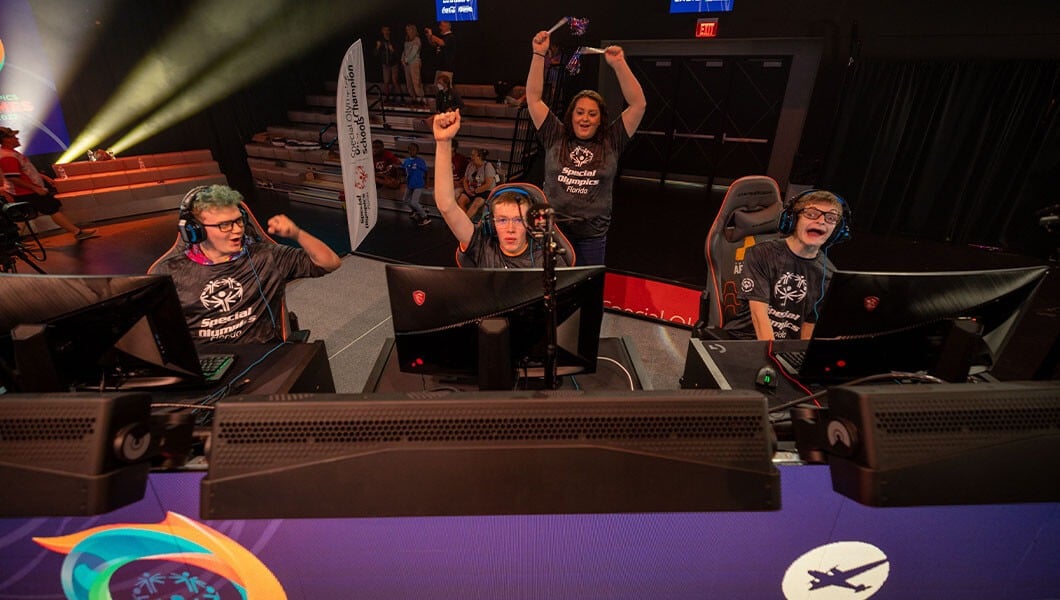 Armada athlete Tyler "Slinkie" Johnson and the rest of the Florida Grey team during the Rocket League tournament.
The bracket saw 14 teams compete in a best-of-five Rocket League tournament, with six Florida-based teams playing in person on Full Sail's campus. Online teams joined from Connecticut, Illinois, Indiana, Kentucky, Oklahoma, and Pennsylvania.
On-campus Special Olympians were paired with unified partners – individuals without intellectual disabilities – from Full Sail Armada's varsity teams and leadership including Armada Student President Kevin "Kevurnio" Patel and athletes Tyler "Slinkie" Johnson and Seth "Skitlz" Hoecker. Together, teams hit the stage and went head-to-head in the accessible and exciting esports game that features soccer played with rocket-powered cars.
"I think esports is a great addition to the Special Olympics because it's an even playing field for everyone and gives athletes a chance to have some fun and experience competitive gameplay," says Armada Esports Strategist, Bennett Newsome who worked with the team at Special Olympics to bring virtual gameplay to Olympic competitors.
Players from Florida's Green team competing on the main stage during the 2022 Special Olympics Unified Sports exhibition.
The culmination of a three-year effort to bring esports to Special Olympics, the day was full of energized and friendly competition, as the athletes engaged in matches play while getting to enjoy the full experience of playing in a large-scale venue complete with lights, music, and a crowd of cheering fans that included their coaches, families, and friends.
"One of my favorite things about the Fortress is that it gives spectators an experience unlike anything they've experienced before, making it a perfect arena to introduce esports to the Special Olympics," says Bennett. "It truly provides the athletes an authentic main-stage esports experience."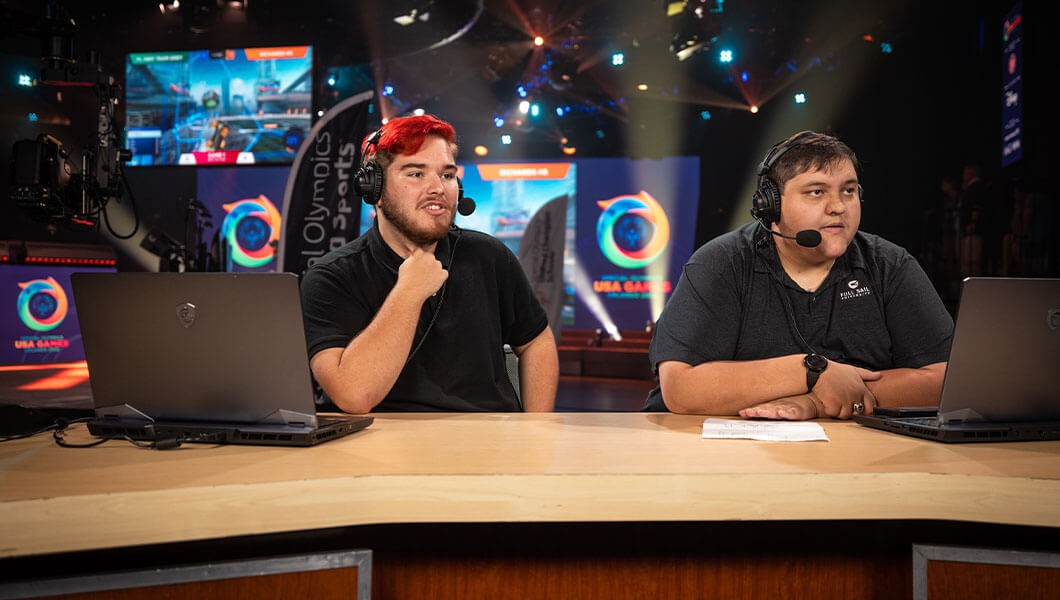 Full Sail students Quinnn "Qolorblind" Sherr and Bryan "Bryonic" Flores casting from the Full Sail University Orlando Health Fortress during the show.
Additionally, Full Sail University students and grads were involved in the live broadcast in roles like event production, tournament organization, and as on-camera talent. Casted by Full Sail Sportscasting student Quinn "Qolorblind" Sherr and Sportscasting grad and current Entertainment Business master's student Bryan "Bryonic" Flores, the event had a special meaning for Quinn. "This really meant the world to me; my sister is special needs so it hits so close to home," he says. "And to have this opportunity this early into my career as well, it's a blessing."
A monumental first-time addition to the Special Olympics USA Games, esports proved an exciting and fun-filled competitive space for players with intellectual or physical disabilities.