Published Jun 29, 2017
How Two Grads Are Working to Evolve Accessibility Technology For Everyone
Sady Paulson and Mark Coppin are focused on bringing accessibility technology to a range of industries, including gaming.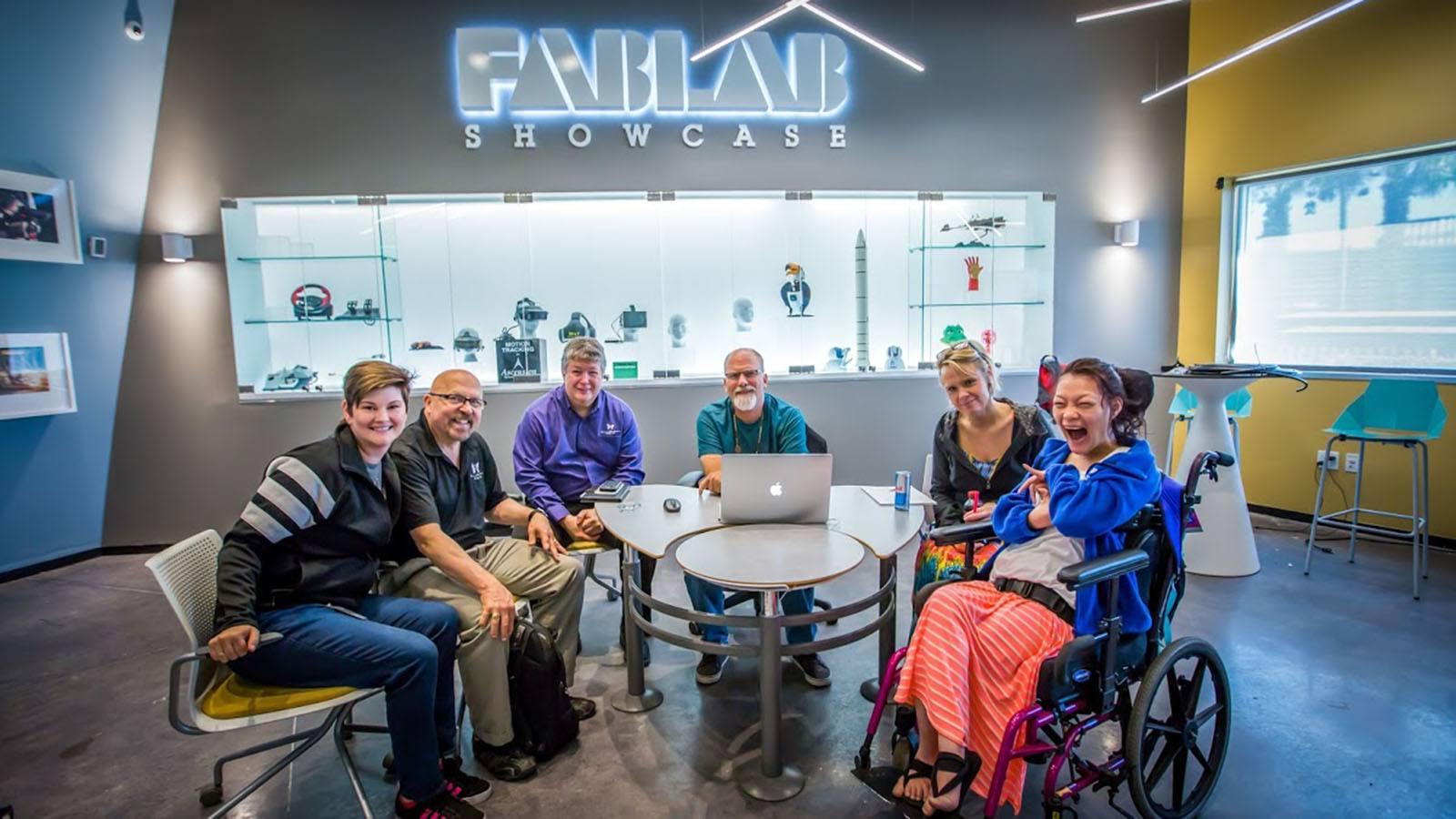 Digital Cinematography grad Sady Paulson approaches video editing head first. That's not a metaphor, although she does go into every project with a clear vision and purpose. But unlike other editors, Sady controls Final Cut Pro using a switch access scanning system.
Here's how it works: Sady, who was born with cerebral palsy, has two switches situated on either side of her wheelchair headrest. She controls those switches by moving her head left or right to make a selection on her main computer, a Macbook Pro. The system is hooked up to all of her devices – from her wheelchair to her iPhone. Once she selects which device she wants to control, she's presented with a "board" – basically a list of functions and keyboard shortcuts that allow her to control each device or program. Using this system, she can text, email, talk on the phone (through automated voice software), and much more.
All technology should feel organic and transparent. And that's what these companies are doing. They're enhancing not just the user experience, but people's lives."
Sady was introduced to scanning systems by Mark Coppin, a 2012 graduate of Full Sail's Education Media Design & Technology master's degree program (which has since evolved into our current Instructional Design & Technology master's degree program) and the Director of Assistive Technology at the Anne Carlson Center in North Dakota.
"Everything you and I can do with a keyboard or a mouse, Sady can do with those two switches," says Mark. "She has a very select keyboard that makes her as efficient as possible. So something that might take you or I 25 keystrokes and a couple of mouse actions, she can do in one macro action. She's able to edit faster than most people because of the shortcuts she's developed."
"When I was going through the Digital Cinematography program, nobody on the other end knew I had a disability," says Sady, who attended classes online. "All they saw was my work, and as a result, my ability."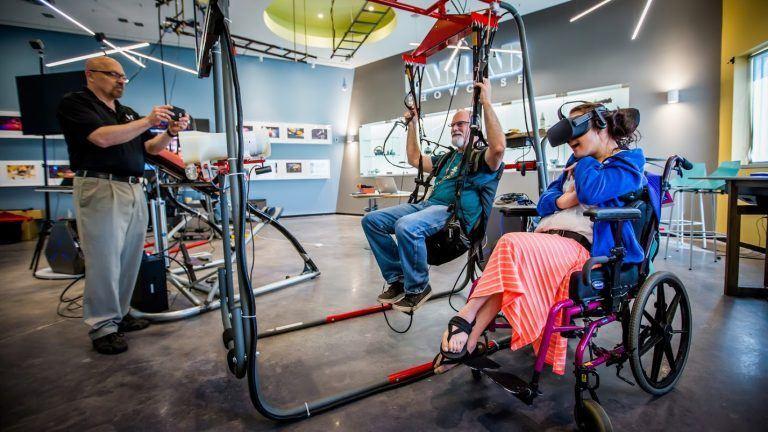 L to R: Mark Coppin, Simulation and Visualization Program Director Rob Catto, and Sady Paulson
Mark has spent over two decades working with students like Sady, assessing their unique access issues and building accessibility solutions based on their needs. He's seen accessibility technology evolve in every way imaginable. In 2009, he was named an Apple Distinguished Educator, and currently gives workshops and presentations all over the world on the latest accessibility solutions. He says the biggest change he's seen over the years is the demand for accessibility technology to be adapted to other industries, like gaming.
"In a lot of ways, people like Sady are driving the industry. But I also love seeing what's happening in the gaming community," he says. "Their hands slow them down, so they're looking at eye movement technology that tracks players gazes, and things that allow them to go hands-free like voice activation. All of these technologies have been around in the accessibility community for years, but now they are being priced at an average consumer level."
Tech companies are also making big changes to their operating systems to include accessibility functions right out of the box. Apple's latest OS includes switch control, voice activation, and a slew of other accessibility features built right in.
"I use everything Apple in my life, and each device has a dedicated purpose. My set-up includes an iPad for social media, two MacBook Pros and an iPhone for schoolwork and general communication, and a 27-inch iMac for video editing," says Sady.
"The integration is seamless," adds Mark. "All technology should feel organic and transparent. And that's what these companies are doing. They're enhancing not just the user experience, but people's lives."
Apple's focus on increasing the accessibility of their products was highlighted by a film about the topic shown during the company's October 2016 media event announcing new products. That film's editor? Sady Paulson.

More recently, Sady and Mark had the opportunity to visit Full Sail's campus and tour tech facilities like the FabLab and the VR/AR Lab.
"In looking at the technologies that Full Sail is developing, we begin to see how some of those solutions can be applied to problems of accessibility," says Mark. "For instance, if we have a student who is medically fragile, a simulation might allow them to visit the Louvre. And with a virtual environment, you can make the experience even richer beyond what even you or I might experience if we visited in person. You could get closer to the Mona Lisa than ever before."
"It's about going farther," he says. "At it's best, technology removes all kinds of barriers."