Published Mar 03, 2021
This Course Director Owns a Hip Orlando Arts Bar
Melissa Schumann brings corporate experience and community entrepreneurship to her intrapreneurship-focused Project & Portfolio III class.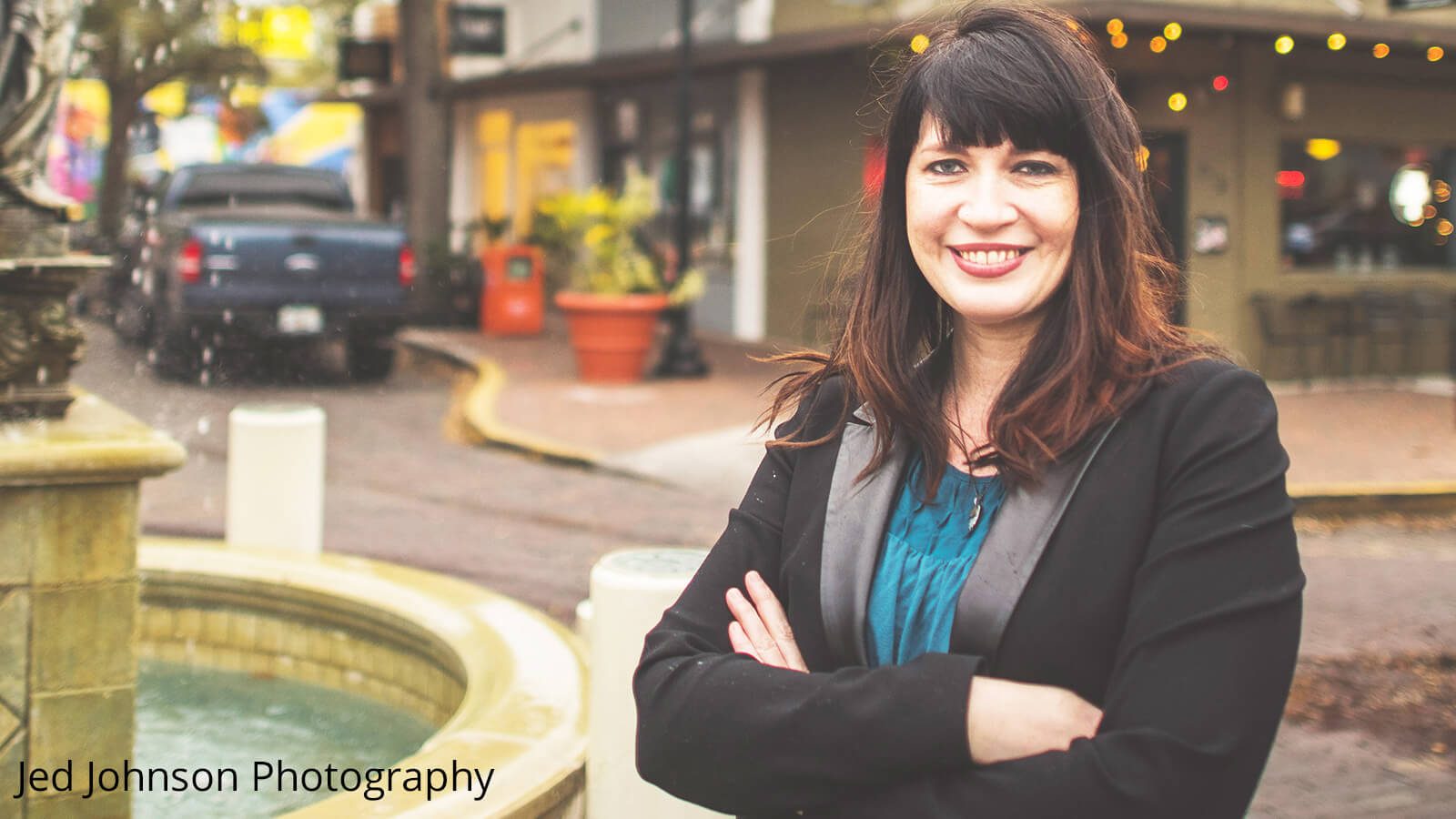 If you walk inside The Falcon in Downtown Orlando's Thornton Park neighborhood on any given night, you might find standup comedians honing new jokes, an art show, or a guitarist strumming in the corner amidst a backdrop of vintage couches and an "analog dating wall" featuring photo booth shots of local singles. It's a memorable little spot that's been a cornerstone of Thornton Park's nightlife for ten years — and it's owned by Full Sail Course Director Melissa Schumann.
Melissa's role as a small business owner gives her insight that makes her Project & Portfolio III course (for the Sports Marketing & Media and Digital Marketing degree programs) stand out. The class focuses on intrapreneurship, or ways that employees can behave like entrepreneurs within an existing organization. Students identify a business's pain points, develop a formal proposal for change, and hone their diplomatic skills to push their idea forward. The process can make an employee's current job more satisfying or prepare them for entrepreneurial endeavors.
Melissa started preparing for the business world early on. She earned a bachelor's degree in Marketing from Arizona State University's W.P. Carey School of Business, then worked her way up the totem pole at corporate giant Altria in San Francisco for eight years. After receiving her MBA with a concentration in Entrepreneurship from Crummer Graduate School of Business at Rollins College in 2008, she redirected her energy toward community connections in Thornton Park, where she lives and plays.
She opened a brick-and-mortar screen-printing t-shirt business called Mother Falcon, where customers could have any image printed on a shirt. She also landed contracts to print shirts for sports organizations like the Orlando Magic as well as local marathon races. When Melissa started hosting monthly art shows to promote Orlando's creatives, Mother Falcon played a vital role.
"We displayed local artists on the wall [during the show]. You could also come in and choose the art off the wall and have it put on a t-shirt, or you could buy the art if you could afford it," she says.
The shows were so popular that Melissa realized it was time to find a permanent location to celebrate local art. When the retail space next door became available, Melissa took it over and turned it into The Falcon. The bar and gallery has been going strong for over a decade.
Melissa has witnessed the benefits and drawbacks of working for large corporations and running her own business, and those dual experiences help her students understand how they can find fulfilling work in either environment. But Melissa is happiest when she's making a difference in her community. Her experiences have led to being selected by Orlando Mayor Buddy Dyer to be on an Arts & Culture Task Force and sitting on multiple non-profit and city boards.
"One of the things I missed working in the corporate side of things was that connection to community, so that was really part of the focus of opening up my own spot," she says. "I come from the attitude of, the only thing you have control over is yourself and your immediate environment… The best way to make a difference is from the ground up, and I think that is how you make change in the world, so that's where that focus comes from."