Graphic Design
Bachelor of Science
G
raphic designers dwell at the intersection of art and business. They translate abstract concepts into tangible visuals, and are often lauded for their ability to elevate the status of a company or organization.
The objective of the Graphic Design bachelor of science degree program is to provide a comprehensive understanding of the field of design – from print publishing to interface design and more. You'll sharpen your eye for aesthetics through projects, critiques, and the study of popular culture. In addition to technical proficiency and creative development, your education will help you hone real-world skills such as media integration, advertising, and branding.
Ongoing portfolio courses will provide you with opportunities to build tangible projects that showcase your talents, and integrated career development modules will help you strengthen your professional skills. In addition, our Career Development advisors and services will be available for support throughout your graphic design career path – not just while you are a student. Click here to request additional program information about the Graphic Design bachelor's degree.
Online | 29-Month Bachelor's
View a full listing of each course in the Graphic Design degree and estimate your potential graduation date.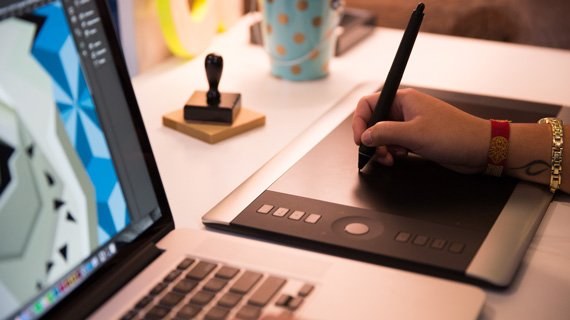 You'll learn how to apply your artistic talents to modern design tools, technology, and production processes.
Take the next step
Request information about this program or call 800.226.7625 to learn more.
Project LaunchBox™ is a Full Sail program that provides students with powerful technology to help create projects. All of your files, multimedia creations, and coursework are at your fingertips 24 hours a day, seven days a week.
Graphic Design LaunchBox Components
Apple MacBook Pro
AppleCare Extended Warranty
Microsoft Office 365
Adobe Creative Cloud
Final Cut Pro
LoJack Theft Prevention
Sony Alpha a6000 Camera w/16-50mm Lens
USB-C to Ethernet Adapter
USB-C to Micro-B Cable
USB-C to SD Card Adapter
4-port USB Hub
16gb SD card
Pricing and package specifications are subject to change. Some Project LaunchBox™ components are distributed during students' second year; some Project LaunchBox™ components are downloadable items.
Grad News and Student Work from Art & Design Degrees
This website redesign was created by 2017 Digital Arts & Design grad Ana Kahana as part of her final portfolio.
Read More on Art of Full Sail
3, 2, 1 Liftoff: How Two Design Grads are Making a Name for Themselves
Read More on FS Blog