Published Jul 23, 2020
Faculty Spotlight: Ronald Diltz II
Digital Cinematography course director Ronald Diltz II uses real-world experience at his production company to teach his Project and Portfolio I students about the indie film industry.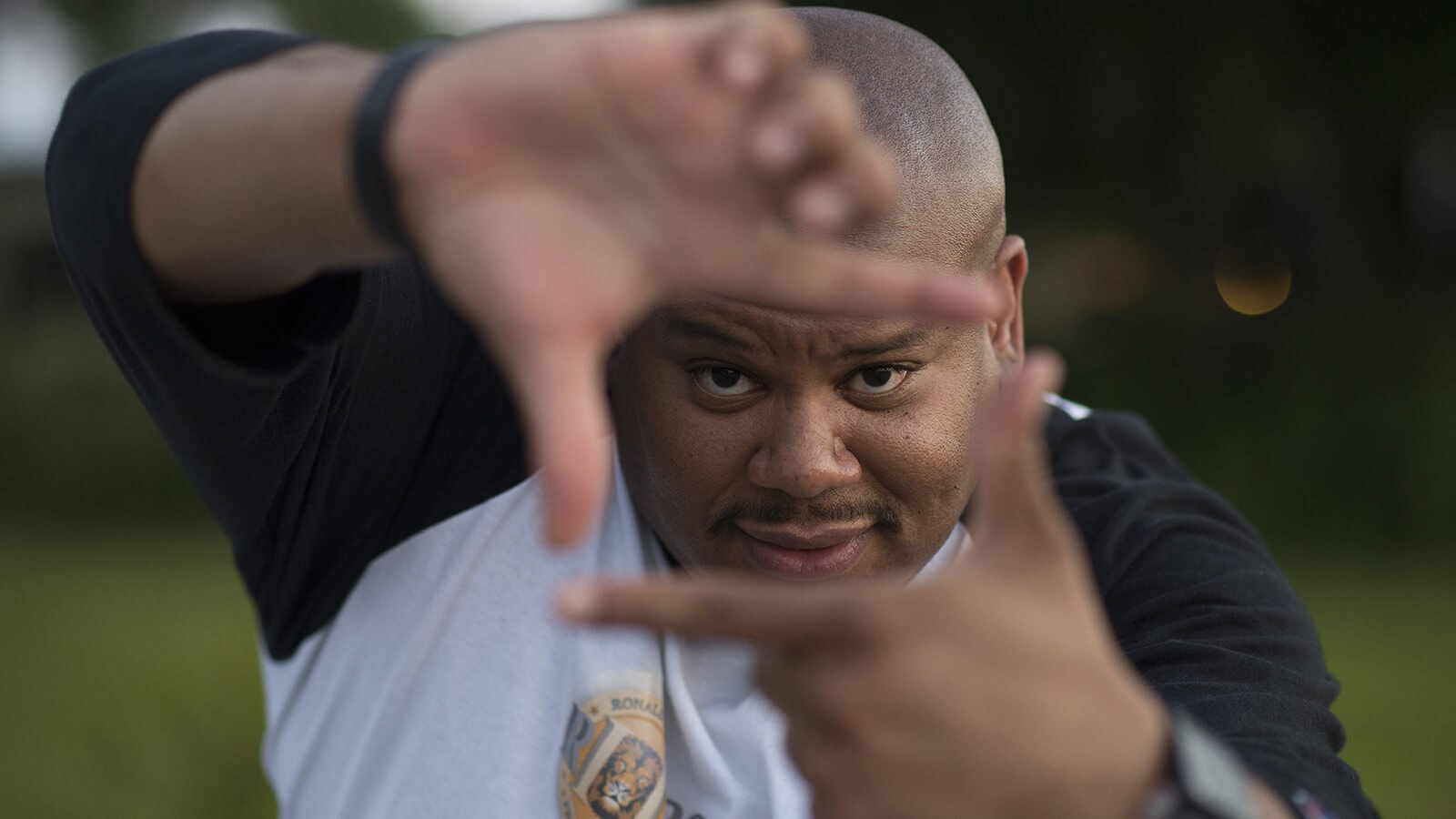 Ronald Diltz II is a Full Sail graduate turned Full Sail teacher. As the course director for Project and Portfolio I: Film and Video, he helps students put together what they've learned in the beginning of the Digital Cinematography program so they can write, outline, storyboard, and shoot their own video project. Ronald brings years of professional experience with his own production company to the classroom, providing students with helpful insights about the indie film industry and showing them how they can start building their own content from the ground up before they even graduate.
Ronald's fascination with film sparked in high school after he saw a Denzel Washington movie. He pursued an engineering degree at the University of Florida, but he decided to change course after he wrote, directed, and starred in his first stage play. Ronald switched majors from engineering to theater, wrote and produced more plays, then went full steam ahead and established Goldenchild Productions, LLC (now Ronald Diltz II Productions). He started looking for film programs after graduation, and Full Sail welcomed him with open arms.
After completing that second bachelor's degree at Full Sail, Ronald spent a few years teaching for Orange County Public Schools, then became a Film Advisor in Full Sail's Career Development Department in 2013. He transitioned to the Digital Cinematography bachelor's program as a faculty member in 2015. His experience as a student in the Film program (as well as his time in Full Sail's Entertainment Business and Creative Writing master's programs) gave him a valuable look at the school from a student perspective. He remembers how his teachers positively affected his education, and he brings those experiences to his courses every day.
"When I came through as a student, the thing that I loved the most about my instructors was that I was able to see what work they had done… With me, I like to keep my students in the middle of what I'm doing," Ronald says.
Owning Ronald Diltz II Productions is an added bonus for his students; every play and film is a case study for them to learn from. "If I'm working on a new project, I like to share with them some of the positive things going on with that project, as well as some of the negative things that could happen," he adds.
Ronald's production company has a distinct mission: to make movies that "give my audience an opportunity to look at the world around us and [see] how we can make it better as a whole." Some of the films he's produced include Painted Black, a fictional story about a young black teen who is killed by law enforcement, and The Donor, a short film about a father who seeks to reconnect with his son after the son receives a cancer diagnosis.
With Ronald, students have a front-row seat as he creates new films and pushes himself in new directions. "I'm learning and also trying to teach that to my students," he says. "I'm still in the process of learning how to move my production company to the next level and I'm showing that to the students as well." He also recruits students to work on set and see his projects come together from start to finish.
Connecting with his students is paramount for Ronald, and he works on that outside of the classroom as the Chair of the Digital Cinematography Mentor Program. He interviews students who are interested in mentoring and are past their "sophomore" year, then matches them with newer students who want more guidance during their Full Sail journey. The Digital Cinematography mentors also give presentations on topics like networking, communication, scheduling, and organization. "It's so cool to see them on that other side as the presenter," Ronald says.
Ronald goes the extra mile for his Project and Portfolio I students, and he gives them a firsthand look at life in an independent, local film industry. He knows that all you need to get started are digital tools and a passion for filmmaking.
"I'm the instructor that shows our students, 'Hey, as a student, this is how you can start getting the ball rolling as an independent filmmaker,'" Ronald says. "And eventually if you keep pushing forward, the industry will come knocking at your door. You may be able to get more funding for your films, and who knows? Academy Awards. That's the big dream."