Published Oct 09, 2018
Full Sail Partners with Rooster Teeth Games to Bring the Fury to RTX
Students across degree programs worked together to develop Fury Strike, an '80s-style fighting game that debuted at the convention.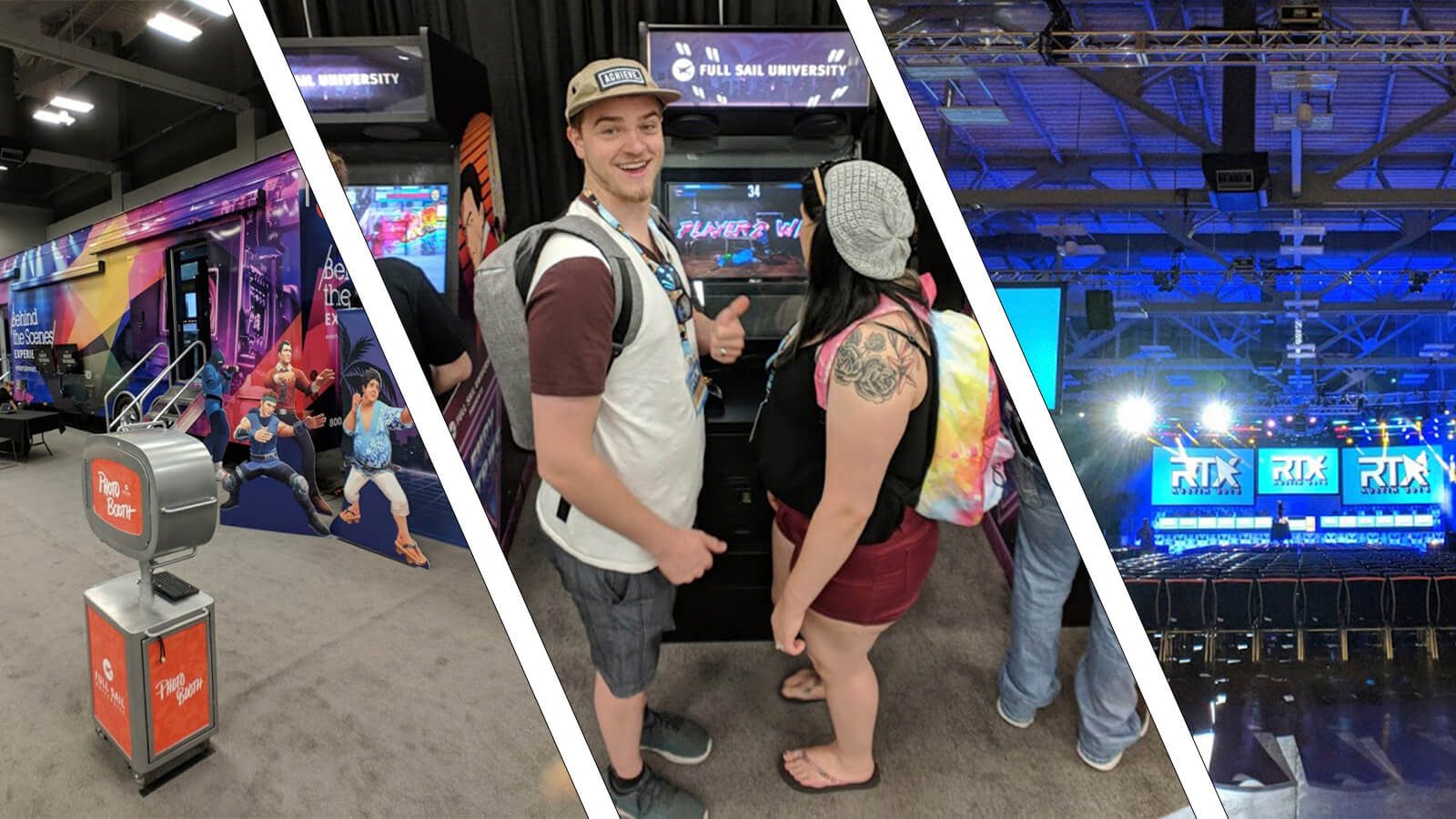 In early August, a group of Full Sail grads and faculty met up in Austin, Texas to attend RTX — an "animation, gaming, and comedy experience" put on by Rooster Teeth, a global leader in multimedia entertainment and the company behind RTX.
The convention celebrates the best in gaming, animation, comedy, and web content over a weekend packed with networking opportunities and (we're guessing) more than a few tacos. One of the main draws during the event was a collaborative project between Full Sail students and Rooster Teeth.
Dozens of Full Sail students came together to create Fury Strike, an '80s-themed fighter game that one player described as Street Fighter meets Miami Vice. In the game, protagonist Trey seeks vengeance on the crime family who killed his brother. Players can choose from a variety of characters to fight their way through the story and keep the bad guys from taking over Sunset City.
The project was the brainchild of Brian Reilly, a graduate of Full Sail's Digital Arts & Design bachelor's program and Game Design master's program. Currently, Brian serves as board game producer at Rooster Teeth Games. He wanted to provide students with an opportunity, so he reached out to Patrick Kelly, a course director in the Game Development program. Together, they decided on an arcade-style game that could be featured at RTX. From there, Patrick put together a team of Full Sail students from various degree programs including Game Development, Game Art, Computer Animation, and more. Students in the Game Design master's program provided leadership on the project, and Brian checked in frequently to provide industry-specific feedback.
"Rooster Teeth is about community," says Brian. "And for every department at Rooster Teeth, there is a corresponding degree program at Full Sail.I'm just so excited Full Sail is here representing that school pride and what the students are capable of — this project is a great showcase for them."
Once the game was completed, it was loaded into three vintage-style arcade cabinets and shipped off to Austin. One of the faculty members on hand at RTX was Rob Martinez, a lab specialist in Full Sail's Game development program. In addition to offering support to students throughout the process, he served as a producer for the game.
"It was a blast to be able to show the game off to people who came through the convention," says Rob. "We were there for three days and were able to get a lot of feedback. As a developer, you know the history of the game's creation — so you're thinking, 'We struggled with this' or 'There's a glitch here.' But seeing how much people enjoyed it was rejuvenating."
Fury Strike is available to play for free on Steam.