VIEW ALL INDUCTEES
David Farmer
Supervising Sound Editor & Sound Designer
With more than two decades as a sound designer for film and video games, David Farmer has used quite a few unconventional sources to make some of movie's most powerful audio tracks – from the vocalizations of animals ranging from sea lions to alligators, to household items (plastic cups, ironing boards), to manipulations of his own voice.
The 1992 Recording Arts grad specializes in creature sounds, and he's created the strange and horrific noises heard from the likes of The Incredible Hulk and Balrog from The Lord of the Rings.
David's talents have been experienced on an impressive array of blockbuster titles across film and gaming, including the Lord of the Rings and The Hobbit trilogies, Marvel favorites like Ant-Man, The Incredible Hulk, and Thor: Ragnarok, plus games like Diablo III: Reaper of Souls, BioShock 2, Dead Space, and multiple World of Warcraft expansions.
His work on all of the films in the iconic Lord of the Rings trilogy resulted in Best Sound nominations at the BAFTA Awards in 2002, 2003, and 2004.
He is also a three-time Golden Reel Award winner for Best Sound Editing on the game titles GoldenEye: Rogue Agent, StarCraft II: Wings of Liberty, and StarCraft II: Heart of the Swarm.
Recently, he has completed work on the dark thriller A Cure for Wellness, sci-fi adaptation Valerian and the City of a Thousand Planets, and Thor: Ragnarok.
Credits:
The Hobbit Trilogy, Thor: Ragnarok, Valerian and the City of a Thousand Planets, Lord of the Rings Trilogy, Ant-Man, Cowboys & Aliens, King Kong, GoldenEye: Rogue Agent, StarCraft II: Wings of Liberty, Golden Reel Award Winner Best Sound Editing, 2005, 2008, 2014
Graduation Year:
1992
One of the elements of Freddy Krueger's knives [for Nightmare on Elm Street] was an ironing board at a hotel room I was staying at. You're trying to breathe life in a real tangible way that complements the film but doesn't pull the audience's attention off the screen."

—David Farmer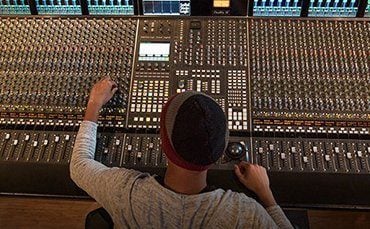 Music is a universal language.
2011 Hall of Fame Inductees