Published Jan 20, 2020
Hearthstone Collegiate Championship Finals Come to Full Sail
Full Sail grads helped transform The Fortress and bring the event to life.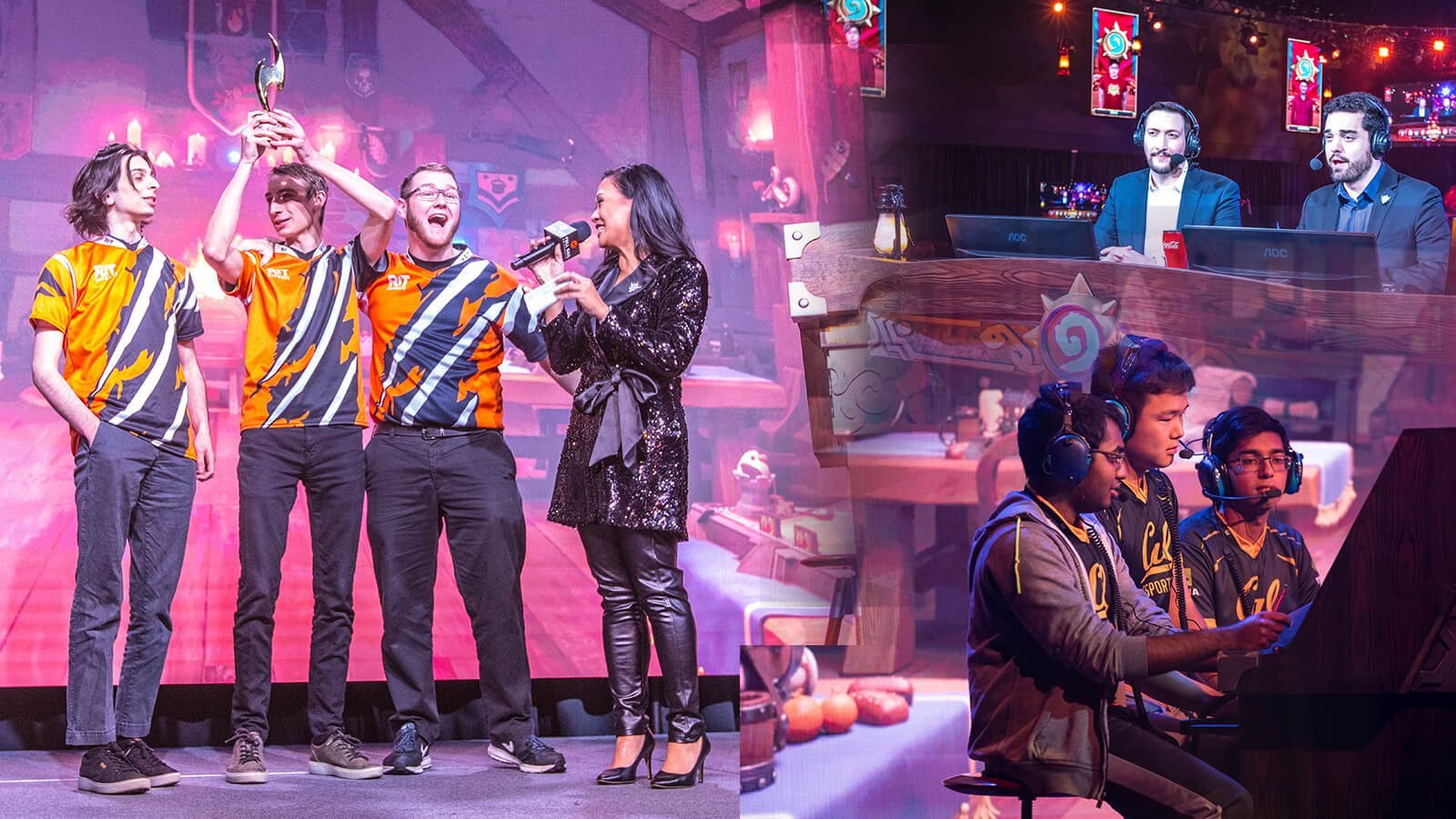 Hearthstone fans and players grabbed a place at the hearth, got their spells and minions ready, and chose their heroes as the Hearthstone 2019 Collegiate Championship Fall Finals made their way to Full Sail University's esports venue, The Fortress.
Erin Eberhardt, Game Design master's grad and Lead Project Manager at Blizzard Entertainment, worked with Full Sail to bring the Hearthstone tavern to life in the The Fortress. Full Sail students and staff worked tirelessly to match the high-quality experience fans expect from the World of Warcraft developer. "This event is a testament to the creativity here," says Erin. "We can take and interpret these games that we really love into a really fantastic spectator, audience, and player experience."
Full Sail students and grads were integral in bringing Blizzard's vision to life. Two students and Full Sail Armada Varsity Overwatch players – Meghan "PeptoAbysmal" Danaher (Creative Writing) and Kara "Karadactyl" Occhipinti (Game Art) – served as Erin's project managers for the event. The pair managed the schedules of the competing teams, provided event and logistical support, and worked closely with the stage manager to keep the show running smoothly.
Full Sail Game Design graduate and former Full Sail Armada Vice President Ethan Hayes also came back to campus to serve as the show's observer. Ethan worked with the production team and casters to identify key plays and highlight the most entertaining aspects of the match's live broadcast.
Concluding an exciting year in collegiate Hearthstone esports for the acclaimed game studio, the finals were broadcast live on the Full Sail Armada Twitch channel on December 14.
Attendees who visited The Fortress got the chance to see the action live, score awesome Blizzard swag, and even join in a Fireside Gathering with other Hearthstone players.