VIEW ALL INDUCTEES
Ashish Manchanda
Recording Engineer/Producer
Ashish Manchanda has achieved a rare distinction of success as a studio professional, live concert engineer, re-recording mixer/sound designer, and music producer.
He has worked on more than 100 film projects, ranging from India's popular Bollywood films to mainstream offerings – including DevD, Bhaag Milkha Bhaag, Khosla Ka Ghosla, and The Chronicles of Narnia. In the music world, Ashish has been a close collaborator with independent artists Ranjit Barot and Raghu Dixit, Grammy/Oscar-winning artist A.R. Rahman, and a host of renowned composers.
At New York's Effanel Music, Ashish worked with artists such as Garth Brooks, Wynton Marsalis, James Taylor, and Boz Scaggs. His experiences working with legendary engineer/producer Bruce Swedien was mentioned in Mr. Swedien's biography, In the Studio with Michael Jackson.
Ashish is also three-time winner of the IRAA (Indian Recording Arts Academy) award for Best Sound Engineer/For Outstanding Work on the movie DevD, Sona Mohapatra's debut album, and as a live concert engineer.
He founded Flying Carpet Productions, offering 360-degree solutions in the entertainment business through studio facilities, an indie record label, talent management, video production, and designing on-ground entities. Ashish and his wife Ujjla also run an award-winning institute called The Media Tribe, training young students in Mumbai in sound engineering and music production. In addition, Ashish frequently participates in industry conferences as a panelist, offering insights in creative, technical and business aspects of the media arts.
Credits:
The Chronicles of Narnia, Dev D, Bhaag Milkha Bhaag, Khosla Ka Ghosla, Coke Studio, MTV Unplugged, Three-time Indian Recording Arts Academy (IRAA) Award Winner
Graduation Year:
1997
I was fortunate enough to have several mentors come in to my life and fulfill different aspects of the learning process, but all of them believed in me and my abilities. In some ways, I see myself doing that for the people around me now."

—Ashish Manchanda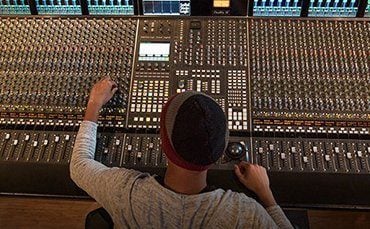 Music is a universal language.
2015 Hall of Fame Inductees