Frank Scheuring
Mixer & Sound Editor
Frank Scheuring has worked as a mixer and sound editor for more than 14 years in the audio post-production industry.
Highlights from Frank's career include the award-winning Discovery Channel miniseries Planet Earth, as well as notable documentaries and series, including StarTalk, Bomb Patrol: Afghanistan, National Geographic: Explorer, In Performance at the White House, D.C. Cupcakes, and Dog Whisperer. His network clients have included National Geographic, Smithsonian, Discovery, PBS, TLC, G4TV, and the Travel Channel, along with numerous political candidates, government agencies, production companies, and corporations.
Frank also produced the documentary Blood and Steel: Cedar Crest Country Club, which tells the story of an East Coast skateboarding mecca of the late '80s. Known familiarly as the Crest, the steel ramp and its surrounding area served as a cultural icon of the era's skate and punk scenes. The film features notables such as Fugazi's Ian MacKaye, skate legend Tony Hawk, and bands such as GWAR and Scream.
Credits:
StarTalk, Discovery, TLC, Travel Channel, Dog Whisperer, National Geographic
Graduation Year:
2001
Being able to express yourself in some form of art is really important. My work is about creating an environment through realistic sound. It's like a puzzle, where I get to build something out of a pile of pieces."

—Frank Scheuring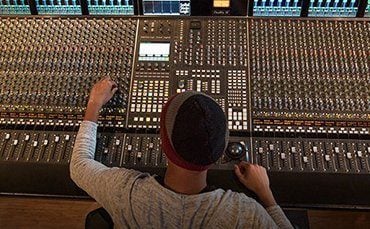 Music is a universal language.
2015 Hall of Fame Inductees