VIEW ALL INDUCTEES
Frank Scheuring
Supervising Sound Editor & Re-Recording Mixer
Frank Scheuring is an award-winning rerecording mixer and sound editor whose career spans nearly 20 years. His credits include the groundbreaking Discovery Channel miniseries Planet Earth, Madden 20 (EA), NBA Live (EA), StarTalk (Nat Geo), Bomb Patrol: Afghanistan (G4TV), National Geographic: Explorer, In Performance at the White House (PBS), and many others. In addition to television programming and video games, he has worked with numerous political candidates, government agencies, production companies, and corporations. Frank has received four Telly Awards, ten TIVA Peer Awards, and an MPSE Golden Reel nomination. He has also been a part of programs that have been nominated for a dozen Emmy Awards, including Outstanding Sound Mixing for Planet Earth: Pole to Pole.
Credits:
Discovery, National Geographic, FOX, PBS, EA Sports
Graduation Year:
2001

Being able to express yourself in some form of art is really important. My work is about creating an environment through realistic sound. It's like a puzzle, where I get to build something out of a pile of pieces."

—Frank Scheuring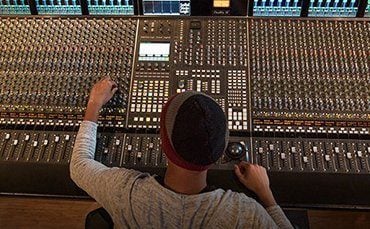 Music is a universal language.
2015 Hall of Fame Inductees