VIEW ALL INDUCTEES
Gary Rizzo
Sound Re-Recording Mixer
Gary Rizzo has propelled a childhood love for filmmaking into an award-winning career as a sound re-recording mixer. The 1993 Recording Arts grad has worked on the audio for over 200 film projects, including How to Train Your Dragon, Enchanted, Sing!, Tron: Legacy, and Bright. He is a two-time Academy Award winner for Best Achievement in Sound Mixing, once in 2010 for his work on Inception, and again in 2018 for his work on Dunkirk. He been nominated three additional times for Interstellar, The Dark Knight, and The Incredibles.
"There's never a project that comes across as "just another project." Every film is a one-of-a-kind puzzle that needs a thoughtful, creative solution."
Gary's childhood affection for movies had a clear impact on his professional trajectory. After starting in the Los Angeles film community, he quickly found his way to Skywalker Sound, where he assisted some of the greatest sound mixers and designers in the field – quickly navigating his way into a full-time mixing career.
In addition to mixing for directors like Brad Bird, Kevin Smith, James Gray and Joe Kosinski, Gary is a frequent collaborator with director Christopher Nolan. In fact, he's worked with him working on all of his films since Batman Begins.
"Working for Christopher Nolan is an absolute treat," says Gary. "Chris is interested in powerful, effective emotions – he really wants to make a big impact with both picture and sound, and he relies on his crew to follow through and deliver. The fact that I can contribute to part of his projects is hugely flattering."
Credits:
Dunkirk, Bright, Sing!, How To Train Your Dragon, Interstellar, Oblivion, Inception, The Dark Knight, The Incredibles
Graduation Year:
1993
It's always nice to see your name in the credits, but for me it's about working on interesting projects because I just love the medium."

—Gary Rizzo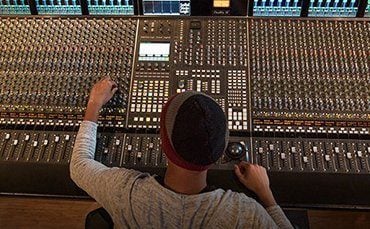 Music is a universal language.
2009 Hall of Fame Inductees