VIEW ALL INDUCTEES
Sebastian Krys
Producer/Engineer
Sebastian Krys grew up in a Buenos Aires, Argentina household where "the classics" weren't from literature or cinema, but rather rock 'n roll albums by legends like The Who, Led Zeppelin, and The Beatles. It was this childhood education, and a genuine love for music, that fueled his desire to enroll in the Recording Arts program at Full Sail.
After he graduated in 1991, Sebastian landed a job at the renowned Crescent Moon Studios in Miami (owned by Gloria and Emilio Estefan) and embarked on an award-winning career as an engineer/producer that has seen him work with superstars like Shakira, Marc Anthony, the Black Eyed Peas, and more. He's won five GRAMMY and twelve Latin GRAMMY awards, including the coveted Producer of the Year trophies in 2007 and 2015.
In his 15-plus years in the industry, Sebastian has amassed a resume that's made him well known and respected in both the Latin and pop music markets, but he isn't quick to put himself in any one category.
Now a freelance producer/engineer based in Los Angeles, Sebastian is the President/CEO of Rebeleon Entertainment, developing music, audiovisual media, and technology in Latin music.
Credits:
Shakira, Gloria Estefan, Carlos Vives, Ricky Martin, Marc Anthony, Jennifer Lopez, Enrique Iglesias, Alejandro Sanz, La Santa Cecilia, Luis Fonsi, Kinky, Los Rabanes, Obie Bermudez, 2015 and 2007 Latin GRAMMY Producer of the Year, Five-time GRAMMY Award Winner, 2013, 2004, 2001, 2000, Twelve-time Latin GRAMMY Award Winner, 2015, 2013, 2012, 2007, 2005, 2002, 2001
Graduation Year:
1991
The thing about any kind of success is anyone who thinks success is their own is living in a dream world."

—Sebastian Krys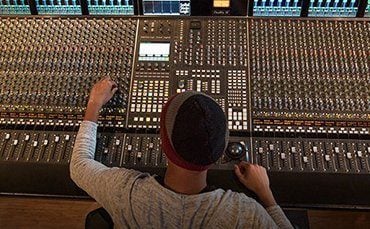 Music is a universal language.
2009 Hall of Fame Inductees