Marc Fishman
Re-Recording Mixer, Technicolor at Paramount
Marc Fishman spends his days in a postproduction studio, working to make sure a movie's dialogue, music, and sound effects combine seamlessly to create the best soundtrack possible. The sound re-recording mixer has worked on more than 150 film and television projects since graduating from Full Sail's Recording Arts program in 1990, including Bridesmaids, Mean Girls, Friday the 13th (2009), and Crash.
Marc grew up fascinated by the audio and visual effects in films like Star Wars and Raiders of the Lost Ark. He moved out to Los Angeles after graduation and started working at some of the city's top postproduction studios, before settling into his current position at Todd-AO.
"My mom had always instilled in me that you have to go after the things you want, and that hard work really does pay off," says Marc. "So I always felt when I left school I was ready to go out into the world and it was mine to either take or mess up."
Marc won an EMMY Award in 2009 – an Outstanding Sound Mixing nod for his work on the HBO miniseries John Adams. That recognition, plus the opportunity to sit behind a console with renowned filmmakers and help shape the outcome of their projects, are just a couple of the reasons Marc is just as passionate about his career today as he was over a decade ago.
"I get to work in a business that is known around the world. I can go anywhere and probably talk to somebody about a movie that I worked on over the past 10 or 20 years. That's something really special."

Credits:
Trainwreck, Fury, Bridesmaids, Daredevil- Season 1, Crash, Superbad, Mean Girls, Legally Blonde, Emmy Award Winner, Outstanding Sound Mixing, 2009 ­ John Adams
Graduation Year:
1990
I love what I do, and I'm always grateful that I get up everyday and get to go into the studio and make a living at this."

—Marc Fishman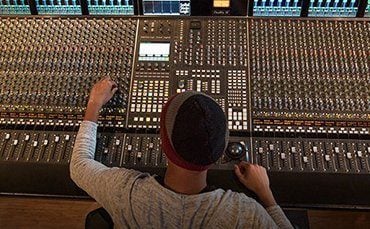 Music is a universal language.
2010 Hall of Fame Inductees