Troy DeVolld
Producer (Co-EP, Supervising)
Writer, story editor, and producer Troy DeVolld brings reality television to life. The Full Sail Film grad has worked on a number of shows, developing the overall narrative for a series, building story arcs, and creating different situations for cast members to interact with.
He launched his career working on MTV's Fear and The Osbournes before moving on to other reality TV staples like The Surreal Life, Basketball Wives, and She's Got The Look. It's not the path Troy had planned on embarking on, but it's one he's definitely happy with.
"As a writer your rewards are more immediate," says Troy, who lives in Los Angeles. "If I work on a film it might take two or three years to see my vision realized on screen for two-and-a-half hours. At last count, I have written and/or produced 62 hours of television in the last 10 years."
In 2009, Troy was nominated for a Daytime Emmy Award (Outstanding Special Class Series) for his work as a story producer on Style Network's Split Ends. Other credits include Bravo's Flipping Out and ABC's The Bachelor and Dancing with the Stars. Working as a writer in reality television requires the ability to pick up on the little moments that the camera catches in the lives of real people and turn those into inspiring and compelling television. It's a niche of the entertainment industry that Troy has found a home for himself in.
"I'm really grateful to reality television for what it's been able to do for me," says Troy.
Credits:
The Bachelor, Basketball Wives, Dancing with the Stars, Flipping Out, Hollywood Game Night, The Surreal Life, Reality TV, And Another Thing, Outstanding Special Class Program, 2009 ­ Split Ends
Graduation Year:
1996
I think success is being able to make a go of whatever you choose to do, and being content with the quality of work you're doing."

—Troy DeVolld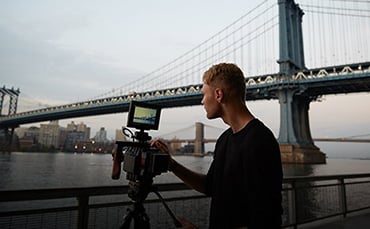 Turn your stories into experiences.
2010 Hall of Fame Inductees